Team up with FCS Athletics
Middle & Upper School Campus

Online Robotics Camp
Young Gates - Kids Online Personalized Classes

Artificial Intelligence with Scratch Online Camp
Young Gates - Kids Online Personalized Classes
Sign up for our free newsletters.
Philly Area Beer Gardens That Are Kid-Friendly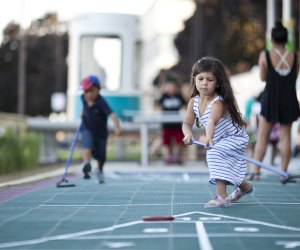 3/2/19
- By
Lindsay Li
Al fresco dining and drinking is a natural match for parents who enjoy getting out and having a semi-adult evening without having to call a babysitter. Which is why beer gardens are such a draw for parents. The outdoor space is perfect for kids who may be a bit on the loud side (speaking from personal experience), and beer gardens often include games that kids enjoy. Not to mention all the other kids that are there who they can play with. But not all beer gardens are created equal, or are quite as welcoming to parents with kids in tow (understandably so). So here is your go-to list for which beer gardens are the best for families.
Year-Round Establishments
Brauhaus Schmitz- South Philly
While this German Beer Garden may not be the best place for kids during their insane Oktoberfest street fair, the rest of the year it's a great spot where kids are welcome and giant pretzels abound!
Frankford Hall- Fishtown
This family-friendly spot is known for hosting epic events featuring Lara and Joe, holiday festivities, and is a place where many of the "Friends of" groups host fundraisers.
Fette Sau- Fishtown
Conveniently located right next to Frankford Hall, this spot is really a go-to for delicious BBQ, and the staff is incredibly friendly and helpful with the kids. Also, one of the best happy hours in the city all year long!
Summer-Only Spaces
Blue Cross RiverRink Summerfest- Penn's Landing
This beer garden features an outdoor roller rink, amazing views, and yummy bites that young and old will enjoy. This summer they are taking the game up a notch by adding rotating amusement park rides, starting with a Ferris Wheel in June.
Deck at the Independence Seaport Museum- Penn's Landing
This beer garden is sure to be a hit, sitting along the waterfront and connected to the museum, boasting games for the kids and table service for the adults.
Independence Beer Garden- Washington Square
This summer, the 30,000 square-foot outdoor area of One South Independence Mall West is a beer garden that is largely for an older crowd, but with the proximity to Independence Hall its also a good place to stop after a day of being a tourist, with yummy snacks like popcorn and pigs-in-a-blanket, favorites for young and old!
Memphis Taproom- Kensington
This small but sweet beer garden behind Memphis Taproom is your spot for craft beer and delicious eats, offering their full menu for the first time this year. Although the space isn't full of games, you always find other neighborhood families to play with.
The Oval- Art Museum
This pop-up features special events, giant board games, and fun food trucks.
The Watering Hole at Philadelphia Zoo- Fairmount
Now the zoo can be your favorite place to go, too! Everything about the location says family-friendly. Check out Summer Ale Festival happening in July.
PHS Pop-up Beer Gardens- South Philly and University City
The Philadelphia Horticultural Society is back at 15th and South Streets, and is adding an "urban orchard" for its newest location at 36th and Filbert Streets in University City. As always you can expect family programming.
Spruce Street Harbor Park- Penn's Landing
Although not an official beer garden, the space features a floating bar, tons of games and two water features for kids to splash around in on hot days. Not to mention the boardwalk with arcade games and a Franklin Fountain outpost.
Photo Credit: Douglas Bovitt for Spruce Street Harbor Park
Originally posted 2017.