4 Awesome Places to Explore in Tree Houses Near Philly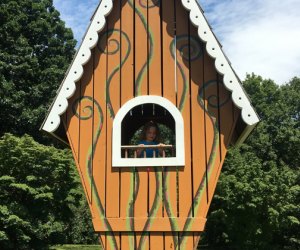 With screen time, lessons, daycare, and school it doesn't seem like there's much time to explore nature and discover new places, but tell kids that there's a special house built in a tree for them to discover, and watch their curiosity take over. Tyler Arboretum, Longwood Gardens, Morris Arboretum, and Treehouse World are perfect for kids of all ages because there's plenty of places to explore. Parents who have dreamed of building a tree house in the backyard will find plenty of inspiration, too.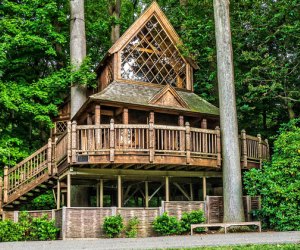 Longwood Gardens- Kennett Square

Longwood Gardens is well-known for their spectacular gardens, fountains, summer light shows, and holiday displays. What's not as famous as the grounds themselves are the 3 wonderful treehouses and the Children's Garden with water features for hot summer days. These treehouses are a little fancier than your backyard treehouse, which is what makes them so fun.
Birdhouse Treehouse is situated in the woods, surrounded on most sides by tall trees and the birds and squirrels who live there. Interactive features help kids search, find, and identify native birds by their calls. Lookout Loft is an open, Adirondack-style treehouse with a metal horn that winds around the space. Kids love tracing it and making sounds that are sent into the surrounding forest. A significant walk away from the first 2 houses, which are close to each other, is the two-story Canopy Cathedral. More like a quiet refuge with a porch overlooking a garden and pond, the Canopy Cathedral is a perfect place to listen for birds, but isn't as exciting for kids. If pressed for time, skip the Canopy Cathedral and head straight to the Indoor Children's Garden. It's a can't miss. Like a secret garden of color with hidden passages, sculpted frogs and turtles to find, and fountains in which to play, enticing children away from the Children's Garden might be difficult, but thankfully, the Café is close, so the promise of a snack might help.
Children (under 4): Free
Students (5-18): $10
Adults: $20

Treehouse World- West Chester
Treehouse World is a new outdoor adventure park. Started in 2015 by Dan Wright, a treehouse builder for 13 years, Treehouse World currently has the Greybeard Kids Treehouse, a three story circular structure with climbing ropes and a bridge to a gazebo. It also has the Train, a series of 6 connected structures with bridges and the Oak Leaf platform. If exploring the tree houses wasn't adventure enough, kids can try rock climbing on trees and a Children's Grove, a space nestled in a shady area with tunnels, games, music, and more.
Admission (2 and up): $12
Tyler Arboretum- Media
Although Tyler Aborteum boasts 650-acres and 17 miles of trails, what kids love about it most is the collection of structures affectionately named the Totally Terrific Treehouses. Signs point the way to the 9 structures for kids to discover. Each location is completely different, like a pair of really handy, creative, and well-meaning parents designed and built it for their kids.
Storybook Houses is a raised walkway and series of 3 houses, with characters from stories like Jack and the Beanstock or the Lorax painted inside. Strummin' and Drummin' is a guitar-shaped structure with chimes and tubes and other instruments on which kids can make their own music. Cape May Birdhouse is an adorable birdhouse with a kid-sized nest next to it for imaginative play. Imagination Station leads from a meadow through a tunnel to a magical stage area where costumes can be found for an impromptu play or performance. In addition to the treehouses, there are other fun structures and areas throughout the grounds, like the Goblin House, Magical Path (where fairies can be discovered), Hobbit Hollow, Lenape Teaching Station, Stopford Family Maze, a vegetable garden, pond, and much more.
Children (under the age of 3): free
Children (3-15): $7
Adults (16-64): $11

Morris Arboretum- Philadelphia

Part of the University of Pennsylvania, the Morris Arboretum excels in creating an educational environment for the whole family. With activity cards, tours, and hunts that you can download from their site before you go, which are designed to keep kids engaged, there's plenty to do.
The highlight, however, will definitely be Out on a Limb. Not so much tree houses as a walkway 50 feet above the ground, Out on a Limb invites parents and children to explore life in the trees. Visitors enter through a series of hoops, onto a walkway that leads to an exhibition pavilion, a suspension bridge to a human-sized bird's nest and the Squirrel Scramble, a huge hammock-like netting that allows brave souls to crawl, climb and lay down above the trees.
Children (under 3): Free
Children (3-17): $9
Adults: $17
Images of Tyler Arboretum and Morris Arboretum are courtesy of the author. Images of Tree House World and Longwood Gardens are from their respective Facebook pages.