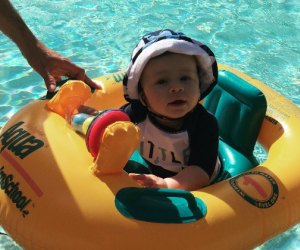 Cheap Swim Lessons in and around Philadelphia
There's no doubt about it, swimming is an important life skill. That's why it's essential to teach kids how to swim at an early age. Plus, it means you can worry a little less during those long summer days at the pool or beach. We've rounded up some great nearby swimming lessons that are also affordable. Get the kiddos in their swimsuits and goggles and head on out to one of these great swim classes.
YMCA- Various
The YMCA is a classic place to go for swim lessons. The catch is you have to have some form of membership. Full members of the Y receive a less expensive rate than program members (members that only have class benefits and not full gym access). So, it may be worthwhile looking into a Y membership for your family. Not all locations offer swimming classes, but there are several that do including Christian Street, Haverford Area, Rocky Run, and West Philadelphia. For a full list, check their website or visit your local YMCA. As a rule of thumb, if it has a pool, there are swim lessons.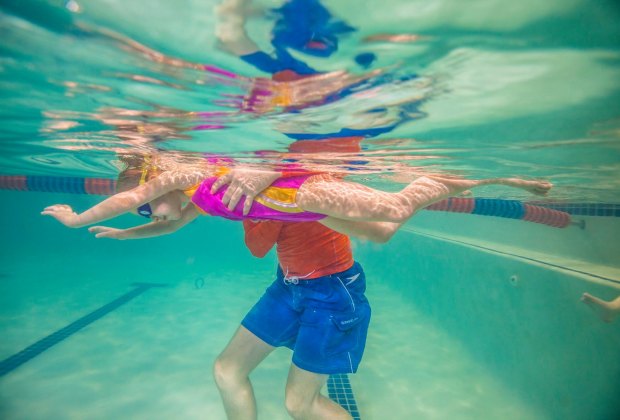 Photo courtesy of Goldfish Swim School's Facebook page.
Goldfish Swim School- Fort Washington, Oaks, Malvern
Swimming Lessons at Goldfish are offered in 5 different age groups ranging from 4 months to 4+ years. Classes are limited to 4-6 children per class, so instructors can focus on making sure everyone is learning. The heated indoor pool operates year-round. Group classes are $86 month for one 30-minute class per week. Goldfish also offers drop-in classes, discounts for siblings, and family swim times. The pool is also available for parties.
Related: Swim Philly Pop-Up Pool Project: Public Pools with a Fun Twist
Kids on 12th- Philadelphia
Kids on 12th offers swim lessons at 12th Street Gym. It is important to note that while Kids on 12th pool is being repaired, swim classes are held at The Philadelphia Sports Club on 5th Street. Classes cost $96 for 45-minute eight week group sessions. Private lessons are available for $35 per 45-minute session. Additionally, there is a $10 per lesson fee that goes directly to 12th Street Gym, or $90 for three months with access to pool during all kids swim hours.
SwimAmerica at Penn Charter- Philadelphia
Classes fill up fast for this great program at William Penn Charter school, so make sure you register early. Summer lessons are held in 30 minute sessions for seven weeks. Private Sunday lessons are also offered.
Related: Best Swimming Lakes near Philadelphia
The Salvation Army Kroc Center of Philadelphia- Philadelphia
Lessons at this swimming pool are held by age and skill level and are held year-round. Sessions generally last six weeks and are 30-minutes each. Group lessons as well as Parent and Me lessons are available. Be sure to check the website for details about when registration begins for each cycle. Sessions are $80 for non-members. Discounts are offered for members.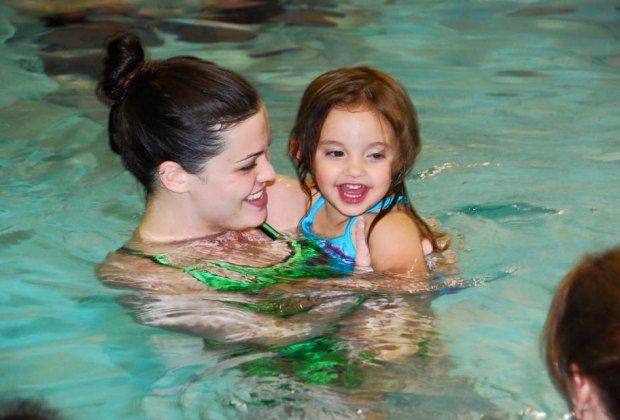 Photo courtesy of Kids First Swim School's Aston Facebook page.
Kids First Swim School- Aston, Broomall, East Norriton, Exton, Jenkintown, Limerick, Warminster and Hockessin, DE
With multiple locations nearby, Kids First Swim School is a great option for anyone living in the suburbs. Generally, classes for children ages 3 and up cost $105 for 30-minute six week sessions and $105 for 30-minute six week Mommy and Me sessions. However, it is best to call your closest location for exact pricing. The pool is also available for parties.
West Chester University Swim Lessons- West Chester
Kids from age four and up can participate in these swim lessons offered by West Chester University. There are six swim sessions from which to chose. Each session runs for two weeks with a daily 45-60 minute class and costs $250.
Header image provided by C. Sumner.