Swimming Lessons for Babies and Toddlers in Philly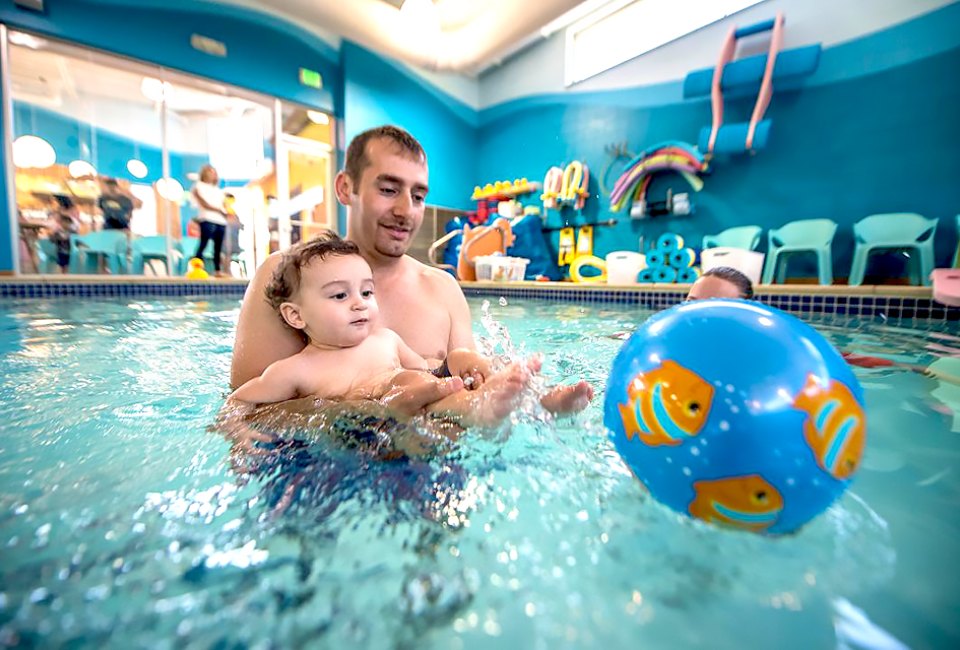 7/15/22
- By
Corrie Stango
With everything from pool play to life-saving skills, these locations offer swimming classes in Philly for the tiniest swimmers and provide great options for introducing young children to the water.
Bubbles and splashing, bonding and safety: for fun, survival, or some combination of both, getting young children into a pool is at the top of many parents' lists. Starting with caregiver−child swimming classes and progressing all the way to stroke refinement, many of these facilities take your child's swim journey from infancy through childhood. So get those swimsuits on (you, too, grown-ups) and head to the pool any time of year to learn a lifelong skill and have fun along the way.
For more parent−child bonding, check out these mommy and me classes in Philly, or browse our Philly Classes for Kids Guide to find a class for kids of all ages.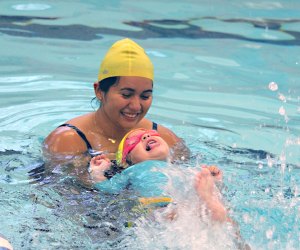 The YMCA offers a variety of swim classes for the smallest swimmers. Photo courtesy of the YMCA
Baby and Toddler Swimming Lessons in Philadelphia
YMCA—multiple locations
The Y and swim lessons are basically synonymous, so look to this fitness hub for classes that introduce your baby or toddler to the pool or progress their existing skills. Parent−child classes are available for children up to 3 years of age, and toddlers can up their skill level, without mom or dad, in the swim basics classes that focus on acclimation, movement, and stamina. While members receive a discounted rate, non-members can enroll their children into swim classes offered at YMCAs across the region.
Fitness Alive—South Philly or Center City
"Baby and Toddler Bubbles" is a 30-minute relaxed session for parents to bond with their children in the pool. In 3-feet-deep water, the instructor will guide parents and their tiny swimmers with songs and simple motions. A perk to Fitness Alive is guests can buy a single pass or sign up for a four-class card. Interested in making it a family outing? While the cost covers one parent and their child, a second parent can be in the pool for a small fee.
Like many locations on our list, the Kroc Center allows parents the opportunity to get in the pool with their child. Babies as young as 6 months and toddlers as old as 3 years can learn the basics, including entering the water, blowing bubbles, kicking, floating, and going underwater. Once children reach 3 years of age, they can participate in independent swim lessons without a grown-up. While the current summer session is currently underway, check back for future session offerings.
Baby and Toddler Swimming Lessons in Philly Suburbs
The pools with Kids First Swim Schools are kept at 90 degrees, so say goodbye to goosebumps and look forward to a warm experience in the water. Mommy (or daddy) and me classes as well as small group or private instruction for toddlers are offered here. The KIDS FIRST / Kick First® approach focuses on the importance of training the legs and feet first, so kick, kick, kick your way to one of the six locations.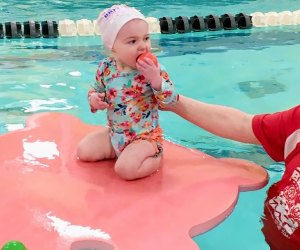 British Swim School caters to kids as young as 3 months.
Another program with many locations all over the greater Philly area, British Swim School has 10 program options for children, including parent-assisted classes for babies as young as 3 months. While songs and play are part of the program, British Swim School's #1 mission is its survival-based approach. Beyond water acclimation with a caregiver, babies and toddlers can participate in beginner or advanced water survival and stroke skills.

Goldfish Swim School warms its pools to 90 degrees to keep kids cozy during their first swimming experience.
For the littlest swimmers, Goldfish's appropriately titled "Mini" lessons are just the ticket. Broken apart by age, parent participation, and comfort level, the four "Mini" options are all 30 minutes in length. The facility is visually stimulating, and engaging props are used during lessons to optimize interaction and participation. You'll also get a shiver-free experience at Goldfish, where the pools are heated to 90 degrees. Goldfish has five locations in the Philly suburbs. Want to check it out before committing? Call any location to sign up for a one-time free trial lesson.
A unique part of the enrollment at Aqua-Tots is the choice in swimming frequency. This facility offers lesson packages for one, two, or three times per week. For the youngest swimmers, the "Tadpoles" (4−12 months) and "Minnows" (13−30 months) parent−tot classes simply allow for water exploration and enjoyment. Beginning at 2.5 years, toddlers, or "Leapfrogs," expand their pool time away from a caregiver. As your child grows up at Aqua-Tots, they can look forward to becoming a "Shark" or "Stingray."
Summer sessions are going on now, so check back soon for fall session announcements. Plymouth residents receive a discount, but non-residents are also welcome to participate in "Aqua Explorers" (parent−child) for 6 month−3-year-olds or "Tugboats," "Speedboats," or "Submarines," differentiated based on ability, for 3−5-year-olds.
For a summertime swim lesson experience that's exclusively outdoors, head to Belmont Hills. These lessons are offered to Lower Merion residents or current pool members only, and sessions run every weekday for two weeks. The "Aqua Tot" class is Belmont Hill's version of a parent−child class for infants through 4-year-olds.
If your sole goal is safety, Infant Swimming Resource's mission is just that: teaching your child to float on their back, breathe, and wait for help if needed. Babies as young as 6 months can participate in these one-on-one lessons that last 10 minutes, 5 days a week. According to the program, babies and 1−6-year-olds learn in around 4−7 weeks. Check out the website for locations that include private and community locations.
Photos courtesy of the schools