25+ Great Mommy & Me Classes in Philly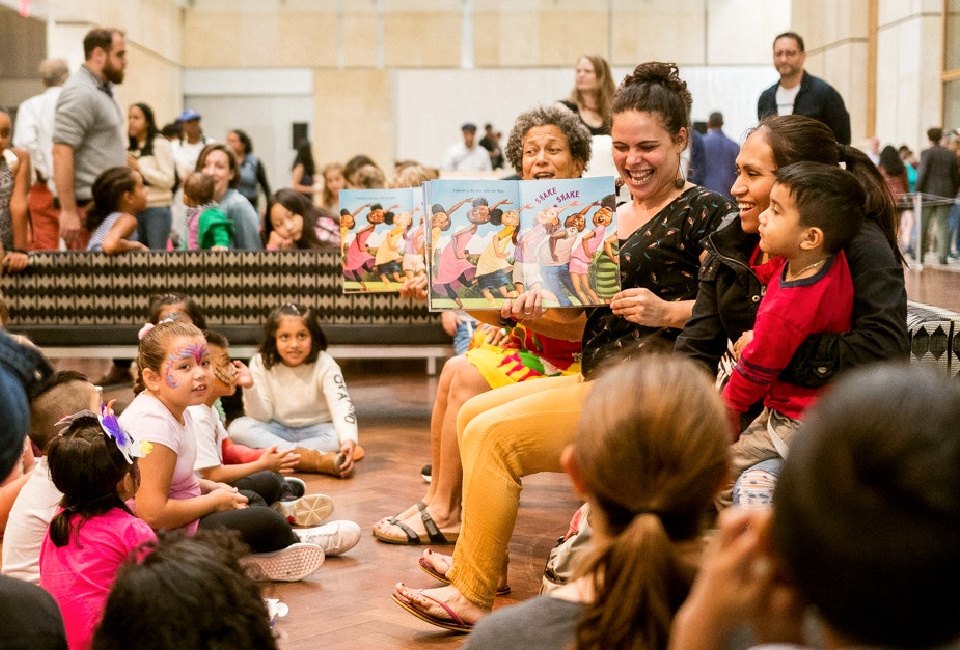 8/22/21
- By
Lindsay Li
Mommy and me classes in Philly provide an opportunity to learn new skills alongside your little one. Whether you are just starting out in parenting or looking to introduce your child to your love of books, dance or music, or even want to learn a new language together, we're sure you'll find a fun baby or toddler class in Philadelphia.
Our list of great mommy and me classes in Philly features spots that let you experience great moments with your little one. For additional information for kids of all ages, browse our Guide to Classes for Kids in Philadelphia.
Movement and Dance Classes for Mommy & Me in Philly
2757 Frankford Avenue
Learn to tumble with Me and You at FlipOut Productions. Children from 10 months to 3 years gain confidence through physical development as parents participate in guiding little ones through tumbling routines and songs.
2. Philly InMovement — Bella Vista, Queen Village, Northern Liberties
610 South Percy Street/500 Kenilworth Street/810 N. Hancock St.
A variety of parent-child participation classes are offered at these three Philly InMovement locations. Children as young as 15 months can join in the fun of tumbling, balancing, and hanging while developing motor skills, gaining muscle and brain stimulation, and growing in self-reliance. Incorporating music and props, classes are fun for you and your little one.
RELATED: Great Dance Classes for Kids Near Philly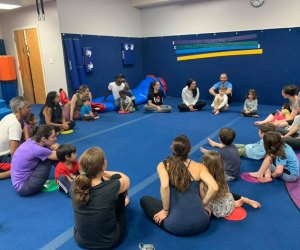 Delight in mommy and & me movement classes at Philly InMovement. Photo courtesy of Philly InMovement
3. Play Arts — Philadelphia/Fishtown
1241 N. Front Street/1301 N. Beach Street/2007 Frankford Avenue
Geared toward kids ages 2-5, Movement Lab classes are currently offered outdoors at Liberty Lands, Penn Treaty Park, and Gold Star Park. In the fall, indoor Movement Lab classes are available in Fishtown. These student-centered creative movement dance classes for toddlers and their caregivers feature movement activities with songs, stories, nursery rhymes, and games.
624 N. Front Street
A variety of mommy & me classes are offered at this studio. Parent and child can select from Creative Movement and Acro, Ballet and Tap Combo, and Hip-Hop and Acro. Classes are provided in five-week sessions, allowing young ones a break if needed.
10771 Bustleton Avenue
Beginning in September, mommy-and-me classes here allow kids 12-36 months the chance to learn creative movement alongside their favorite caregiver. Through stories, play, and song, young ones not only develop motor skills but also learn socialization and cognitive skills.
85 Makefield Road
For more than 30 years, Workshops in Dance provides even the youngest among us a place to learn and foster a love of dance. Parent-child classes include Dancin' Babies for 2- and 3-year olds and Dancin' Mama and Infants.
Music Classes for Mommy & Me in Philly
116 Cricket Avenue/3060 West Jefferson Street/904 S. 9th Street/104 W. Mermaid Lane
With three locations in the city and one in the subburbs, Mister John's Music classes enable newborns through age 4 to learn about music, rhyme, and movement, helping with language development and motor skills. Classes are 45 minutes long and sessions last eight weeks.
8. Nest — Philadelphia
1301 Locust Street
Located in Center City, this spot offers age-specific music classes for babies from 6 weeks to 6 years. Music classes at Nest are geared to get you and your little one moving, learning, and building skills.
Multiple locations
This spot has classes all across the city and suburbs, with a program designed for little ones ages 4 months through 5 years. This program enhances young children's auditory senses, and cognitive and musical skills through singing, rhythm, and creative movement activities.
10. PlayArts — Philadelphia/Fishtown
1214 N. Front Street/1301 N. Beach Street/2007 Frankford Avenue
PlayMusic Family offers play-based music enrichment classes for babies and toddlers alongside their caregivers. The class is geared toward early learners under 5 years old. Classes are currently being offered outdoors at Penn Treaty Park. Fall sessions are held outdoors at Penn Treaty Park and indoors at Circle of Hope in Fishtown.
Fitness and Sports Classes for Mommy & Me in Philly
11. Fit4Mom — Philadelphia
Multiple locations
Fit4Mom offers classes specifically designed for moms looking to get into shape after baby arrives. Stroller striders classes are child-friendly, giving mom a total body workout and keeping baby entertained through song and activities in parallel.
RELATED: Awesome Art Classes for Kids Near Philly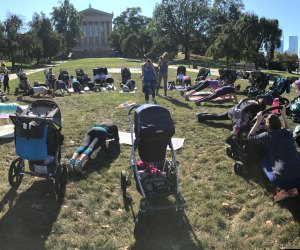 Stroller Striders classes are ideal for Philly moms and their kids. Photo courtesy of Fit4Mom
1503 North Philip Street
Mommy can take prenatal yoga classes before baby arrives. Once baby has been welcomed into the world, try a baby-and-me class on Sundays. Geared toward babies 6 weeks to pre-crawlers, these classes allow parents to spend time with their little one while enjoying gentle poses and relaxing the body and mind.
1301 Locust Street/1923 Chestnut Street
Mommy-and-baby Yogalates is specifically designed to help new moms restore and heal their bodies through yoga and pilates, while also bonding with their new baby. Babies join mom on the mat as you move through restorative poses.
814 Spring Garden
Little Jawns at Phield House provides an opportunity for parent and child to play in a 25,000-square-foot facility. As much as this experience gives kids 5 and younger a chance to burn off energy, it is also a great place for adult conversation for grown-ups. Sibling discounts are available.
2856 W. Moreland Road
Designed specifically for children 3 months to 5 years old, Romp N' Roll's parent-and-child classes allow children to reach developmental milestones through play-based activities building physical and mental skills. Both parents and children get the opportunity for socialization as well.
16. YMCA — Philadelphia/Suburbs
Multiple locations
YMCA locations throughout the region provide parent-and-child swim classes. Children from 6 months to 3 years can participate as they explore an aquatic environment in the arms of their caregivers. Select locations offer parent-and-child introduction to sports classes for kids ages 1-3. This is a great way to expose kids to many different types of sports at a young age.
Language and Literary Classes in Philly for Mommy & Me
17. Baby Wordplay — Philadelphia/Wynnewood/Ardmore
Multiple locations
These early literacy playtimes are especially designed for children 4 and younger and their favorite grown-up. Classes foster a sense of love for words, stories, books, and music. Little ones can expect interactive play with sounds, rhyme, and song. Sessions are six weeks in duration and run from September through October at local outdoor venues.
Multiple locations
Parents can take their children to the library for free storytimes at locations throughout the region. Sessions incorporate interactive experiences through song, rhymes, and movement activities.
200 Argyle Road/214 W. Hillcrest Avenue/3625 Chapel Road
The baby-and-me preschool class teaches children Spanish through interactive, engaging, age-appropriate activities. Typical classes include storytime, music, singing, dancing, games, movement, and crafts. Outdoor classes are offered at Paddock Park Pavilion and a new mommy & me class is now available at St. Alban's in Newtown Square.
PO Box 693
Baby and parent can learn Spanish at the same time during these classes. Geared toward kids 15-36 months, classes engage young ones in a playgroup style.
Creative Play and Art Classes in Philly for Mommy & Me
1542 E. Montgomery Avenue
This spot offers playgroup classes that include free open play while parents find new friendships. Kids enjoy circle time and snack as part of the experience but the real joy is in getting to know other caregivers and building a community of friendship for you and your little one. Suggested donation is $5. Grown-ups receive complimentary coffee or tea.
206 Bucks Road
Offering eight-week sessions of interactive creative play between the parent and toddler, little ones develop skills and prepare for school. Children and parents participate in crafts, storytime, music, and build social skills. Parents also are likely to form friendships with other caregivers in the program.
514 Bainbridge Street/1721 Springdale Road
The class called Art Start is especially for children ages 2-3 and a caregiver. Kids learn motor skills, socialization, and self-confidence while fostering a love for art.
RELATED: Coding Programs That Teach Kids Programming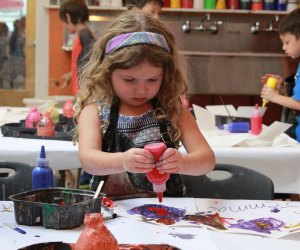 Moms and dads can join in the fun at the Philly Art Center. Photo courtesy of the center
2119 Spruce Street
Little ones ages 3-5 can bring their favorite grown-up to Sue's Art Class and Create Studio for art fun. Participants use clay, paint, collage, and other media while using their imaginations in hands-on classes. Sessions are 12 weeks in duration.
Parenting Classes in Philly for Mommy & Me
25. Nest —​ Philadelphia
1301 Locust Street
Nest offers a number of age-specific classes for parents to connect and learn from child development educators as well as other parents. With classes that start from birth and go up into 2 years, learn techniques on sleep, feeding, and dealing with tantrums. Learn tips and techniques you can use at home.
2029 Frankford Avenue
Classes at Minnow Lane are ideal for new moms. Sessions address topics such as breastfeeding, postpartum care, and overall parenting support.
542 Carpenter Road
The Nesting House offers periodic new baby meet-ups at select locations. These are designed to help parents connect as they navigate their new role as mom or dad.
Writer Kristen Sullivan contributed to this 2021 update.
Enter to Win!