20 Awesome Art Classes for Philly Kids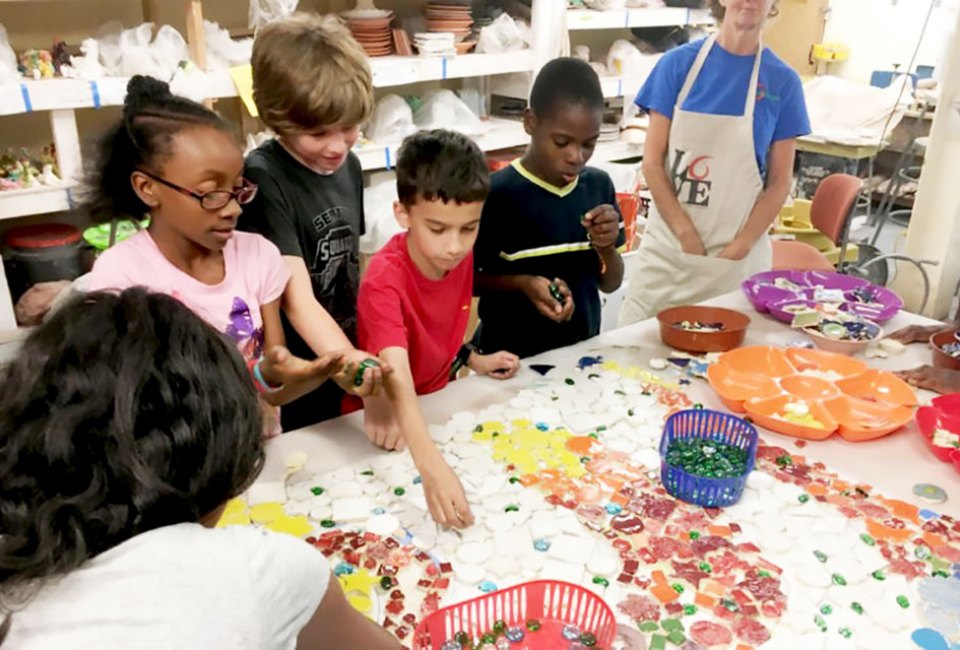 8/15/21
- By
Cait Sumner
Art classes are a great way to help kids hone their creativity, to discover new talents, or even just de-stress. There are so many great places in and near Philly to discover art, and many of them offer classes for aspiring young artists. Some even offer homeschool classes for kids who learn at home and are looking to socialize with their peers.
Mommy Poppins Philadelphia has rounded up some great nearby art classes. Many are still fine-tuning their fall schedules so check their websites often for the most current information. For more ideas, browse through our Guide to Classes for Kids in Philadelphia, which is filled with many options.
Art Classes for Kids in the City of Philadelphia
This art center offers in-person ceramics and visual arts classes as well as dance, and theater workshops for students ages 6 and up. Participants learn how to draw techniques, create tiles, make mugs, and design personalized chime mobiles during art sessions.
Blooming Artist Studio hosts classes for children from pre-K through high school. From learning the concepts of basic drawing to exploring the methods of famous painters, budding artists are sure to get their creative juices flowing. Classes are held Mondays through Fridays. Younger groups start at 4pm while older kids begin at 7pm.
This spot hosts a Saturday Young Artists Program, an opportunity for children 5-18 to develop artistic skills tuition free. Folks interested in applying must enter a lottery as space is limited. Concepts taught include mixed media, painting, fiber arts, silkscreen, and digital photography, There are fall, winter, and spring terms. Another option is an online art class called Art Adventures. Lessons are divided by grade and feature age-appropriate art projects.
Held throughout the year, art classes at Manayunk Art Center inspire creativity and expression no matter the level. Summer classes are specifically geared towards kids. Information on both after school classes and virtual kids classes is coming soon.
PAFA offers free monthly workshops to families through its Family Arts Academy. Topics vary each month and are a great bonding experience for the whole family. Currently these classes are offered only online. PAFA's offerings don't end there. Geared toward kids 10-14, Saturday classes for middle-school students run in sessions throughout the year. At this time, these classes are provided by Zoom. The fall schedule is forthcoming.
Creating art is fun, but the best way to further your creativity is by learning about some of the greats. The Philadelphia Museum of Art offers virtual lessons for children starting as young as preschool and continuing all the way through college. Homeschoolers can enjoy online workshops on a variety of topics. A popular drop-in family program called Art Kids Studio is running in the summer of 2021. This is a great way to instill a love and appreciation of art in little ones. Check the website for fall schedules.
7. Philly Art Center — Fairmount, Queen Village, and Cherry Hill
Philly Art Center has classes for kids age 20 months all the way up to 9+. Drop-in play sessions incorporate creative play and stories. Young children can take classes with their parents for a fun bonding experience. School-aged students can get free pickup, an especially helpful value-added offering for busy parents. Half-day and school holiday programs are also available.
From young ones in PreK and kindergarten to older kids up to 5th grade, Portside Arts Center allows students to be creative while expressing themselves through hands-on art projects in after school art class. Children explore drawing, painting, sculpture, as well as jewelry making, fiber arts, puppetry, and weaving. In addition to after school sessions, Portside Arts Center offers Saturday classes, Family Art Nights at Cherry Street Pier, Summer camps, and Teen Portfolio Building Workshops.
Serving 1000+ families, this art academy teaches art techniques through classes, workshops, and community events. Its goal is to combat issues such as anxiety, stress, depression, and boredom by fostering a love for art and a creative outlet. Virtual classes, summer camps, and art shows are also offered.
Kids can register for art classes at The Clay Studio starting at age 6. There are also family and adult sessions. Programming includes general pottery, handbuilding, and wheelthrowing. All skill levels are welcome.
The Arts After School program at University City Arts League provides children in kindergarten and older the opportunity to get creative in classes such as Crafting an Ecosystem, Beginner Pottery, and Filmmaking. Kids can do homework and have free time prior to art class, which is generally held from 4 to 5:30pm. Pick up is at 6pm. Due to restrictions, space is limited to 10 students, so be sure to register in advance to secure a spot.
Art Classes for Kids in the Philly Suburbs
This art studio has classes for older kids. Topics include drawing and painting skills for teens, comic book art, and abstract art. Some classes are held during the week while others occur on Saturday.
Artists of all ages are welcome to participate in classes at Bucks County Classical Arts Center. Held at St. Martin of Tours Church, classes focus on the fundamentals of classical drawing and painting methods from basic drawing to open model sessions.
Kids as young as 4 can channel their inner artist at art classes held by Chester County Art Association. Held year-round including the summer, sessions explore topics such as mixed media, drawing, digital arts, photography, pastels, and sculpture.
Located in Delaware County, this spot provides art classes for all ages. Themes include drawing, painting, photography, pottery, ceramics, and jewelry making. Summer camps and workshops are also offered.
Offering kids and adult classes, this studio runs one-month classes that allow artists to try many different types of creative processes. From drawing and painting to pottery and ceramics, there is something for everyone. Home-school sessions and mommy-and-me classes are also available.
Located in Bucks County, the Michener Art Museum offers a variety of classes all year long. From pre-K to adult, this museum has something for everyone. Classes for kids are broken down by grade level. Choose from a variety of different types of classes, including drawing, sculpture, painting, print making, and mixed media. Unique to this location, the museum experience is an actively incorporated component of art education. Virtual adult classes are available too.
PCA&D offers classes for students in grades 1-9 as well as home-schoolers and pre-college classes. These classes are structured as studio classes, so students have time to develop and hone their skills with the help of a teacher. All ages can participate in online, in-person, and hybrid options.
From elementary school through high school, kids can participate in different types of art classes at Rockdale Art Center. Students can choose from painting classes to cartoon drawing. Homes-chooling and virtual options as well as family classes are offered.
Elementary school students through adults can find something to peak their curiosity at Whitemarsh Art Center. There are family classes, too. There is a mix of online and in-person options, featuring painting, printmaking, and clay. Even a magic trick class is available for kids ages 7-11.
Photo courtesy of PAFA. Writer Kristen Sullivan contributed to this 2021 update.
Enter to Win!