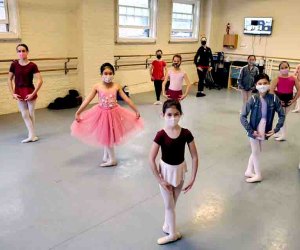 15 Great Dance Classes for Kids in the Philly Area
Dance studios and classes come in a variety of styles for all ages. Some focus on fun and fitness while others trend toward competition and professional training. Many offer classes starting with Mommy & Me for the youngest dancers, and expand their variety as children get older and more skilled. Whether the aspiring dancer is into ballet, jazz, tap, modern, or hip hop, this list has something for everyone from Center City to the 'burbs.
For classical training in ballet and modern dance techniques, the Philadelphia Dance Academy offers classes for children starting in preschool all the way to adulthood. Philadelphia Dance Academy has two locations: Old City (main location) and Ardmore. Instructors use the American Ballet Theatre® National Training Curriculum, a program that consists of a comprehensive set of age-appropriate, outcome-based guidelines to provide the highest quality ballet training to dance students of all ages and skill levels.
Equilibrium Dance Academy focuses on each dancer's individual development. With mainly afterschool classes (there are a few Saturday sessions), Equilibrium focuses mostly on children age 5 and older. What sets this studio apart is that every student may take one free trial class before registering. Additionally, they have professional dance flooring which best absorbs the impact of dancing and jumping, minimizing injury.
OUR LATEST VIDEOS
Philly Dance Fitness offers a huge amount of classes for adults, but did you know they had a great children's program as well? Kids ages 3-12 can register for a gamut of fun dance classes, including creative movement, pre-ballet, dance fitness (like Zumba), yoga, and more.
For over 50 years, The Rock School has been focused on its mission to provide the best in dance training. Offering school-year programs for children and teens, this comprehensive dance studio is located on the Avenue of the Arts and has five floors with six sprung-floors, an in-house costume shop, boutique, and a cafe. The Rock School also has summer classes. Serious dancers can participate in the Rock Academics program, which provides academic flexibility while students prepare for a future career in the arts.
An affordable, professional performing arts studio for all, Living Arts Dance Studio offers dance programs for everyone, ages 2 to adult. Living Arts Dance Studio offers morning, afternoon, and weekend classes to fit into a family's busy schedule. Camp opportunities and traveling classes (to be taught at local schools and daycare facilities) are also available.
With a yearly program that runs from September through May, Dancexpress offers baby dance, creative movement, ballet class, tap class, jazz class, hip hop, modern, and pointe. Classes are available for students ages 2 and older, from beginner to advanced/pre-professional levels. Yoga, Pilates, and special workshops are also offered throughout the year, and camps run during the summer.
It's never too early to learn ballroom dancing—just ask the teachers at Danza Academy. The dance school offers DanceSport Kids for children ages 5-12 to as an introduction to creative movement and dance. Students learn the beginnings of the waltz, foxtrot, swing, tango, polka and much more. There's also a competitive circuit for those interested children.
Boasting 4,500 square feet of space in two studios, Movements in Motion offers many introductory classes that focus on having fun while learning basic dance skills. Children ages 2-7 enjoy learning by combining dance traditions in early classes; children around age 7 can choose to focus on one area as they develop their skills. Movements in Motion also hosts birthday parties and holds summer camps. There are four different competition teams as well.
Main Line has been teaching students since 1988. They offer a comprehensive dance program for all levels with one of the best studio spaces around. As a bonus, Main Line also offers music lessons including piano, guitar, drum, and voice as well as karate classes.
Formerly Studio 180, Ballet 180 has a commitment to community and personal well-being. This studio offers a full schedule of ballet classes, as well as tap, jazz, hip hop, modern, and lyrical contemporary. Those who take ballet class can expect teachers to follow the ABT® National Training Curriculum. This program was created by world-class dance artists in conjunction with sports medicine, nutrition, physical therapy, and orthopedics advisors. As a result, classes concentrate on strong kinetics and coordination as well as proper body alignment.
Wissahickon Dance Academy (WDA) was established by Nancy Malmed, a professionally trained dancer from Temple University. Audiences find WDA dancers in professional dance companies, prestigious summer programs, and universities on dance scholarships. Pre-ballet class starts at age 3 and goes through adulthood. Hip hop, tap, jazz, modern, and yoga are also offered. For more advanced students, study-abroad opportunities to Cuba and Ukraine are available.
This dance studio features youth programs that include Mommy & Me, pre-ballet, ballet, ballroom dancing, and tap but also offer special hip hop classes. Latin Pulse Youth Ballroom classes are offered and birthday parties, with either a princess or ballerina theme, can be arranged. Unique to this studio, Top Hat Dance hosts an annual special needs prom in May.
Little ones ages 3-5 can participate in the Little Star Program. During this program, children learn ballet, jazz, and tap. Kids ages 4-5 can participate in Hip Hoppers which is a popular selection for the boys. Another option is Musical Divas, which incorporates acting and singing into dance. Older students can sign up for regular classes featuring ballet, hip hop, jazz, tap, lyrical, contemporary, musical theater, and modern. Dancers who have reached their highest level can take part in a master program, an accelerated level with intense training in a specific style of dance.
L.A. Dance Galaxy offers plenty of opportunities for children 3 and up. Dancers can expect classes such as jazz, ballet, hip hop, and pointe as well as musical theater, lyrical/liturgical praise, and dance dynamo combo. L.A. Dance Galaxy also has competition teams. This studio offers Soaring High, an adaptive dance class for students who have particular needs, allowing participants of all abilites the opportunity to experience both the physical and mental benefits of dance.
Philadelphia Studio Ballet encourages dancers to have fun while learning ballet dance technique in a stress-free environment. Early division includes Mommy & Me sessions, beginning at 18 months, and preschool ballet opportunities. Primary division is for students in grades 1-3 and pre-professional ballet is for students with 3-4 years of classical ballet training. To compliment the traditional ballet classes, students can take ballet with the ​Cecchetti method, named after the famous dancer, Cav. Enrico Cecchetti.
Image courtesy of Lori Foxworth via The Philadelphia Dance Academy.