It's Date Night! Drop-Off Daycares and Play Spaces with Date Night Specials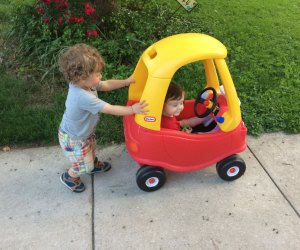 You have been rocking it as a parent lately. Checking off all the top things to do with your little ones since they started summer break, hitting up the best spray grounds and splash pads, seeing the latest movies, and taking day trips to the beach. You've even managed to make fun nights out a little more adult friendly. But now it's time for a little break and a good old-fashioned date night. Fortunately, even in the summer, there are plenty of options for a parent's night out that won't break the bank! This roundup will give you a Friday night to enjoy with your sweetie while your kids have a great time and make new friends.
BounceU- Horsham
Kids will be completely ready for bed after this drop-off! Enjoying a night of non-stop bouncing and games, plus pizza. Best for older kids.
When: Check the website, dates and times vary
Pricing: $25 first child, $20 each additional
By My Side Parenting- Philadelphia
Every first Friday of the month is date night at By My Side Parenting. Children 18 months and older spend play in a relaxed group setting and are served a kid-friendly dinner. Register in advance and consider volunteering as a chaperone to get a free date night the next month!
When: Monthly, First Fridays 5:30 PM– 8 PM
Pricing: $15 for 1, $20 for 2, $25 for 3
The Center on Central- Paoli
For kids 4 and up, Center on Central is another first Friday date night spot for your kids. You can enjoy a romantic night with your partner, while your kids enjoy a creative night of crafts and activities followed by a pizza dinner. They'll end the night with a movie and be ready for bed by the time you pick them up.
When: First Fridays (but check the website for confirmation) 6:30 PM–9:30 PM
Pricing: $30/child for the first child, $20/child for additional children
Little Gym- Narberth
Each month The Little Gym hosts "Parents' Survival Night." Kids 3-12 get to enjoy music, games, and other fun activities in the gym. Pricing also includes pizza dinner for the kids. Registration fills up fast so definitely call in advance.
When: Date nights vary by month so check the website. Every date night is 6 PM– 9 PM
Pricing: Members-$22/Non-Members $27
Lulus Casita- Ardmore
Kids will love playing in this place space without mom and dad around!
When: Dates vary, check the website. Every date night is 5 PM–7:30 PM
Pricing: $25 for the first child and $15 each additional sibling
Romp and Roll- Willow Grove
Parents of children aged 2-5 get an evening to themselves while the children get to run, play, dance, and create their own masterpiece. The evening also includes a pizza party dinner and ends with a bubble dance party.
When: Kids Night Out events are held Saturday nights, once monthly from 6 PM-9:00 PM
Pricing: Member rate: $20 for one child; $35 for two siblings; $40 for three siblings. Non-Member Price $25 for one child; $40 for two siblings; $45 for three siblings
Super Date Night:
Hooray Drop and Play- Springfield
Parents get an extra-special date night with advanced pay packages that takes care of both you and the kids! Register at least one day in advance.
Movie Date Night Package: 2 tickets, concession coupons, and 3-hours of childcare starting at $45*.
Dinner Date Night Package: $25 Gift Certificate to the Red Iron American Pub. Includes 2 hours of childcare starting at $40*.
*Note that there is an additional one-time $60 registration fee per family.
Photo courtesy of Cait Sumner of Mommy Poppins.