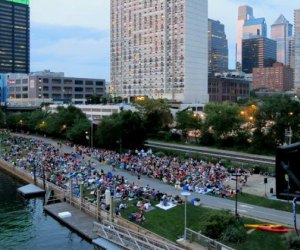 Free Outdoor Summer Movies for Philly Families
Enjoying an outdoor movie under the stars should be on every family's summer bucket list in Philadelphia. Watching an alfresco film on a big screen is a relaxing way to spend a balmy evening with family and friends. Bonus: All of these flicks are free!
Films usually begin at dusk, but be sure to arrive early to stake out a good spot. Some series offer music or other live entertainment before the movie, and a few even provide free popcorn. So pack some snacks, a blanket (and bug spray, too), sit back, relax and enjoy the show at one of these outdoor summer movie series in or near Philadelphia.
PHILADELPHIA
Schuylkill Banks Movie Series
Walnut Street Bridge and Wharton Street Esplanade at Gray's Ferry Crescent- Philadelphia, PA
June 1- August 10, 2017
Catch an outdoor movie and free snacks and beverages on select Thursday nights in one of these locations along the Schuylkill River. There are ten movies shown in all. Six are shown at Walnut Street Bridge and four are shown at Wharton Street Esplanade at the Grays Ferry Crescent. Be sure to check the location before you go.
Saturday Night at the Movies- Philadelphia, PA
July 8- August 19, 2017
Enjoy games and pre-show activities before watching an outdoor movie on the Great Lawn at Franklin Square every other week.
Bartram Gardens- Philadelphia, PA
May 26, June 23, July 14, August 4, and August 18, 2017
At dusk, families can gather to watch a different movie each evening at this free event.
Penn's Landing Screenings Under the Stars- Philadelphia, PA
July 6-August 31, 2017
Enjoy family-friendly films shown with the Delaware River backdrop at the Great Plaza at Penn's Landing.
DRCC Free Outdoor Movie Nights- Philadelphia, PA
July 13- August 24, 2017
Every other Thursday, families can enjoy family-friendly movies at Pennypack on the Delaware Park.
Wawa Welcomes America Movie Series
The Philadelphia Museum of Art, Franklin Square, and The Schmidt's Commons at the Piazza - Philadelphia, PA
June 29, July 2, and July 3, 2017
Families can enjoy free movies courtesy of Wawa, Inc. and St. Christopher's Hospital for Children at locations throughout Philadelphia.
MONTGOMERY COUNTY
White's Road Park- Lansdale, PA
May 20, July 27, and August 24, 2017
Bring your blanket and head to the Band Shell in the park for three family movie nights.
Limerick Community Park- Limerick, PA
June 2 and August 19, 2017
Two free movies are showing this summer at Limerick Community Park.
​Whitemarsh Township Movies in the Park Series
Miles Park, Leeland Park, and Hope Lodge- Lafayette Hill, PA
Highlands Mansion- Fort Washington, PA
June 14- August 16, 2017
Whitemarsh Township hosts kids' films at various locations throughout the township. Snacks are available for purchase.
Wentz Run Park- Blue Bell, PA
June 20, July 11, and August 1, 2017
Snacks are available for purchase at these fun movie nights.
Plymouth Community Center- Plymouth Meeting, PA
June 21- August 2, 2017
Head over to the amphitheater behind the Community Center for DJ entertainment and movies every other Wednesday beginning June 21st.
Fischer's Park- Lansdale, PA
June 21 and August 2, 2017
Free popcorn and drinks are provided for two nights.
Black Rock Park- Upper Providence Twp, PA
June 30 and August 11, 2017
Black Rock Park hosts two movies this year: Pete's Dragon and Sing.
BUCKS COUNTY
Central Park- Doylestown, PA
May 19, June 2, July 7, September 15, and October 20, 2017
On select Fridays throughout the summer, guests can enjoy family-friendly movies at the Covenant Bank Amphitheater in Central Park.
Linton Memorial Park- Newtown, PA
Beginning June 28, 2017
Enjoy a variety of exciting movies mostly held on Wednesdays.
Bensalem Community Park- Bensalem, PA
TBD
Family movies are shown in the park on Fridays.
DELAWARE COUNTY
Barrall Field- Media, PA
June 9, July 8, and August 12, 2017
Families can watch a movie on a 2 story inflatable screen. Movies are to be determined.
Aston Community Center- Aston, PA
June 28, July 26, and August 16, 2017
Free movies begin at dusk. Food and drinks are available for purchase.
CHESTER COUNTY
Oakbourne Park- West Chester, PA
June 23, July 21, and August 18, 2017
On the third Friday of the month, families can enjoy an outdoor movie at Oakbourne Park. Movie selections are still being determined.
Oxford Memorial Park- Oxford, PA
July 21 and August 18, 2017
Free and open to the public, these movie nights encourage families to come together to enjoy an outdoor movie. Concessions are available at these events.
East Goshen Park- West Chester, PA
September 15, 2017
Say goodbye to Summer 2017 during this outdoor family movie screening of Sing.
Be sure to also search our Event Calendar for the many free outdoor summer concerts series in the Philly area!
Photo courtesy of Schuylkill Banks.