20 Kid-Friendly Hikes near Orlando and Central Florida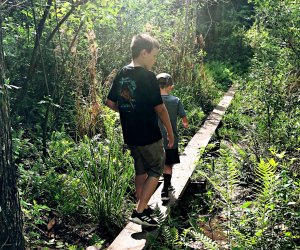 1/15/21
- By
Charlotte B
Explore the outdoors with your family on one of the many amazing hiking trails around Orlando. Family hikes are a great way to unplug together, boost mental and physical health, and enjoy beautiful Florida scenery.
Here is a comprehensive list of great local hiking trails all around Central Florida. Each includes trails that are easily accessible for children, and many are stroller friendly and include playgrounds. Make sure to bring bug spray, as mosquitoes are on the rise. We recommend bringing sunscreen, snacks, and plenty of water as well.
Hiking is also an option at many of Central Florida's natural springs. Add to the outdoor fun with a geocaching scavenger hunt or by hiding painted rocks for others to find.
The Best Hiking Trails for Families in the Orlando Area
Known to locals as Turkey Lake Park, there is so much to do here you could enjoy a full day of family fun. There are both paved walking trails as well as natural-surface nature trails. I would suggest starting your visit at the animal farm (complete with horses, goats, pigs, turkeys, and more), and then proceeding to the adjacent nature trail, which has interactive nature play stations for the kids. Other amenities include two playground areas, fitness stations, picnic pavilions, sand volleyball, fishing pier, disc golf and a dedicated drone flying area.
Admission: $5 per car; $2 for single-occupant vehicles
This 11,500-acre preserve began as a partnership between The Nature Conservancy and the Walt Disney Company. Visitors can hike miles of color-coded nature trails leading to the headwaters of the Everglades, while enjoying Florida's wildlife and natural beauty. There is also a eco-friendly education center and butterfly garden.
Admission: Free, donations appreciated
Gemini Springs boasts a 0.75-mile nature trail, a one-mile looped biking trail, as well as a 0.25-mile bridge loop that centers around the twin springs and beautiful spring-fed waters. A playground area, picnic pavilions, paddling trail, and a dog park are also available for park visitors to enjoy.
Admission: Free
While hiking the almost two-mile loop trail at the Geneva Wilderness Area, visitors can sight a variety of wildlife, including wild turkeys, grey foxes, white-tailed deer, and more. The onsite Ed Yarborough Nature Center includes exhibits and live displays to educate guests about the ecology of Central Florida.
Admission: Free
RELATED: The Best Places to View Manatees Near Orlando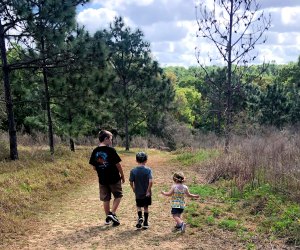 Hidden Waters Preserve boasts a number of short trails perfect for kids.
As the name hints, this preserve boasts hiking trails leading to a large sinkhole and ravine. The trails are color-coded and range from 0.2 to 1.5 miles. There are bridges and crossing beams along some of the trails. Kids are sure to enjoy exploring the shallow crystal-clear ravine waters, so be sure to bring a towel to dry off.
Admission: Free
This park is unique in that it is an island on the St. John's River accessible only by free park ferry or private boat. The park has eight miles of hiking trails for families to explore, many of which include evidence of Native American habitation. The most popular hiking trail is 3 miles round-trip and leads guests to Indian Shell Mound. Hiking maps can be picked up at the ranger station. Other amenities include a museum and visitor center, a playground and picnic pavilions.
Admission: Free
While most people flock to this park for tubing the beautiful turquoise spring run, there is also a 2.5-mile trail loop visitors can explore, as well as a full-service concession area, playground and picnic pavilions. Due to the popularity of the park, expect high volumes of visitors in the summer months.
Admission: $3 for vehicles with 1-2 people or $5 for vehicles with 3-8 people
This park is only open Thursday-Sunday each week.
With 120 acres of woods and wetlands, this nature preserve includes a one-mile boardwalk leading to an enclosed pavilion on the lake as well as a network of looped nature trails to explore. This is also a playground, fishing pier, education center and picnic pavilions.
Admission: Free
The boardwalk at this park is currently closed. The playground is also currently closed and in the process of being replaced.
Lake Mills Park has a loop trail as well as boardwalk leading to Lake Mills. Other amenities include a sand beach area, playground, fishing dock, pavilions,and an amphitheater.
Admission: Free
This 7.4-mile scenic paved trail is ideal for walking, jogging, biking or skating. It is wheelchair- and stroller-accessible. Keep an eye out for wildlife such as osprey, hawks, turtles, and gators. There are picnic areas, a butterfly garden, and canoe trails as well.
Admission: Free
Close to downtown Orlando, explore easy hiking trails and boardwalks through this 47-acre botanical garden. A picnic pavilion, environmental education center, and butterfly garden are also onsite.
Admission: Free
This 128-acre preserve is just west of Orlando. Start your visit with a trip to the museum and education center to see the live fish and turtle exhibits. From there families can explore a boardwalk leading out to a pavilion overlooking Lake Apopka, or one of multiple color-coded hiking trails, ranging from 0.1 TO 0.7 miles long. Kids are sure to love the nature play area as well, with stations set up to explore and play.
Admission: Free, donations appreciated
Orlando Wetlands Park is a 1,650-acre man-made wetland. It is a top birding destination and home to an estimated 1,700 alligators. There are more than 20 miles of hiking trails within the park, with many routes possible. Trail maps are available at the education center and at the visitor pavilion, which also houses live animals and multimedia displays. Bicycling and horseback riding are popular on the trails as well.
Admission: Free, but donations are accepted
RELATED: Mini-Golf Courses in Orlando for Family Fun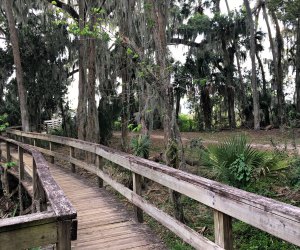 Trails at Palm Island Park lead to Mount Dora lighthouse and the Gilbert Park playground.
A family favorite of ours, this 8-acre preservation area includes a boardwalk overlooking Lake Dora as well as a one-mile looped nature trail. Nearby, visitors can enjoy a paved walking trail and playground at Gilbert Park, the Mount Dora lighthouse, and a short walk to the shops and restaurants in beautiful downtown Mount Dora.
Admission: Free
This 58-acre park includes a 1.4-mile loop trail for hiking and bird watching. The park also features a historical Cracker village from the late 1800s and a small playground.
Admission: Free
Visitors at this park can choose from a variety of paved trails, accessible for stroller and wheelchairs. Following their hike, guests can enjoy a visit to Pioneer Village, a collection of historic structures including a 1898 Cracker House and a 1900 general store. There is also a playground that kids will love.
Admission: Park admission is free; admission to the Pioneer Village is $8 for adults, $4 for kids ages 4-12, under 4 free
This wildlife preserve near Orlando's theme parks includes miles of easy hiking trails and a large nature center with a variety of displays and exhibits. There is also a butterfly garden, sandbox and picnic area.
Admission: Free
Overlooking the Harris Chain of Lakes, this shaded park and campground offers a 1.3-mile loop trail that is easy for all ages. There is also a boat ramp, fishing piers, two playground areas and picnic pavilions.
Admission: Free
RELATED: Family-Friendly Boat Trips in the Orlando Area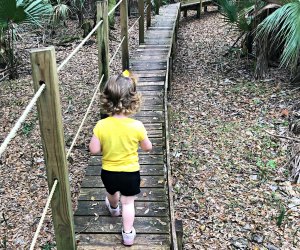 Kids will love the "cat walk" at Trout Lake Nature Center.
This 230 acre wildlife preserve has multiple family-friendly interpretive walking trails, a boardwalk that leads out to a pavilion overlooking Trout Lake, a couple of narrow "cat walk" boardwalks and a swinging bridge that kids will love to explore. There is also a museum with wildlife mounts, outdoor turtle exhibits, and an educational building complete with a hands-on touch table for kids to explore.
Admission: $5 per vehicle
The highlight of this park is the first magnitude natural spring, but there are more than 25 miles of trails to explore as well. Visitors might spot white-tailed deer, gopher turtles, turkeys, and possibly a bobcat, or Florida black bear. Mountain biking, horseback riding, and camping are also popular at this park. Kids can enjoy a playground area as well.
Admission: $6 per vehicle
Photos by Charlotte Blanton