Bonnet Springs Park in Lakeland, Florida Is Free Outdoor Fun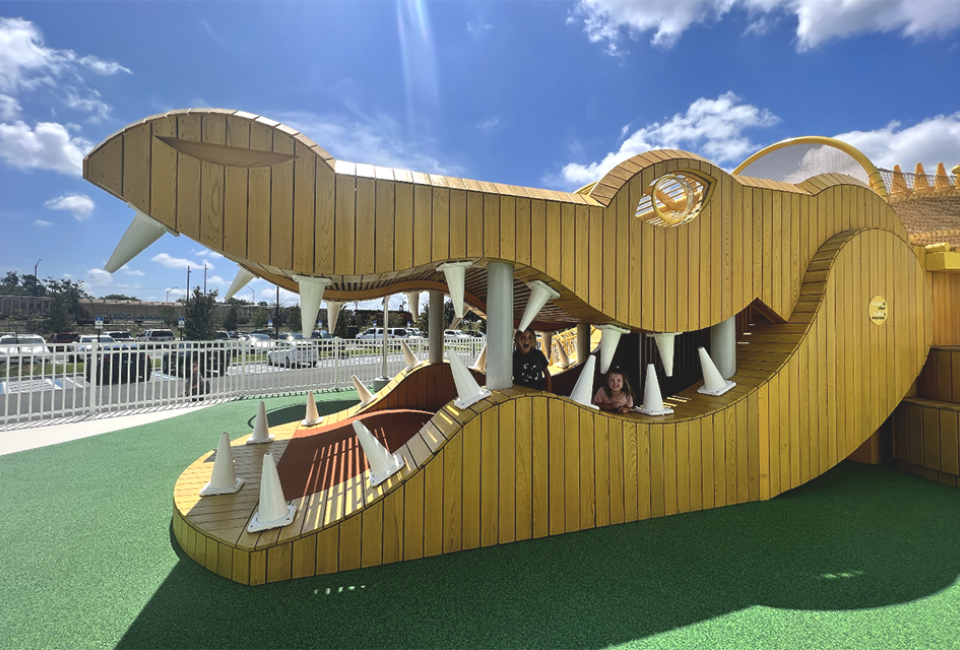 6/23/23
- By
Charlotte B
Bonnet Springs Park in Lakeland, FL is a fantastic, FREE outdoor attraction that caters to both young and old! My family recently visited this hidden gem, dubbed "Central Florida's Central Park," and it provided the perfect setting for a fun family day trip from Orlando. With a range of activities and attractions, Bonnet Springs Park offers an immersive experience that combines natural beauty, educational opportunities, and endless fun for kids of all ages. Gather the family and make memories at this enchanting destination!
Find more great summer destinations near Orlando with these summer day trips, Florida beaches near Orlando, and local swimming springs.

Crenshaw Canopy Walk takes visitors on a journey through the trees.
Spending the Day at Bonnet Springs Park
As you arrive to Bonnet Springs Park, enter the welcome center and parking facilities. The Hollis Family Welcome Center features a coffee shop, gallery, gift shop, and a tot-sized, fenced-in playground. Grab a coffee, park map, and apply some sunscreen before heading along the paved trails and boardwalks. The main paved trail is called Lakeland Regional Health Circulator, and visitors can use tram stops along this trail. The tram runs daily, 10am-5pm.
Outside of the welcome center is Agamerica Heritage Gardens, featuring a train-themed playground. Note: There is not much shade in this area, so visit earlier in the day before it gets too hot.

Take a break at the Kiwanis Cares for Kids Treehouse.
Bonnet Springs Park: Trails & Playgrounds
Venture to the Crenshaw Canopy Walk and journey through the treetops for a unique perspective of the park's lush surroundings. Several sections through the Lakeland, FL park feature fun slides built into the landscape; just check them as we noticed they get very hot in the sun.
Traveling along the main trail, you can't miss the Kiwanis Cares for Kids Treehouse, a great place to cool off and take a restroom break. The treehouse is available for rent, but is open to the public when not reserved. When we visited, there was a food stand outside of the treehouse with refreshments, snacks, and cool treats!
Just past the treehouse is the Blanton Family Lagoon (which we got a kick out of since that is our last name). Visitors can walk the boardwalk overlooking the lagoon and wetlands. The nearby boathouse offers picnic tables, water fountains, and vending machines. Once dock construction is complete, kayaks and pedal boats will be available for rental.
Enjoy air conditioning, take a restroom break, and check out interactive exhibits educating about the park's plants, animals, and restoration efforts at GiveWell Community Foundation Nature Center. Nestled off the trail, past the Nature Center, is Zoe's Butterfly House —we missed this on our trip, so I'm hoping to visit it when we return!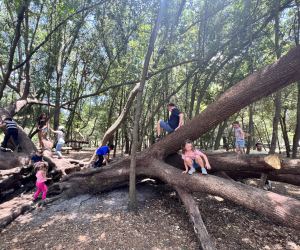 There are several big, fun climbing trees at the Nature Center.
Perhaps our favorite areas were all the playgrounds (yes, that's plural) and other fun play areas suitable for a range of ages. Tree climbing is encouraged, and you'll find several fun climbing trees near the Nature Center. Mable the Mosaic Owl playground structure allows kids to climb and slide while parents relax in the shade. Keep walking and discover a water play area with a shallow stream, misters, and interactive play elements. Along the hill, kids will love the fun slides, swings, and a natural playground with tunnels and climbing nets. Restrooms and shaded picnic tables are beside the playground, making it a perfect spot for a picnic lunch or snack break.
Bonnet Springs Park: Dining
Along the Circulator trail, sits Depot Café and Rooftop Bar. The Depot offers burgers, chicken tenders, sandwiches, wraps, salad bar, and ice cream. The Rooftop Bar serves beer and wine, as well as a full bar. Outside of the Café is a large open green space known as the Family Lawn.

Find engaging activities and exhibits at the Florida Children's Museum.
Bonnet Springs Park: Florida Children's Museum
Next door to the Café is the new home of the Florida Children's Museum, where families engage in fun, educational exhibits and activities. The museum's front yard features a colorful alligator play structure and fossil dig pit. On the lower level of the museum, little ones ages 6 and under play in the Watermelon Seeds Gallery; older kids can challenge their minds in the Design Park. Upstairs, kids explore a miniature version of a real city, with a play grocery store, fire station, store, and more. Note: Bonnet Springs Park does not charge an entrance fee, however the Florida Children's Museum charges an admission fee.

Bonnet Springs Park: Know Before You Go
Bonnet Springs Park in Lakeland, FL is located about 1.5 hours from Orlando and is open 365 days per year, pending severe weather.
Bonnet Springs Park is FREE to visit (with the exception of Florida Children's Museum). The park is cash free; only credit and debit cards or mobile pay are accepted.
All of the trails and boardwalks are stroller and wheelchair friendly.
Bikes are allowed on the Circulator trail, however they are not allowed on the boardwalks. We saw several kids riding bikes and scooters on the paved trail around the family lawn, so that's an option if you'd like to bring them —we wish we had brought scooters for our kiddos!
Check the park's event calendar for special programs. From art workshops and live performances to nature camps and community festivals, these events add an extra layer of enrichment to the experience.
Bring swimsuits, towels, and extra clothes to enjoy the water features.
Bonnet Springs Park offers idyllic picnic areas where families can unwind and eat together. Pack a picnic basket with your favorite treats and find a cozy spot amidst the park's scenic surroundings. Outside food and drinks (no alcohol) can be brought into the park.
No overnight parking is allowed, and camping is not available.
Photos by the author
Places featured in this article:
Sign up for the Mommy Poppins Newsletter today!
i