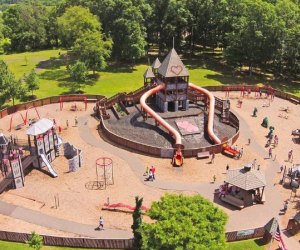 Best Montgomery County Parks and Playgrounds
Montgomery County has an abundance of family-friendly events and activities sure to keep the entire family busy and learning all year round. Across the county there are many beautiful parks, creative playgrounds and play spaces, and walking trails that can be enjoyed by residents and non-residents alike. We've rounded up some of our favorite parks and playgrounds in the area. Whether you live there, or your visiting for a day, there are plenty of great places to play!
Too hot, cold, or wet to play outside? Check out our favorite indoor play spaces in Montgomery County.
1. Ashbridge Park—Rosemont
Over the course of the past few years this park has seen a number of improvements including a state-of-the-art playground installation, a new, paved parking lot for easy access to the play space, and stabilization of the park's popular walking trail have made this stunning, 29-acre park even better!
2. Chestnut Street Playground—Souderton
This playground was revamped thanks to some community effort. It's now handicap accessible with 5 foot-wide black-top pathways for wheelchair and walker accessibility, as well as brail for blind children to engage with. The playground also features integrated learning features such as music makers.
3. Central Perkiomen Valley Park—Schwenksville
Central Perkiomen Valley Park is a sprawling 800-acre park, extending over 10 municipalities along the Perkiomen Creek. The park offers a wide variety of family programming and activities, including an excellent playground, and a 19-mile long trail for running, jogging, and horseback riding.
4. Collegeville Community Park—Collegeville
This spacious park and playground features newly updated playground equipment on three-acres of park land. There is also a full-size basketball court, roller hockey court, and a baseball field.
5. Everybody's Playground—Horsham
This 6-acre site includes a handicap accessible playground, pavilions, restrooms, and walking trails. The playground is state-of-the-art with play structures suitable for all ages.
6. Fischer's Park—Harleysville
With two playgrounds designated for by age-group, and ample picnic space, this is a great place for the full family to go or even host a birthday party.
7. Fountain of Youth Spray Park—Pottstown
This Pottstown favorite is located in Pottstown Memorial Park, a 78-acre full use park with sports fields, pavilions for picnics, and tons of space to run and play. It's perfect for a nice, sunny day.
8. Green Lane Park—Green Lane
This site is home to two children's playgrounds as well as ample space for biking and hiking. Throughout the year, residents enjoy family-oriented programming, including summer concerts.
9. Lower Perkiomen Valley Park—Oaks
The Lower Perkiomen playground is great for smaller children. With plenty of space for older kids to run and play, this park is fun for all ages. There is a basketball court, volleyball nets, tether ball areas, and horseshoe pits to pair with a family picnic or outing.
10. Manderach Memorial Playground—Limerick
This 70-acre park includes an immaculately maintained playground as well as several pavilions, athletic fields for baseball, sand volleyball, basketball, a mile-long paved track, and more. Restrooms are accessible onsite as well.
FYI: Manderach Memorial Playground is closed on the first Monday of each month from 7 AM - 2 PM so that inspections and maintenance can be performed to keep the playground in good working condition. The playground also closes from November-April.
11. Montgomery County Spray Park - Montgomeryville
Open from Memorial Day to Labor Day, this splash pad is free to the public and runs daily during the summer months starting at 11am. There is also an adjacent playground with sunshades to help keep cool on hot days even if your kids aren't playing in the water.
Note: While the playground and spray park are free to use, to access the additional amenities inside the recreation center onsite, membership is required.
12. Norristown Farm Park - Norristown
At 650 acres, Norristown Farm Park is the perfect spot for families to venture into nature while still having amenities such as bathrooms and paved trails. The whole family is invited to this park, too, including Fido. So grab the bikes, the dog, and your walking shoes and head out to stretch your legs, watch the birds, and if you're the fishing type, maybe even cast a line into the well-stocked trout stream. And don't forget a picnic lunch for the pavilions.
13. Parkside Place Park—North Wales
This unique playground is an enormous wooden structure full of all sorts of mazes with secret passageways, towers, swinging bridges, climbing ropes, unique slide features, and creative fun for kids. This playground is sure to keep your little one's imagination running wild.
Photo of Manderach Memorial Playground courtesy of Limerick Township, PA