40 Ways to Beat the Heat in Philly: Heat Wave Indoor Activities and Outdoor Cool Fun
7/9/23
- By
Kristen Sullivan
It's. Hot. As Philly gets clobbered with a heat wave, this weather is enough to turn even the sweetest kids into total grumps. And while staying in and enjoying your A/C has its perks, sometimes you just need to get out of the house. Fortunately, no matter the weather, there are amazing places to romp and play in the city and the suburbs that can help you keep cool and beat the heat.
Check out our events calendar, and our list of family-friendly museums and indoor play spaces in the Philadelphia area for even more fun, inside and out!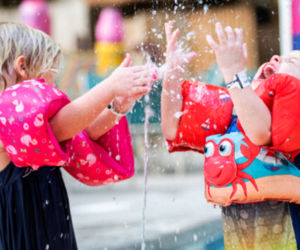 Get a day pass to a water park like Kalahari. Photo courtesy of Kalahari Resort
1. Day Trip to a Water Park
Pack your swimsuits and head to one of these awesome nearby water parks, or try an indoor water park to really escape that sun.

Make a splash among the skyscrapers at Dilworth Park. Photo courtesy of Center City District
2. Make a Splash
Get soaked at a local splash park or spray ground, most of which are free!
3. Take a Swim
Jump into one of Philly's many public pools or use the heat wave as an excuse to enroll the kiddos in swim lessons.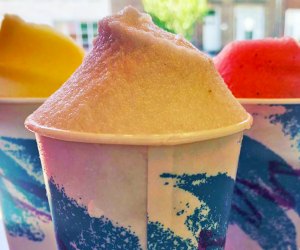 Hot summer days are the best excuse for a frozen treat. Photo courtesy of John's Water Ice
4. Go for Ice Cream
Snack on some cool treats from the the best ice cream shops around.
5. Or Stick with Wooder Ice
Team Rita's or John's? Which water ice makes your heart melt?
6. Get Underground
Consider exploring a cool local cave or cavern.

The Jersey Shore is always a good option for beaches, boardwalks, and family fun. Photo courtesy of Wildwoods
7. Head Down the Shore
Take a trip to the Jersey shore. Nothing beats an ocean spray and beach breeze.
8. Hit the Lake
Take the family canoeing or kayaking, and perhaps play a friendly game of tip the boat if you really need to cool off.
9. Academy of Natural Sciences
Stay cool while discovering dinos at the Academy of Natural Sciences.
10. Find a Factory
From chocolate, to chips, to crayons, get the lowdown on how things are made on a factory tour.
11. Please Touch Museum
You'll love the A/C while kids seven and under will love the Please Touch Museum's carousel, mini market, and the Big League Fun exhibit (through September 3, 2023).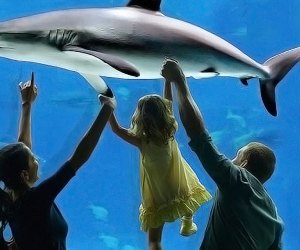 Find Nemo at Adventure Aquarium. Photo courtesy of the aquarium
12. Adventure Aquarium
Find your favorite sea creatures in Camden while staying cool at the Adventure Aquarium.
13. Trampoline Parks
If the kids are already bouncing off the walls, head to one of the many trampoline parks in the region.
14. Escape Room
Escape the heat in one of these family-friendly escape rooms.
15. Go Bowling
You may work up a sweat but at least these bowling spots are air-conditioned!
16. Indoor Batting Cage
Enjoy the fun of baseball without sweltering at the ballpark at these indoor batting cages.
17. Visit the Library
Visit your local Free Library to browse the shelves or enjoy programs, activities, and story times.
18. Wander an Art Museum
From the Philadelphia Museum of Art's Art Kids programs, to browsing the galleries of the Barnes Foundation or another museum in the area, there's so many options for creative kids.
19. Franklin Institute
Journey through a century of beloved animated tales in Disney100: The Exhibition, hike through a heart, show off in the sports zone, or pop into the planetarium at the Franklin Institute.

Let off some steam at an indoor play space like Giggleberry Fair. Photo courtesy of the play pace
20. Giggleberry Fair
Visit Bucks County and let the kids loose in Giggleberry Fair, located in quaint Peddler's Village.
21. Indoor Play Spaces
Check out a local play space where young kids can play indoors while you meet up with other overheated parents.
22. Roller Skating
Head inside and grab some wheels to skate around in the AC at one of these great roller skating rinks!
23. Spruce Street Harbor Park
Swing in hammocks in the shade while enjoying a frozen treat at Spruce Street Harbor Park.
24. See a Show
Check out a live performance at the Upper Darby Performing Arts Center, including Disney's High School Musical 2 Jr., Matilda Jr., Disney's Beauty and the Beast Jr., The Three Little Pigs, Rodgers and Hammerstein's Cinderella: Youth Edition, and Finding Nemo Jr.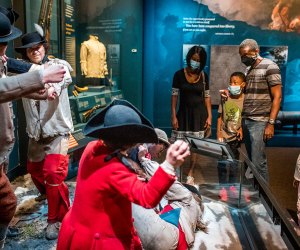 Get excited about history at the Museum of the American Revolution. Photo courtesy of the museum
25. Museum of the American Revolution
Step back in time—but this time with air conditioning—at the Museum of the American Revolution.
26. Axe Throwing
Big kids ages 10 and up can try their hands at axe throwing. Bury the Hatchet has several locations to choose from in the Philly area.
27. Paint Pottery
From Mud Room Studio in Ardmore to Create Me Pottery in Huntingdon Valley to various Color Me Mine locations, there's lots of creative options.
28. Train Ride
New Hope Railroad and Colebrookdale Railroad are popular steam engine options. Only first class cars have A/C, but you can roll down the windows in coach and enjoy the breeze.
29. Legoland Discovery Center
An interactive LEGO brick world plus an indoor playground and even a theme park ride make Legoland every kid's play paradise.

Cool off in the Color Room at Philly's Museum of Illusion in Old City. Photo by Jody Mercier
30. Museum of Illusions
Fool your eyes at the mesmerizing and highly Instagrammable Museum of Illusions.
31. Craft Hall
A brewery and restaurant with a pirate ship playground inside...Craft Hall in NoLibs is the perfect place for Philly families to ride out the heat.
32. Dine Out
There's tons of kid-friendly restaurants to satisfy Philly foodie families.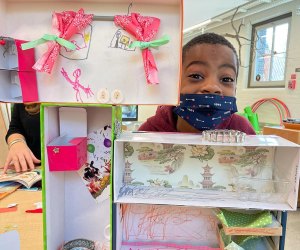 Beat the heat with playtime at Smith Memorial Playhouse. Photo courtesy of the venue
33. Smith Playhouse
The 16,000 square foot playhouse is free and one of Philly's most beloved play spaces. Brave the heat for a ride down the giant century-old wooden slide.
34. Movie Night
Enjoy a movie from the comfort of your car at one of these drive-in movie spots, or have a family movie night at home.
35. Indoor Rock Climbing
Ascend in an air conditioned, indoor climbing gym.
36. Crayola Experience
Bring that box of crayons to life at Crayola Experience in Easton.
37. Reading Terminal Market
Reading Terminal Market is a very Philly solution to a heat wave. Grab some ice cream and enjoy the vibe while exiting the heat.
38. Independence Seaport Museum
Discover Philly's river history, pretend to be a pirate, or take a paddle boat for a spin on the Delaware at the Independence Seaport Museum.
39. Meet at the Mall
Cool down in the play areas at King of Prussia Mall and Plymouth Meeting Mall.
40. Get Crafty
Browse our crafts, science projects, and boredom busters for ways to keep cool in the comfort of your home.
Originally published in 2018. Updated for 2023 by Alyce Wilson.
Sign up for the Mommy Poppins Newsletter today!