Beat the Heat: 30 Ways to Stay Cool with Philly Kids this Summer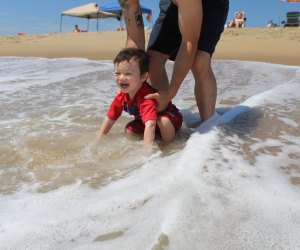 With heat and humidity hitting us this summer, this weather is enough to turn even the sweetest kids into total grumps. And while staying in and enjoying your A/C has its perks, sometimes you just need to get out of the house. Fortunately, no matter the weather, there are amazing places to go romp and play in the city and the suburbs that can help you beat the heat.
Check out our events calendar, and our list of family-friendly museums in the Philadelphia area for even more fun indoors and out!
Take a trip to the shore! Nothing beats an ocean spray and beach breeze.
Get soaked at a local splash park or spray ground.
Jump into one of Philly's many public pools.
Pack your swimsuits and head to one of these awesome nearby water parks.
Take the family canoeing or kayaking, and perhaps play a friendly game of tip the boat if you really need to cool off.
Snack on some cool treats, such as yummy Thai rolled ice cream.
If your goal is to get wet without getting a sunburn, check out the local indoor water parks and pools.
Or, plan a trip to an indoor destination water park.
Get underground! Nothing beats the heat like exploring a cool local cave or cavern.
Take a hike. It's always cooler in the woods, plus you can explore some of Pennsylvania's most beautiful natural attractions… waterfalls!
If you have a preschooler, take a trip to Sesame Place, this theme park includes a water park, and is sure to be a fun way to stay cool.
Check out the dinosaurs at the Academy of Natural Sciences, where the kids can marvel at more than a dozen fully articulated monsters of the Mesozoic! While you are there, explore the new Xtreme Bugs exhibit.
Learn about how things are made on a factory tour.
Children six and under absolutely love the Please Touch Museum with its Alice in Wonderland Maze and the ultimate favorite: a mini-Acme for the kids to get a chance at playing adult.
Adventure Aquarium has sharks, mammals, reptiles, and amphibians! It's all indoors, and with a KidZone that especially caters to children 6 and under, it's a great summer destination.
If the kids are already bouncing off the walls, head to one of the many trampoline parks in the surrounding region. BounceU, Skyzone, and Get Air are a few favs.
Attempt to escape the room at one of these family-friendly escape rooms.
Go bowling with the family. You may work up a sweat but at least it's air conditioned!
Enjoy the fun of baseball without sweltering at the ballpark and hit up indoor batting cages.
Visit your local Free Library, which has programs and activities for ages 0-99.
The Philadelphia Museum of Art is always well worth the visit. It's a cool way to learn together, as you explore the halls to participate in Art Splash programming.
Get lost in a mirror maze, watch a movie on the IMAX, gaze at the stars, or experience Game Masters at the Franklin Institute, where you can keep the kids entertained indoors all day long.
Travel to Bucks County and visit Giggleberry Fair in Peddler's Village.
Check out a local play space where young kids can play indoors while you meet up with other overheated parents.
Enjoy some hands-on fun at the Garden State Discovery Museum.
Swing in hammocks in the shade while enjoying a classic Philly treat at the Spruce Street Harbor Park where you can find an outpost of Franklin Fountain for ice cream or Water Ice at Frozen delights.
Cool off with some refreshing scoops of ice cream from some of the best shops around.
Enroll the kiddos in reasonably priced swim lessons.
See a show such as The Lion King, The Little Mermaid, Freckleface Strawberry the Musical, and A Year with Toad and Frog at the Upper Darby Performing Arts Center.
Step back in time and visit the air-conditioned Museum of the Revolution.
Photo courtesy of the Lindsey L.