Wilmington with Kids: 23 Best Things To Do in Wilmington, Delaware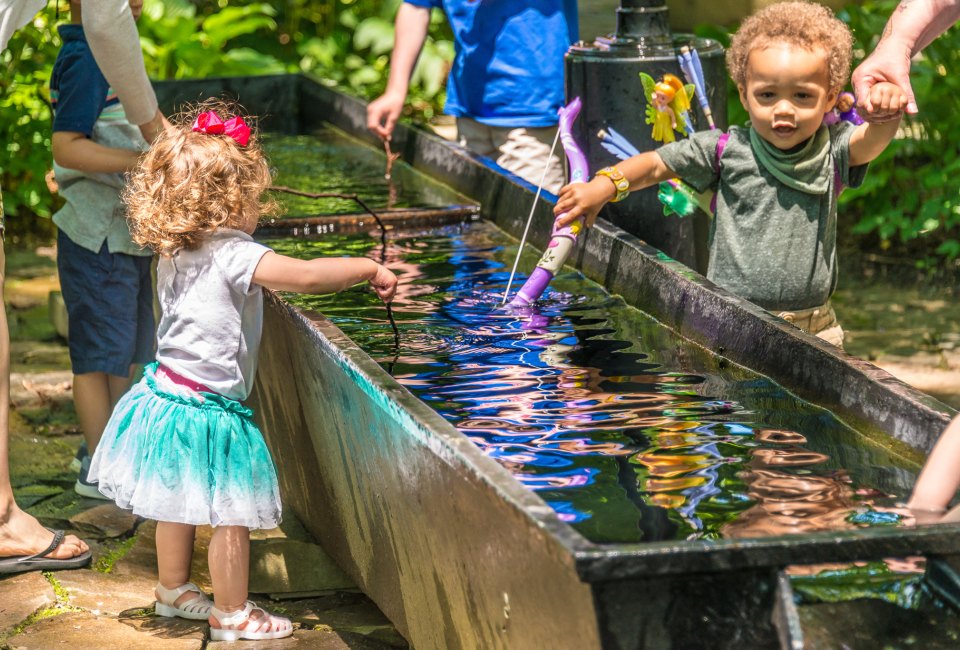 4/16/23
- By
Hillary Moses Mohaupt
We found the best things to do in Wilmington, Delaware with kids, from museums to zoos to train rides and more.
Yo, Philly! When was the last time you went to Wilmington? Wilmington, Delaware is the largest city in the First State, which is probably why it's so packed with fun things to do with kids. Here you'll find enchanted woods, railroads and river walks, children's museums, nature museums, art, a zoo, and so much more.
Downtown Wilmington is just 30 minutes from Philadelphia and about an hour from Baltimore, making it the perfect day trip or weekend getaway with kids. Read on for our favorite things to do in Wilmington, Delaware— complete with tips and insider secrets from a local mom who has seen it all, done it all, and found the nearest and cleanest potty.
For more local getaways, browse our roundup of 20 Beautiful Day Trips from Philadelphia, featured in our Philly Family Day Trips and Weekend Getaways Guide.

Best Museums to Visit with Kids in Wilmington, Delaware
This museum reopened in May 2022 with a refreshed name and new exhibits. The state-of-the-art learning space boasts a virtual ocean dive, an immersive exhibit about the flora and fauna of Delaware that includes an enormous map on the floor, hands-on robotics experiments, and live animal demonstrations. Plus, the museum's Nature Nook provides a place for the smallest visitors to learn more about tree habitats, read nature books in a toddler-sized nest, and visit a cave.
Home to art from around the world, the Delaware Art Museum features an outdoor sculpture garden that's perfect for kids to roam and explore. My favorite nook: the special kid's corner room in the downstairs of the museum, featuring a whimsical tree, an enormous stuffed dog, and lots of materials for kids to read, get creative, and use their imaginations. The museum is also steps away from Rockford Park, which features a sprawling lawn and dog park that's perfect for picnics and burning off lots of excess energy.
This beautiful estate features both a historic home and world-class gardens, which are fun to explore. Pro tip: try to plan your visit for one of the special events like Spring Fling and Daffodil Day. For mystical fun, pay a visit to Winterthur's Enchanted Woods. The Woods are definitely worth the price of admission thanks to a fairy cottage, kid-sized bird nest, and towering oak trees that make adults and children alike believe in magic.
RELATED: Family Road Trips from Philly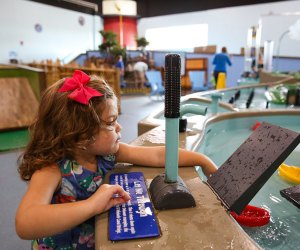 At the Delaware Children's Museum, kids can discover how nature works. Photo courtesy of the museum
Let your kid roam this sprawling discovery center filled with lots of fun ways to learn about science, math, the water cycle, nature, and much more. The museum features a huge water table, an oversized pirate ship, a real giant tree that kids can climb in, an exhibit dedicated to trains, and a multi-level climbing structure. Plus, Riverwalk Mini Golf is just outside the museum, so it's easy to tack on a round of mini golf before or after a visit to the children's museum.
This local museum and grist mill offers regular weekend tours and special events for families to learn more about farms, native plants, bees, sheep-shearing, and more!
Nestled along Brandywine Creek, Hagley Museum is the perfect place to step back in time. With both indoor exhibitions and outdoor demonstrations of gunpowder, gardening, baking, and more, there's lots for kids of all ages to explore while learning. Bonus—the beautiful outdoor gardens provide lots of room to roam!
Get the inside scoop on Delaware's fascinating history. Through permanent and changing exhibits, this museum highlights the state's contributions to history, along with a focus on the African American experience in Delaware.
RELATED: Kid-Friendly Philadelphia Hotels for a Family Staycation

Meet the red pandas at the Brandywine Zoo. Photo courtesy of the zoo
Best Activities To Do with Kids in Wilmington, Delaware
Delaware's only zoo is small but mighty, featuring animal exhibits and lots of special events for kids of all ages. Because of its small size, the zoo makes it possible for kids to get up close and personal with capybaras, toucans, goats, eagles, and more. Admission prices vary throughout the year, depending on whether some animals are likely to be indoors due to the cold. Special events include Boo at the Zoo, free family nights, Clues at the Zoo, and a special monthly sensory hour for kids and families who prefer a quieter visit.
The hometown AAA baseball team is named for the special blue-gray granite found in the area, and it's the best way to watch baseball without the crowds or traffic of a big city. The season typically opens in April and games often feature special giveaways and events with the team's moose and celery mascots (yes, Mr. Celery is a highlight at every game).
RELATED: Our Guide to Kid-Friendly Fun in the Poconos

Families can enjoy a river cruise on the Kalmar Nyckel. Photo courtesy of the Kalmar Nyckel
Sail on the official Tall Ship of Delaware, a replica of an original Swedish colonial ship, and learn about maritime history. Special events vary depending on the time of year, and so does the cost of admission and the ship's docking location, so it's best to plan ahead and book tickets in advance for this one-of-a-kind experience.
Steam and diesel engines depart from the historic Greenbank station, with special seasonal events. This is one of the best trains in the Philadelphia area for kids. Take the train with princesses, superheroes, the Easter Bunny, or Santa! Schedules and trip lengths vary.
This neighborhood theater regularly performs family-friendly shows and the Pillow Plays program produces monthly performances presented by kids for kids!
The 1.3-mile Riverwalk runs from Tubman-Garrett Riverfront Park to the Shipyard Shops and all the way to the DuPont Environmental Education Center, which is part of the Delaware Nature Society. The boardwalk is wide enough for strollers, dogs, and kid bikes. Attractions along the riverwalk include family-friendly restaurants, the Delaware Children's Museum, Riverwalk Mini Golf, and a dock for the Kalmar Nyckel and other tour boats. Special events at the Hare Pavilion include a free petting zoo, concerts, and more.
This local ice cream shop is a bit of a drive from downtown Wilmington, but the homemade flavors are worth it! Plus the farm hosts special events and bluegrass music during the spring and summer.
RELATED: 50 Things to Do in Baltimore with Kids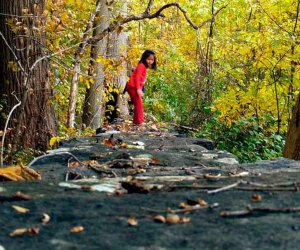 Explore the family-friendly trails at Brandywine Creek State Park. Photo courtesy of Delaware State Parks
Best Parks in Wilmington, Delaware to Visit with Kids
This free public park is tucked into a corner of the Brandywine Valley in the northern part of the state, making it a great place for out-of-state tourists visiting the DuPont museums to take a break in the great outdoors and let little legs run around before getting back in the car seat. The breathtaking vistas also make it perfect for springtime family picnics and the wide-open spaces make it great for low-key rambling.
This beautiful park is nestled along the picturesque rapids of Brandywine Creek in Wilmington and features the state's only zoo. Brandywine Park includes a couple of different walking paths and connects to both Alapocas State Park and the Northern Delaware Greenway Trail, for longer stroller walks.
Delaware is home to 17 state parks, and Alapocas is one of the most conveniently located. It's off I-95 just outside of Wilmington, making it easy to get to from other parts of the state and Philadelphia. The park's Can-Do Playground was the first Boundless Playground in Delaware, designed to be accessible for all children, plus it's surrounded by a meandering Storybook Trail that incorporates native plants and reading comprehension skills for older children. The park also boasts miles of wooded walking and biking trails, including a portion of the Northern Delaware Greenway Trail, as well as rock climbing, picnic areas, and athletic fields.
Not to be confused with Brandywine Park, this state park has an extensive trail system of different lengths and lots of open meadow space and picnic areas for playtime and snack time. Bonus: there's easy access to the creek for splashing around in the water.
It might seem pretty general to recommend an entire county park system, but the New Castle County parks could form a top-ten list all on their own. When I polled other Delaware parents, there were a few clear favorites: Middle Run Valley near Newark features a toddler-friendly birdwatching trail that's easy to navigate with a stroller. Nearby Paper Mill Park boasts easy parking, accessible walking trails, and a playground that's great for older elementary school kids.
And Glasgow Park is home to H!GH 5 Park, Delaware's first playground designed especially for children with autism. Basically, pick a park in New Castle, and you can't go wrong.
The statewide nature society has sites all over Delaware, including the DuPont Environmental Education Center along the Christina River, at the end of the Riverwalk. The center boasts a stroller-friendly and wheelchair-accessible boardwalk through a marsh, weekend meet-and-greets with live animals in the nature center, plus a native-plant garden for little ones to explore.
Rockwood is frequently voted home to the best walking trails in the state, and the site also boasts an interactive garden tour, self-guided tours of the historic home, and lots of special events on its grounds.
This park features more than 200 acres of short trails through woods and around a pond, which are perfect for short attention spans, plus a whimsical Old West-style town around the equestrian center, where the New Castle County mounted patrol (horses!) make their home.
Bellevue features a pond, several playgrounds suitable for kids of all ages, hiking trails, disc golf, and a wide, one-mile track around the pond that's perfect for walks with friends with strollers, bikes, or kids on scooters. The park is home to a summer concert series and Wellspring Farm, an equestrian center with lots of horses on site.