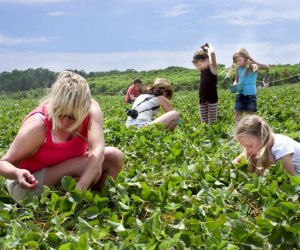 Top Strawberry Picking Farms Near the Philadelphia Area
The start of strawberry picking season in Pennsylvania is a sure sign that summer fun is right around the corner. Strawberry picking teaches kids important lessons about their food sources and connects everyone with nature. Some of the sweetest summer memories are made nibbling on fresh, vitamin-C-rich berries out in the fields. It's the perfect outdoor activity for a homeschooling lesson or a day of healthy family fun.
We have compiled a list of farms in the Philadelphia area that offer the best strawberry picking. Grab your sun hats, and get ready for an adventure on the farm.
Note: Due to the coronavirus pandemic, farms are offering limited services and enhanced health and safety measures. Please click through to the individual websites for the most up-to-date information.
Highland Orchards opens for pick-your-own, beginning Memorial Day Weekend. Preregistration reservations and pre-payment are required. During the week, you can drive your own vehicle to the field, and on the weekends, shuttles will be operational at limited capacity to adhere to social distancing guidelines. Visitors will be required to wear a mask while on the property (kids under 2 are exempt).
PYO is open 7 days per week. There is no admission fee to pick; however, there is a minimum purchase required. Turn your strawberry picking into a day trip with a visit to the goats, the playground, and the wine and beer garden. The wine and beer garden is open Friday through Sunday.
Wear masks, follow social distancing guidelines, and you'll be ready for a stress-free day of strawberry picking with the whole family.
If you're looking for a PYO farm without all the extra crowds and attractions, this is the perfect place for you. Pick your own fruits, flowers, and vegetables beginning at the end of May. When you're done in the field, visit the farm store to stock up on fresh vegetables, herbs, and indulge in an ice cream cone. Call before your visit to check on the availability of the strawberry crop.
Guests must purchase timed tickets, which are available online. Beginning June 2, PYO will be open Wednesday through Friday. Admission is $7/person.
Take a wagon ride to the strawberry patch, play on the playground, enjoy creamy homemade ice cream, and visit the animals at Shady Brook Farm. Berries are sold by the pound. In addition to the weekly pick-your-own, there are Strawberry Festivals at the farm on June 5, 6, 12, 13, and 19. Tickets are $10/person and can be purchased in advance online.
Guests must pre-register on Linvilla's website. Admission is $7/person, and one quart of strawberries is included with the admission fee. Wagon rides to the fields will follow all social distancing guidelines.
Linvilla is kicking off its strawberry picking season on May 16. Make sure to allow plenty of time to explore the playground, animals, pony rides, train rides, and all the rest of the fun that Linvilla has to offer. Pony rides are available on Saturdays and Sundays, and train rides operate on Saturdays only.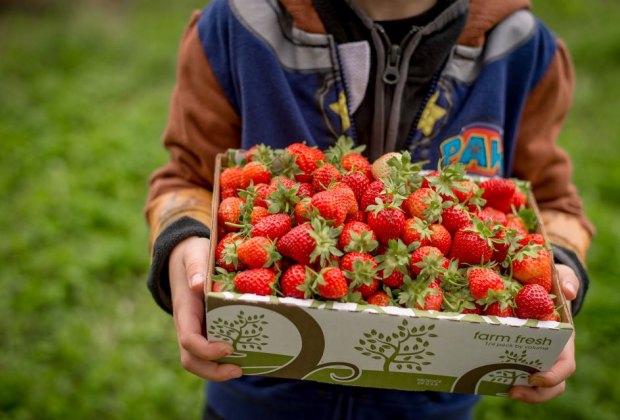 Photo courtesy of Linvilla Orchards
This Bucks County farm typically plans for strawberry picking to begin in early June. Visitors should call first for current picking conditions and strawberry availability.
Reserve your strawberry picking slot online at this family-friendly New Jersey farm. The picking season will kick off the weekend of May 22, and the admission fee is $5/person. Head out to the fields on an exciting wagon ride, and when you're done picking, stick around for more fun in the sun. This year, the animal farm has re-opened, and the discovery barn, which is complete with a splash pad. Contact the farm before visiting to inquire about crop availability.
Everyone over the age of two must wear a mask while on the farm. Don't forget to bring your own bucket or container.
Fruitwoods Orchards Honey Farm anticipates its strawberry picking season will start at the end of May. The current price per pound is $2.75. The fields are open for picking Monday through Friday from 9 AM until 7 PM, and Saturdays from 8 AM until 3 PM. If you don't want to go out in the heat, this is the perfect spot for an evening strawberry picking adventure.
Follow these tips to ensure a safe and memorable day of strawberry picking:
Due to coronavirus precautions, check with the individual farm websites or call them.
Conditions change daily, so be sure to call first since some farms get picked out early in the season or may be closed due to weather.
There is very little shade in the fields, so don't forget sunscreen and hats.
Bring plenty of water to drink.
Leave the stroller at home and wear your baby in a carrier instead. Strollers typically don't fare well in the fields.
Fields can be muddy places, so wear appropriate shoes and clothing you don't mind getting dirty or stained.
Many farms don't allow food in the fields.
Originally published 2015