Where To Go Strawberry Picking near Philadelphia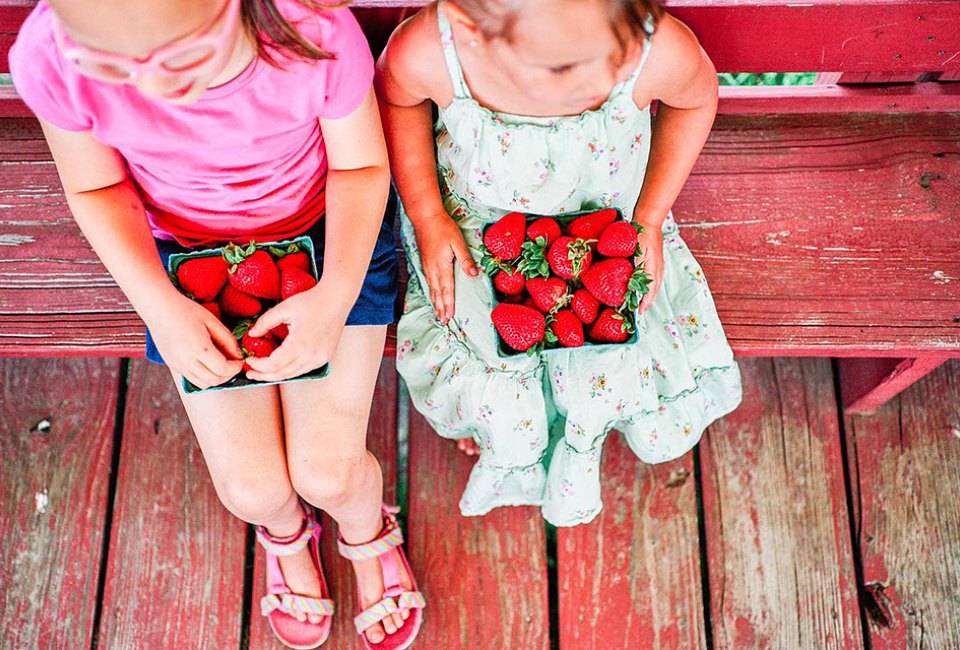 5/19/23
- By
Lori McManus
The start of strawberry picking season in the Philadelphia area is a sure sign that summer fun is right around the corner. Strawberry picking is a great way to connect with nature and get outside for some healthy treats. Some of the sweetest summer memories are made nibbling on fresh, vitamin-C-rich berries out in the fields. It's the perfect outdoor activity for a day of family fun!
We've compiled a list of great local farms to go strawberry picking near Philadelphia where families can fill a basket and enjoy plenty of other activities too. For more fun on the farm, check out our Farms & U-Pick Guide. Looking for more outdoor summer activities? Check out our roundup of the Best Water Parks near Philly.
Strawberry Picking Farms near Philadelphia
Pick-your-own is open Thursday through Sunday at Highland Orchards. The best thing about Highland is that it's easy to turn your strawberry picking into a whole day trip by feeding the goats, playing on the playground, and buying homemade baked goods, jams, and pickles. The picking season begins in May, and it's best to check availability on the orchard's Facebook page.
If you're looking for a strawberry picking farm without all the extra crowds and attractions, this is the perfect place for you! Pick your own fruits, flowers, and vegetables beginning at the end of May. When you're done in the field, visit the farm store to stock up on fresh vegetables and herbs, and indulge in an ice cream cone. Call before you visit to check on the availability of the strawberry crop.
RELATED: 10 Philly Arboretums and Gardens for Kid-Friendly Fun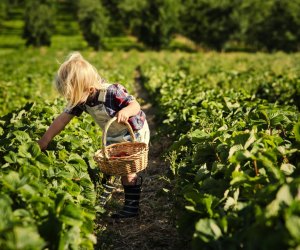 Make a day of it at the playground, festival area, and strawberry patch at Shady Brook Farm.
Take a wagon ride to the strawberry patch, play on the playground, enjoy creamy homemade ice cream, and visit the animals at Shady Brook Farm. Pick-your-own fields are open Wednesday through Sunday, except on special festival days. Guests must purchase a Picking Pass to access the pick your own fields via wagon ride from the Farm Market.
RELATED: Alpaca Farms in Philly for Furry Family Fun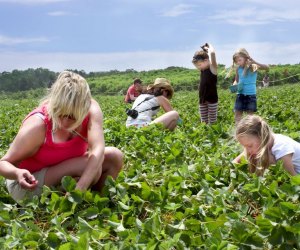 Gather the family and pick away at Linvilla Orchards.
Make sure to allow plenty of time to explore the playground, animals, pony rides, train rides, and all the rest of the fun Linvilla has to offer—and there is a lot to do at Linvilla, no matter when you visit! Strawberry picking begins in late May. Wagon rides to the fields are provided, and it's best to review their in-depth guide before you go!
This no-frills Bucks County farm provides all the simple pleasures of picking strawberries, and typically plans for strawberry picking to begin in early June. Visitors should call first for current picking conditions and strawberry availability.

Pick a basketful of berries at Johnson's Corner farms.
Best Strawberry Picking in New Jersey
Reserve your strawberry picking slot online at this family-friendly New Jersey farm. The picking season kicks off in mid-May. Head out to the fields on an exciting wagon ride, and when you're done picking, stick around for more fun in the sun. Upgrade the fun with a visit to the Discovery Barn or the Gem Mine!
Fruitwoods Orchards Honey Farm anticipates its strawberry picking season will start at the end of May. The fields are open for picking Monday through Saturday. If you don't want to go out in the heat, this is the perfect spot for an evening strawberry-picking adventure. Don't forget to bring your own bucket or container.
Tips for a safe and memorable day of strawberry picking
Conditions change daily, so be sure to call first since some farms get picked out early in the season or may be closed due to weather.
There is very little shade in the fields, so don't forget sunscreen and hats.
Bring plenty of water to drink.
Leave the stroller at home and wear your baby in a carrier instead. Strollers typically don't fare well in the fields.
Fields can be muddy places, so wear appropriate shoes and clothing you don't mind getting dirty or stained.
Many farms don't allow food in the fields.
Most farms provide containers but it's best to double-check that you don't have to bring your own.
This post has been updated for 2023 by Hillary Moses Mohaupt.
Sign up for the Mommy Poppins Newsletter today!
i