10 Philly Arboretums and Gardens for Kid-Friendly Fun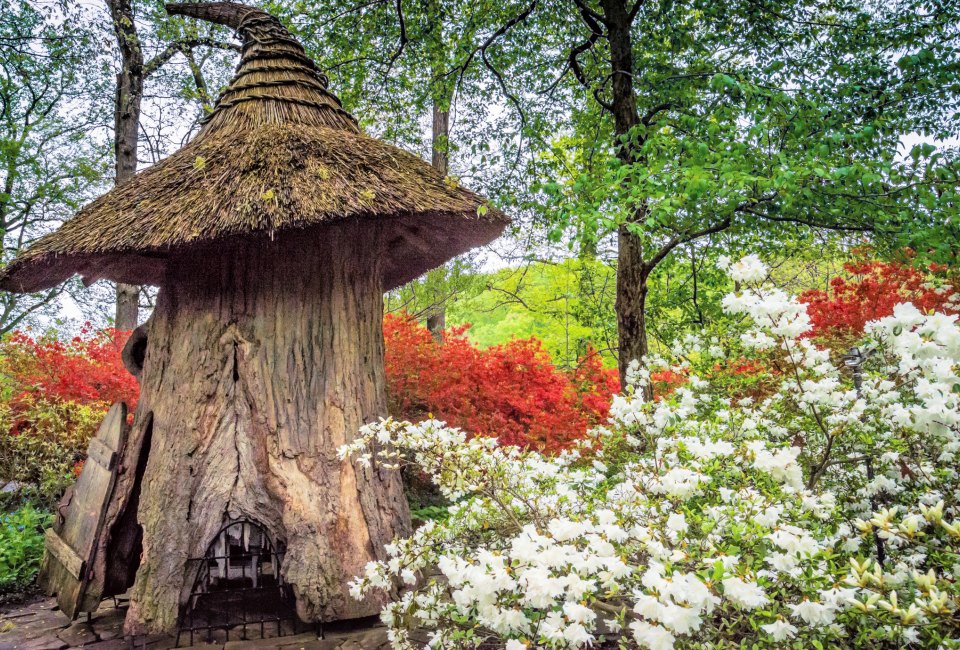 6/20/21
- By
Danielle Smith
Why just stop and smell the roses when you can do so much more? The Philadelphia area is home to some of the most beautiful arboretums and gardens in the country, and many offer a slate of kids' programming to complement the floral experience. From fairy-tale inspired woods to treetop rope climbs, scavenger hunts, koi feedings and more, you can easily get lost among acres of nature-inspired activities during a day with the fam at these places.
With 37 public gardens all located within 30 miles, the Greater Philadelphia region has earned the distinction of "America's Garden Capital." To acknowledge that distinction, Greater Philadelphia Gardens created the America's Garden Capital passport. The booklet highlights every garden you can visit, collecting stamps, stickers, and code words along the way. All of the gardens on the ilst below are participating venues. You can pick up a passport on your visit while supplies last, or download one online.
Keep reading to learn all the best locations for flowers and fun, and find even more colorful things to do outdoors in our Summer Fun Guide.
Gardens and Arboretums in the Philly Area for Family Fun
Awbury has been open to the public for free for more than a century. Its 56 acres of greenery nestled in a Germantown neighborhood provide a natural sanctuary for visitors of all ages, and a fun hangout spot for families with kids. The structures in the AdventureWoods playground are made from tree trunks and other natural materials, inviting children to run, jump, and climb. The playground hosts performers, scavenger hunts, and art exhibits; details are on its events page. The arboretum also offers educational classes, with the pond and wetlands area serving as a popular place for families to explore. Starting June 6, Sunday Fun Day events are held every week from 1 to 4pm through October 31. The featured activities will be different every week, and include stilt walkers, goat meet-and-greets, music, karate lessons and yoga. Awbury's grounds are open every day from dawn to dusk. AdventureWoods is open weekends 10am to 2pm.
RELATED: Zoos and Animal Farms Near Philly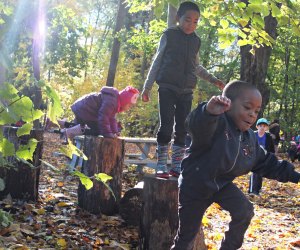 Thrill to the AdventureWoods Natural Playground at Awbury Arboretum. Photo courtesy of the arboretum
A National Historic Landmark, Bartram's Garden in southwest Philly welcomes some 100,000 visitors per year. Children's programming includes Little Explorers, a monthly adventure for toddlers ages 2 to 4, currently streaming on its Instagram page, where you can also find info about occasional education pop-ups. The garden also hosts family artist workshops, where kids and parents can paint nature-inspired pictures alongside each other. If you've got extra time on your hands, make a real day of it by hopping aboard the Patriot for a Schuykill river cruise to Bartram's. The boat leaves from the Walnut Street Dock, allotting for two hours at the garden and an informational tour. Bartram's On The River boating program along the lower Schuykill is currently suspended due to COVID-19. However, visit the welcome center during open hours, or on Wednesdays from 4:30 to 7:30pm, and get free fishing equipment and light instruction to fish in the river nearby, with or without a license. There's even a live worm vending machine. There is no cost to visit Bartram's independently, and it's open 365 days a year from sunup to sundown. Visit its site for more programming details.
Life blooms everywhere across the 134 acres of this botanical garden in New Hope. The adjacent 4-plus miles of hiking and walking trails are perfect for outdoor family adventures. Kids can marvel at the spiral-shaped green labyrinth, keep their eyes peeled for creatures in the meadow, and explore the pond for turtles, minnows, and water snakes. Pick up a sheet of leaf bingo, a fun game to play in Penn's Woods. Cross the historic stone bridge and peek inside a log cabin built in 1933. BHWP usually offers children's programming such as summer reading and nature exploration programs, but as of June 2021 those remain on hold because of the pandemic. The preserve is open daily, 9am to 5pm, April through June; and Wednesdays through Mondays from 10am to 4pm for the rest of the year. Children younger than 5 are free. Reserve online.
You can't help but feel enchanted by the beauty of Chanticleer. This relaxing Main Line oasis is great for promoting peace and tranquility in adults and kids alike. Children of all ages enjoy rolling down the Chanticleer Hillside, and the water features at the Ruin Garden are a big discovery for little eyes. The Pond Garden is full of life, and families can look for koi and turtles. More critters are waiting to be found under the small bridges at the Creek Garden. And at the Apple House, children can step in and observe the underground burrow, home to the animals living beneath the soil. Normally, the opulent Chanticleer House is open for tours, giving a glimpse into life for the Rosengarten family, who founded the gardens and completed the home in the 1920s. As of June 2021 tours remain suspended during COVID-19. Kids 12 and younger visit Chanticleer for free. The gardens are open Wednesday through Sunday from 10am to 5pm, with Friday evening hours until 8pm through Labor Day. Parking reservations are required in advance due to limited space, and can be made on the website.
Towering art exhibits overlook acres of plants and blooms at Grounds for Sculpture, a truly unique garden experience in New Jersey. Kids can download explorer guides and a sculpture hunt from the website before embarking on a self-guided tour of the property. On-site family programs like storytelling, nature journaling, and meditation are listed on the events calendar, so check there for details and updates. In-gallery art programs like Tots for Sculpture and Young Artist Workshops also run throughout the year. For an in-depth look at GFS, revisit our Mommy Poppins review from a few years ago. Grounds for Sculpture is open Thursday through Monday from 10am to 6pm. Reservations are required.
Whatever the season, Longwood is nationally renowned for nearly three square miles of spectacular gardens, woodlands and meadows, with kid-pleasing seasonal events and programs throughout the year. Follow the red brick path along the Flower Garden Walk, and share a secret on the whispering bench. Young history buffs should tour the Peirce-du Pont House for lessons about the property, or the Organ Museum, which spotlights the instrument's origin story. Little ones will delight in the honeybee-inspired children's corner, and a topiary garden and green wall that look straight out of Alice in Wonderland. Add to that an indoor children's garden, an idea garden, and two separate tree houses, and there's more than enough fun for everyone. Wrap up the day at Longwood with an illuminated evening performance of the Festival of Fountains, watching colorful streams of water dance through the night sky. Starting in July, certain fountain shows include fireworks. Longwood also has downloadable activity pages to complement your visit, and a lineup of hands-on activities. Some things that would normally be available on-site remain as of June 2021 suspended due to COVID-19. Advance reservations are required.
Flowers provide the backdrop for sky-high strolls, art installations, model train voyages, and more at Morris Arboretum. As the official arboretum of the Commonwealth, all 92 acres of Morris beckon families with year round kid-friendly programming. Crowd favorites include Out on a Limb — a 50-foot-high canopy walk where you can sit on giant robin's eggs, or courageously scamper across the Squirrel Scramble, the exhibit's huge hammock-like net. Once you've braved the Tree Adventures Exhibit, catch the Garden Railway, where model trains zip around a quarter-mile track through tunnels and over bridges, surrounded by a miniature world. See if you can spot Tinkerbell and her friends at the arboretum's Fairy Woods. Natural supplies are available at the Gnome Depot for visitors to create cozy shelters for the fairies. The arboretum also offers seasonal events, and self-guided tours and classes for kids to enjoy; visit its website for more details. Advance tickets are required.
RELATED: Museum Memberships in Philly Worth the Money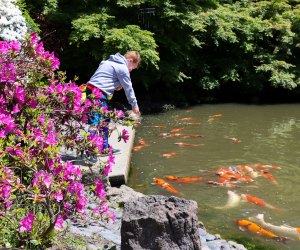 Feed the resident koi at Shofuso House and Japanese Garden. Photo courtesy of Japan America Society of Greater Philadelphia
Japanese tradition and stunning landscapes are on display at Shofuso in West Fairmount Park. These grounds aren't as sprawling as the other properties, but they more than make up for it in history and culture. Remove your shoes before touring the 17th-century style Japanese home, and explore over an acre of lush nature. Sit on the stone wall that rises above the pond, and give the swimming koi some food. The spring cherry blossom festival is always a popular draw, as is the Children's Day festival in early May. In-person classes remain suspended as of June 2021, but usually include dance instruction. An Obon lantern festival is planned for late August; watch its website for other seasonal programming. Visiting hours are 11am to 5pm Wednesday through Sunday until Halloween. Admission is free for kids younger than 3.Philly high-schoolers can go for free with a STAMP pass.
Tyler Arboretum hosts 650 acres of flowers and plants and 17 miles of paths and trails for families. Each season at Tyler brings lots of fun things for kids to do, with June devoted to fairies and wizards, and August reserved for bugs and butterflies. Both summer celebrations offer crafts, activities, and interactive play experiences. Check its calendar for additional events. The arboretum is open from 8am to 6pm weekdays, and stays open until 8pm on weekends through October. Ages 2 and younger are free.
RELATED: Where to Experience Nature in Philadelphia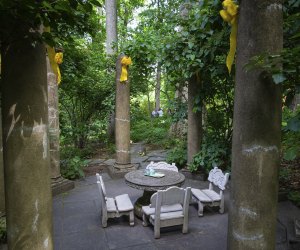 The Acorn Tearoom at Winterthur unleashes young imaginations. Photo courtesy of Suchat Pederson for Winterthur.
A garden, museum, and library all in one, Winterthur is a great family destination in Delaware's Brandywine Valley. On top of a 60-acre naturalistic garden,1,000 acres of hills, meadows, and woodlands, and 25 miles of paths and trails, Winterthur entertains families with kid-centric attractions. The award-winning Enchanted Woods teases young imaginations with an Acorn Tearoom, Faerie Cottage, Tulip Treehouse, and other Brothers Grimm-esque experiences. Family Fun Fridays run once a month through the summer, offering themed lessons and activities, and the Winterthur events calendar is peppered with more entertainment opportunities. Its website lists a number of at-home activities as well. The museum, once the home of Henry Francis Du Pont, shows art, furniture, and home decor objects dating back to the 1600s, and the library is full of history lessons from Colonial times. Winterthur also offers guided tours, and a tram ride around the property that's helpful for tired little legs. It's open Tuesday through Sunday from 10am to 5pm.
Sign up for the Mommy Poppins Newsletter today!