16 Philly Area Memberships Worth the Money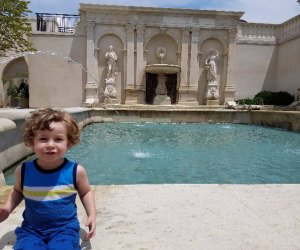 From museums to amusement parks, playspaces and more, memberships to Philadelphia-area attractions are practically a dime a dozen. As a parent it is sometimes difficult to navigate the many options available. Is a membership worth the cost? Will you really visit more than once? To try to take some of the math out of this equation, we put together a list of our 16 favorite spots that offer memberships that are truly worth the money.
Amusement Parks: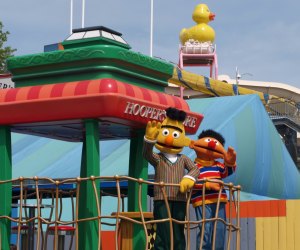 Don't miss the Neighborhood Street Party Parade at Sesame Place.
Sesame Place—Langhorne
Season passes at Sesame Place practically pay for themselves after a few visits. With daily Neighborhood Street Party Parades and exciting rides, this is a theme park for all your kids, not just the preschoolers. During the colder months, Sesame Place hosts special events around holidays to make the trip even more special. Just dress for the weather! Read our review for insider tips.
Member Perks: Membership is purchased per person. Sesame Season Pass includes unlimited admission, 25% off in-park food and merchandise, exclusive member events, and 50% off guest passes. Upgrade to the Big Bird pass and you get all this as well as 25% off dining with the characters, free parking, and reciprocity (50% off admission) at Busch Gardens and Sea World.
Diggerland USA—West Berlin, NJ
At Diggerland your truck lovers will have time of their lives, with a chance to operate real machinery. For older kids and adults there is the Diggerland XL experience, making it fun for all ages. Note: Diggerland is closed December-mid March. If you're thinking about buying a membership, read our review.
Member Perks: Membership is purchased per person. Included in Diggerland membership is daily entry, 10% off food and gear, discount tickets for friends, and $30 off birthday party tickets. Membership costs less than two general admission tickets.
Dutch Wonderland—Lancaster
A season pass at Dutch Wonderland gets you access to all the fun and amusements the park has to offer. Enjoy the rides and shows all summer long and return in fall and winter when the park reopens for Halloween and Holiday fun. This park is great for preschoolers! Read our review to find out more about Dutch Wonderland.
Member Perks: Passholders get unlimited visits to the park over the summer, two complimentary bring-a-friend tickets, and a souvenir cup with $.99 refills all season long. Premium passholders also receive unlimited visits to Happy Hauntings and Dutch Winter Wonderland, free parking, discounts, and more.
Museums: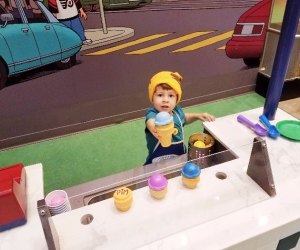 Serving ice cream at the Please Touch Museum.
Please Touch Museum—Philadelphia
The ultimate kid-centric museum is totally focused on play and exploration, with exhibits that allow exploration through music, art, and movement. The spae is huge, with two floors of play and exploration ranging across themes and guaranteed to tap into your little one's favorite activities and interests. Get our insider tips here.
Member Perks: Please Touch Museum allows you to customize your membership to the number of regular visitors in your family. The basic Play membership includes admission and parking as well as 10% discounts at the café and shop, discounted tickets on the carousel, invitations to early openings (which may be the single biggest perk on busy days), and discounted admission to more than 200 children's museums nationwide.
The Franklin Institute—Philadelphia
The Franklin Institute might be one of the best membership deals in the city. With rooms for exploration, a planetarium, IMAX, sports, and some exciting traveling exhibits, the Franklin Institute is a great choice.
Membership Perks: Annual admission plus discounts on special exhibit tickets, garage parking, store purchases, classes, and camps. There are also special member-only events and lectures, tax deductibility benefits, and reciprocal admission to more than 250 ASTC Science Museums.
Philadelphia Museum of Art—Philadelphia
The museum's rich collection includes art and architectural achievements from the U.S., Asia, Europe, and Latin America. The museum also offers exciting traveling exhibitions, special programming geared for children, stroller tours, and Art Splash in the summer.
Member Perks: Unlimited admission to Philadelphia Museum of Art, The Rodin Museum, The Perelman Building, and Mount Pleasant and Cedar Grove. Membership also gives you access to exclusive member-only events, discounted general admission for guests, 10% off dining, shopping, and classes, and discounted rental fees. Also since children under 12 are always free, families can save on membership by purchasing individual memberships.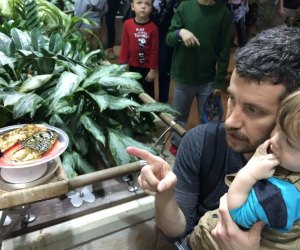 Checking out the butterflies at The Academy of Natural Sciences.
Academy of Natural Sciences—Philadelphia
The Academy of Natural Sciences is your go-to museum for up-close-and-personal experiences with the prehistoric. But that's not all, this natural science museum has a unique playspace for kids, a butterfly house, an excellent taxidermy collection, and a rotating exhibit space that can make each visit feel new.
Member Perks: General admission and discounts on special exhibits, exclusive previews, free entrance to popular festivals like Paleopalooza, parking and discounted ticket passes, 10% discount in the café and shop, and the option to add an extra adult.
National Constitution Center—Philadelphia
America's past comes to life at the Constitution Center, which is as engaging as it is educational. Modern technology meets history through impressive displays, and evening events that are geared for adults make this the kind of membership that is not just for the kids. Read more about what you can do at the National Constitution Center.
Member Perks: The Freedom Family membership includes two named cardholders and up to 4 children for a year. This includes museum admission, complimentary admission for one guest each visit, evening events, 10% discount in the store and café, and advanced notice of exhibits, programs, and more.
Meet the Animals:
Adventure Aquarium—Camden, NJ
Adventure Aquarium is an excellent site to get up close views of creatures that live deep in the ocean. They have more than 400 animals and an impressive shark collection including hammerheads and zebra sharks. See how to get the most out of your visit.
Member Perks: Membership to the aquarium is per person. Regular membership includes discounted parking, 10% discount at the gift shop, café, and photos. They also provide special bring-a-friend days to members.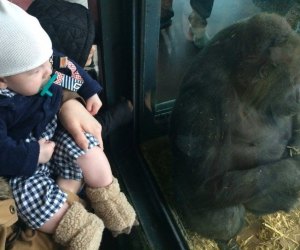 Getting up close and personal with the gorillas at Philadelphia Zoo.
The Philadelphia Zoo—Philadelphia
The Philadelphia Zoo, America's first zoo, is an all-time family favorite. With a huge wildlife collection, constantly improving exhibits, an adorable play area for the youngest visitors, and beer gardens, the Zoo is one of the best membership deals in the area. Membership basically pays for itself in two visit, and the zoo is open year-round with heated houses that are a perfect way to escape the cold.
Member Perks: The Family Membership includes parking, admission for 2 adults plus up to 6 children (under 18), free parking, free admission to the Treehouse, 10% discount in shops and dining, plus discounted admission to more than 100 zoos nationwide, including the Elwood Park Zoo. It is also tax deductible.
The Elmwood Park Zoo—Norristown
Although smaller than the Philadelphia Zoo, the Elmwood Park Zoo has its own unique perks including Treetop Adventures, which is a skyline obstacle course and zipline for kids ages 5 and up.
Member Perks: Free admission, admission to exclusive member-only events, 10% off train rides, carousel rides, merchandise, and food purchases throughout the zoo. A zoo membership also gains you access to special discounts to local businesses through the Wild Rewards Program. The Elmwood Park Zoo also has a reciprocity agreement with the Association of Zoos and Aquariums, including a 50% discount on Philadelphia Zoo admission.
Playspaces:
Play Arts—Philadelphia
This creative play space in Fishtown is a lovely indoor playground perfect for kids 5 and under. With a lofted view, parents can watch their children interact with the space and other kids while enjoying wifi and perhaps a little adult conversation. Play Arts also has classes for kids 0-8 that focus on creativity through music, dance, and art. Special events are more adult-focused with monthly BYOB play dates. Read our review to see why this place is so special.
Member Perks: Annual members gain daily access to the playspace plus one free class series, priority class enrollment, 10% off birthday parties, summer camp, and after school care. Quarterly memberships are also available.
Kids at Play—Philadelphia
This indoor sensory gym was designed for children with sensory needs in mind. The facility has inclusive play spaces with areas designated for children by developmental stages, an awesome indoor zip line, and the coolest collection of swings. They offer classes for both parents and children. Check out insights from our visit.
Member Perks: Unlimited access to the gym for 2 caregivers and 4 children, special member-only hours, 10% off classes and birthday parties, and priority registration for events and speakers.
Nest—Philadelphia
Nest features an adorable indoor playground, classes for kids 6 weeks to 6 years, and a kids hair salon. The playspace has two locations: one in Center City and one in Chestnut Hill. If you are a family with young kids, this is a great membership to consider.
Member Perks: If you are going for the membership, aim for the premium. Not only do you get unlimited play and discounted parking, you also receive 20% off classes, parties, events, the salon, and café/boutique purchases. Membership is paid monthly so you can opt to use this when it makes most sense for your family.
Nature Areas: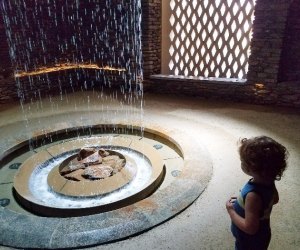 Enjoying the grotto at Longwood Gardens.
Longwood Gardens- Kennett Square
Featuring beautiful landscaping, summer fountain shows, holiday lights, and more, Longwood Gardens is the perfect place to stroll around on a lazy Saturday.
Member Perks: Gain access to special members only programming, receive 2 one-time complimentary guest passes, 10% discount on gift store purchases and food, free stroller and wheelchair rentals, and discounts at other Brandywine Valley attractions. Membership level Gardens 2 and above only requires that one named cardholder is in attendance, which means you can bring whomever you like as long as you don't exceed your membership number. Kids 4 and under are free.
Tyler Arboretum- Media
At Tyler, you'll find 17 miles of hiking trails along 550 acres of woodland, meadow, and stream valleys. Tyler offers classes and programming (for a fee) for kids and adults alike. Their treehouses are open annually, and in July and August, visitors can enjoy the Butterfly House.
Member Perks: If you choose the family membership, you'll get membership for 2 adults, 4 one-time use guest passes, 4 child (or grandchild) admissions per visit, discounts in the shop, on programming, camps, and birthday parties. You'll also receive reciprocal admission to over 300 gardens across the country, including Morris Arboretum.
Morris Arboretum- Philadelphia
Morris Arboretum features family activities, a seasonal garden railway, a fun treehouse, seasonal events like the Scarecrow Walk or the Japanese Cherry Blossom Festival, and, of course, beautiful gardens! The arboretum also offers classes and programming for children and adults.
Member Perks: A family membership gain access for 2 adults and 4 children or grandchildren. Members also receive discounts at local garden centers and businesses, complimentary one-time use guest passes, discounts on classes, field trips, and excursions, and access to bring a friend free promotions. You'll also receive reciprocal admission to over 300 gardens across the country, including Tyler Arboretum.
All photos courtesy of Cait Sumner for Mommy Poppins