Kids at Play Indoor Play Space Review
A new indoor play gym launched in Philadelphia this year! East Falls is now home to Kids at Play, a bright, shiny, 7,000 foot indoor playground and seriously cool entertainment zone that is easy on the eyes (specifically designed for children with sensory issues in mind), and invites creative play and exploration. We got a chance to check it out, and let me tell you, it is worth the trip! Read on for a full review (and check out other reviews of awesome spaces in Philadelphia).
One-of-a-Kind Features
Two of the coolest features, at least for my 2.5-year-old son, were the "Zip Line" and the "Roller Coaster," both of which are just amazing little indoor rides that kids apparently want to do over, and over and over…The zip line is a huge seat that runs on a track about 20 feet long. The Roller Coaster is a little ramp that kids push a small plastic car up and then proceed to ride down, much to their delight. Both were incredibly well balanced so that my tiny guy could wobble safely without tipping over or out.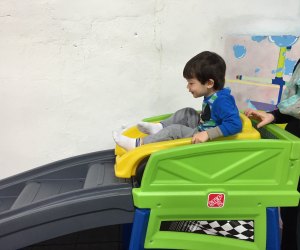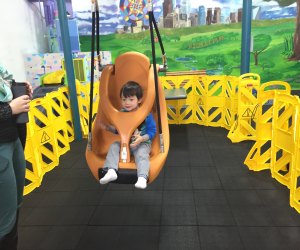 The Playground
Featuring slides, multiple entry points, and three different ball pits (of which each ball is cleaned weekly), this immaculate play structure was really awesome. The ball pits are parent friendly, and are somewhat divided by age so that the littlest of your party can safely play without getting tackled by the big kids.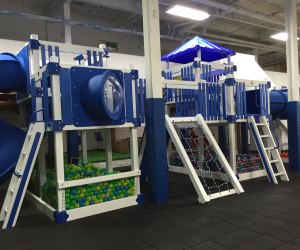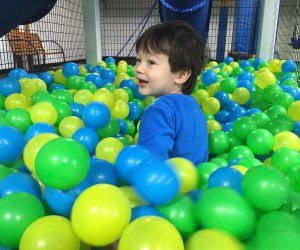 Bonus Features
A toddler soft play area keeps kids 3 and under entertained and safely away from a potentially rowdy crowd. The play space also features high-tech interface floor that allows kids to play a touch-sensitive game of video soccer (hard to describe but so cool to play), and swings of all shapes and sizes take casual playground swinging to a new level.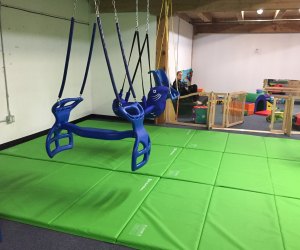 Logistics
Aside from the play space, the site offers classrooms and birthday parties. There are no Saturday hours, but you can book an after 5 party if that suits your needs. Classes are offered in speech and physical therapy, and there is a sensory room that is specifically designed for children with sensory needs.
Location: 3502 Scotts Lane, Suite 711 Philadelphia, Pennsylvania, 19129
Ages: Best for 18mo - 6 years, though children as old as 12 will have fun
Membership is available, and offers a discount on classes and birthday parties, or you can pay as you go.