PlayArts: A New Philadelphia Play Space Opening in Fishtown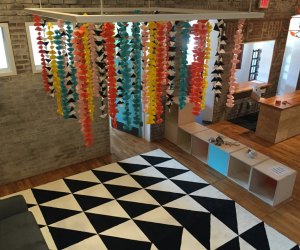 A new indoor play space is about to open in Philadelphia! Fishtown is now home to PlayArts, an exciting new space that combines art and creativity, all while teaching children independence through trust. Read on for a full review (and check out other reviews of awesome spaces in Philadelphia).
PlayArts, a child-centered arts and play space is set to open September 1, 2016, and you can feel the excitement in the air as this project comes to fruition. Parents in the Riverwards have been eagerly anticipating a space on this side of the city since since Hidden City and Fishtown Star teased its pending arrival last winter. Owner Krista Yutzy-Burkey has helped build the anticipation, offering free pop-up classes (most recently in their newly completed space) over the past few months to help tailor the eventual class offerings to these excited parents and children.
This month, as PlayArts prepares to open, we had the opportunity to check out the space before it opens and learn a little more about what is in store for this new parent resource.
To start, the space is simply stunning. PlayArts partnered with Bright Common Architecture to turn the Thompson Street Bathhouse into a Passive House level deep-energy retrofit, so it is going to feel amazing in the summer and in the winter when you are escaping all the hot and cold weather ills!
The two things driving all the buzz around this new space is the open play area, and the upcoming arts-based classes.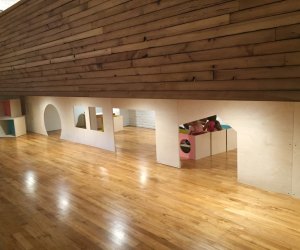 The play area is where I see myself spending many a work from home day. With drop-in rates of $12, or a membership option that lets you make unlimited visits based on a monthly fee, you can let your toddlers and older kids play in the huge open space that is adorned with cute hideaway holes, and an indoor play house. There is also a soft space for younger babies to explore. A mezzanine, which includes a coffee and snack cafe and wifi, overlooks the play area and also serves as an adult sanctuary if you feel your child is old enough to play from a more remote observation area. When we visited for the open house, at least 20 kids of all ages were running around and having a great time in the space.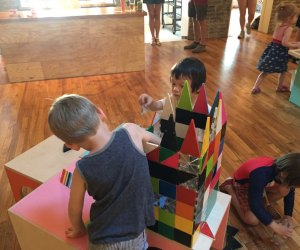 Classes are the other major draw. Like the play space design and PlayArts philosophy, the curriculum development comes from Krista's 16 years as an arts educator in the Philadelphia school system, as well as extensive study in play-based approaches to learning. Classes will begin in early September, and will span the gamut of music, arts, dance, yoga, and even, in October, literature. That's when local author Zachariah Ohora (who wrote Stop Snoring Bernard, No Fits Nilson, and The Not So Quiet Library) will begin a reading and art activity class. So far, classes are on the schedule for children aged 8 weeks to 12 years. My son and I attended one of the experimental pop-up classes, and I can definitely say that Krista has an amazing way, and patience with children.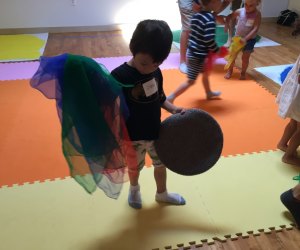 Other features include an art and sensory drop-in, allowing kids to explore art independent of class direction. Once a month the site will host BYOB family happy hours, as well as a "Play Loud After School" session on Thursdays, from 4-6 PM for children ages 5-12. The session is designed for a multi-aged, mixed-ability group and incorporates a multifaceted arts experience, which they hope to expand to include programming five days a week and pick-up from local schools. The list actually does go on, including a brunch drop off for ages 4-12 ($20) so you can enjoy your mimosa in peace. And, of course, this is going on the short list of birthday party venues.
The Details:
PlayArts opens September 1, 2016
M-F 9 AM. - 7 PM
Sat-Sun 9 AM - 3 PM
Join as an annual member for $32.42/month and receive 20% off classes and services, as well as unlimited access to the playspace, and priority enrollment in classes. Quarterly and one month memberships are also available.
Drop in and play: $12/first child, $5 siblings (pre-crawlers are free)
Drop in Classes: $18.75 without member discounts
Art Sensory Drop-In: priced per session
Stay and Play: Upgrade a class to stay for the playspace for $5 additional
8-week class series: $140​