Spectacular Neighborhood Holiday Lights and Christmas Lights in Philly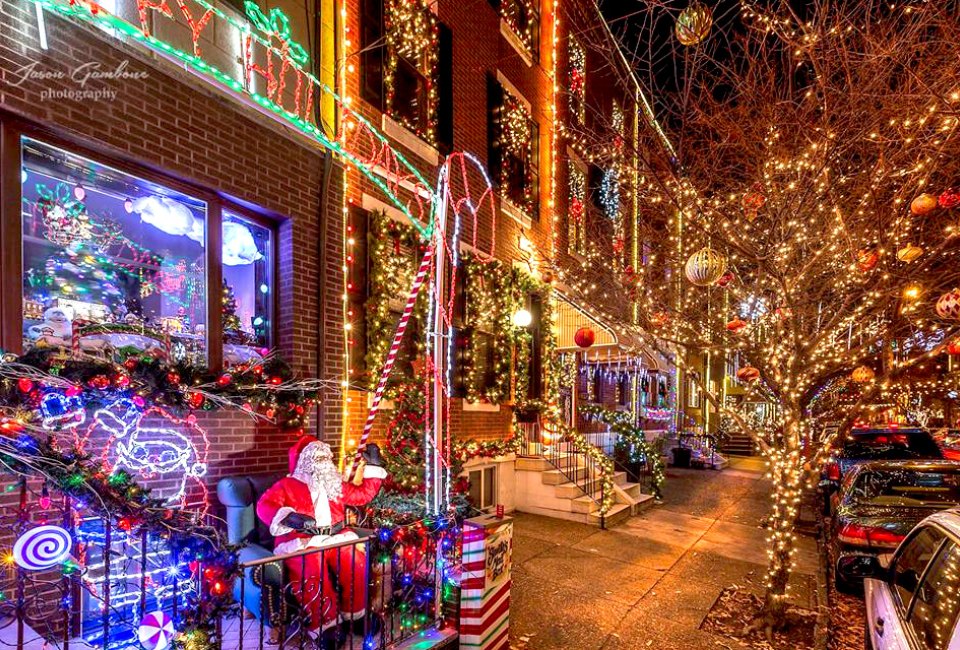 12/9/22
- By
Jennifer Colletta
Philly zoos, farms, and public spaces all boast dazzling Christmas lights. But in many neighborhoods, families will find Christmas lights on houses that rival the best professional displays. Entire city blocks, suburban streets, and private homes throughout the region give commercial holiday lights a run for their money, and we've found the best houses to stop by for a fun family outing.
So for a quick post-dinner trip or an extended local tour, read on to find the brightest Christmas lights on houses near you. We've got loads more holiday cheer in our Guide to the Best Christmas Events in Philly, and if you're interested in spreading holiday cheer to others, we've rounded up lots of kid-friendly opportunities to volunteer this holiday season.
An additional bonus of checking out the best Christmas lights on houses near Philly is that the displays are all free. While some places might request donations to help with costs or support charitable causes, families don't have to pay out of pocket to see their neighbors light up the night. A few neighborhoods and homeowners even make sure that Santa occasionally visits with onlookers, or will have a mailbox for kids to drop off their wish lists.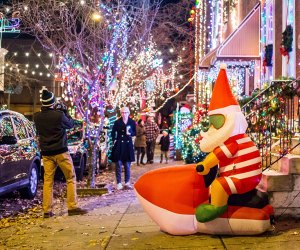 The Miracle on South 13th Street is always a Philly holiday favorite. Photo by K. Kelly for Visit Philadelphia
Christmas Lights on Houses in Philadelphia
The neighborhood that decorates together, stays together. The Miracle on South 13th Street started in 1998 and continues to delight Philadelphia families year after year. Walk or drive this stretch of South Philly to catch major Christmas vibes. Located at 1600 S. 13th St. between Tasker and Morris Streets, this stretch claims to be THE Christmas Block in South Philadelphia. You can see the lights every night from 5pm–11pm throughout January 1.
RELATED: 25 Free Holiday and Christmas Events Near Philly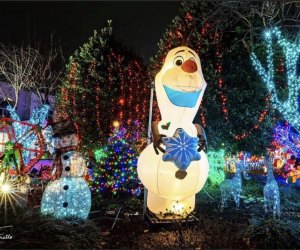 Get into the holiday spirit with a jolly drive down Smedley Street in Philly. Photo courtesy of Dante Fratto Photography
Smedley Street is bringing Christmas back with a holiday light display that transforms the neighborhood into a winter wonderland. Visit the 2700 block between 16th and 17th Streets and Moyamensing and Oregon Avenues each day starting at 5pm and running through January 1, 2023.
RELATED: Where to Take Pictures with Santa Near Philly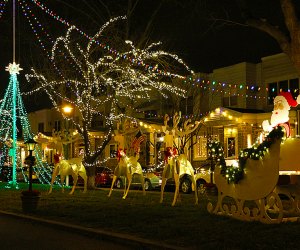 Santa does his thing on Colorado Street. Photo courtesy of Unexpected Philadelphia
South Colorado Street—South Philadelphia
If you've already made your way to the Smedley Street Christmas lights, head on over to the 2700 block of South Colorado Street between 17th and 18th Streets. Residents at Colorado Terrace have been putting up elaborate lights displays during the holiday season for decades; these lights are a true delight to behold. Open through January 1, 2023.
The nation's oldest street, Elfreth's Alley, is a great place to enjoy the holiday lights and festivities. More subdued than some of the dramatic light displays, Elfreth's Alley swaps the glitz for charm. The first Saturday in December hosts Deck the Alley, a ticketed event where visitors can tour the museum and private residential homes for Christmas in historic Philadelphia.
On the 3500 block of Oakmont Street, more than 100 residents in this Mayfair neighborhood compete in some friendly Christmas fun with a decorating contest that lights up in December. Keep an eye on their Facebook group for details on dates and times, then come out to see the street lined with lights and front yards adorned with giant inflatables.
For over 20 years, the 4200 block of Greeby Street has been lighting up Northeast Philadelphia for the holidays. Rowhomes on this Tacony block get into the spirit with elaborate Christmas light displays, inflatable lawn decorations, and lights strung from one side of the street to the other. Christmas music plays throughout the season, and Santa usually makes some appearances. Watch their Facebook group for more information.
Christmas Lights on Houses in the Philly Suburbs
Tucked away on Nobb Hill Drive in East Bradford is a house that really shines. Each year, the Corrados spend months decorating for Christmas. On weekends through January 8, visitors can see the magnificent display along with Santa passing out candy canes. The household also hosts a collection—thousands of toys and thousands of dollars have been collected to support the Chester County Hospital, West Whiteland Police Department, Family Services of Chester County, Chester County Domestic Violence Center, and CHOP Urgent Care in Exton. Bring a donation and check out the Corrados' hard work at 1102 Nobb Hill Drive in West Chester.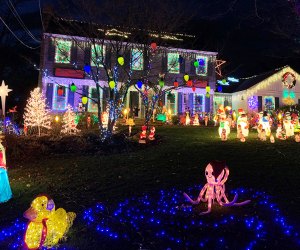 The West Chester Griswolds boasts over 133,000 lights. Photo courtesy of The West Chester Griswolds
The West Chester "Griswolds'" annual display is an amazing spectacle that can be seen from space. Don't worry about finding this place in the dark—with 133,000 lights, most of which are LED and computer-controlled, this display will blow your mind and make the kids 'oooh' and 'ahhh'. When you visit, be sure to tune your radio to 87.9 and bring a letter for Santa (before December 23) to leave in the mailbox at the end of the driveway. Located at 304 Dutton Mill Road in West Chester, the lights switch flips on at 4:45pm each day. The display turns off at 9:45pm Monday–Thursday and 10:15pm Friday–Sunday; it will shine through January 3, 2023.
At 155 Colonial Drive in Langhorne, tune your car radio to 92.1 FM and watch as the music and lights dance in unison. The lights display will run from dusk until 10pm until January 8, 2023.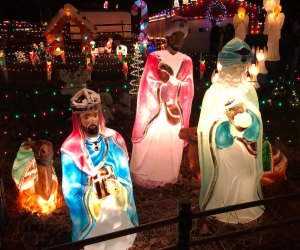 Make an evening trip to see the dazzling lights of The Smith Family Christmas Display. Photo courtesy of the venue
Christmas Lights on Houses in Delaware
Brothers Tom and Jim Smith are behind the dazzling display of 700,000 bulbs, 70 extra circuits, and hundreds of hours of planning and hanging lights all over their property in Wilmington. Brother-in-law Ralph Thompson is the engineer and installer of this over-the-top holiday display, which starts its process on Labor Day and is finished by Thanksgiving. Santa typically makes an appearance at the house every evening from 6-9pm up until December 23rd. The Smith Family display is located at 1900 Prior Road in Wilmington, DE.
Affectionately dubbed Santa Claus Lane, this house goes crazy enough each year to have its own listing on Tripadvisor. The Faucher family's home boasts a grand total of 1,000,000 lights! For nearly 30 years, the family has kept this tradition alive, which draws people from near and far to be dazzled by the holiday lights at 1054 Red Lion Road in New Castle, DE.
Writer Corrie Stango contributed to an update of this article in 2021. Writer Hillary Moses Mohaupt contributed to an update of this article in 2022.
Enter to Win!