Dutch Wonderland: A Fairy Tale Amusement Park in Amish Country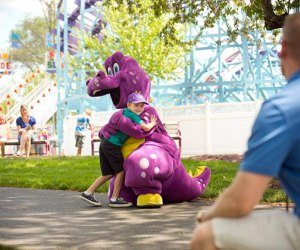 2/7/18
- By
Cait Sumner
If you have a little thrill-seeker like I do, Dutch Wonderland might be just the right place to go this summer. The quaint, fairy tale-themed amusement park in Pennsylvania's Dutch Country caters toward the small but fearless like my ride-loving toddler.
In spite of the name and location, there isn't much Amish about Dutch Wonderland, aside from a photo opportunity with a horse and buggy statue. If you're in the area for more traditional Amish Country fun, Dutch Wonderland is nearby all of it, so the amusement park makes a great addition for a trip to Dutch Country. With over 35 rides, attractions, and shows, as well as a 15-acre campground right on site, you can easily fill a whole day here with the kids, or even a long weekend. Read on for our review of this theme park. If you're heading to Pennsylvania for a weekend or day trip, also check out our review of Hershey Park. For even more family fun with pint-sized rides, don't miss our round-up of NJ amusement parks that are perfect for preschoolers.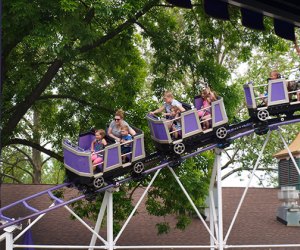 My son and I had so much fun on the Joust Family Roller Coaster that my husband went on with him a second time!
The diverse rides at Dutch Wonderland really do seem aimed at pleasing everyone in the family. There's Duke's Lagoon mini water park where your kids can cool off; a whole section of rides just for little ones with things like mini construction vehicles, a choo-choo, and even ride-on toys; slides; space-themed rides; bumper cars; twisters; and even dinosaurs! Yep, kids can walk a Prehistoric Path with 20 lifelike dinosaurs.
Another great feature at Dutch Wonderland is how many rides cater to the youngest park-goers like my little enthusiast. Whether my 2½-year-old is spinning teacups as fast as he can, or bouncing up and down on the frog hopper, he just can't get enough of amusement park rides. At just (and I mean just) 36-inches tall, he was able to ride a surprising amount of rides, most of which were far more exciting for him than what a lot of other parks and carnivals offer for kids his height. He rode the log flume and a decent sized rollercoaster! There were even a handful of gentle attractions that we could take our infant on with us, such as the monorail and the gondola boats.
We visited on an early warm June day, and the park did not feel overcrowded or crazy. We hardly waited in line for anything at all. We found a line at the log flume, but only the first time around, and at the gondolas, but barely waited anywhere else. It was easy to navigate and my son was able to hop right on most of the rides.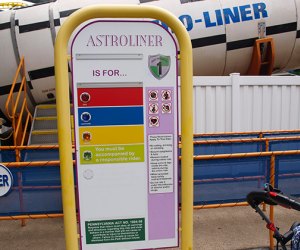 The signs at Dutch Wonderland feature an easy-to-use gem system for height restrictions and let you know the intensity level of the ride.
Another perk for parents at this park is that it's so easy to tell what your kids can and can't ride. Each ride features a sign with a color-coded system for height restrictions. The colors correspond to gems, so my son could ride anything up to the emerald gem height and nothing above that. The gems for each ride are also indicated on the map, so you can check before you even walk to a ride whether your kid is tall enough. The signs also included a number which let you know the intensity level of the ride from 1-5 (1 being the least intense and 5 being the most intense). This proved to be more handy for me than my son who wasn't scared of a single ride.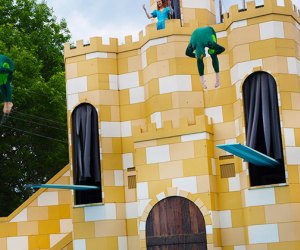 The Frog Prince at The Aqua Stadium was a theatrical diving show. I recommend sitting in the splash zone on a hot day.
There are a number of shows that play throughout the day, including several that focus on Princess Brooke and the beloved Duke the Dragon. I highly recommend taking in a show at the Aqua Stadium. These are theatrical high-dive shows and are really amazing to watch for all ages. Definitely sit in the splash zone if it's hot out for some welcome relief.
If you'd like to pack a lunch, you're welcome to enjoy it at one of the picnic areas outside the park, but coolers and food items are not welcome inside the park. We were allowed through with a water bottle and sippy cup, so water is permitted. There are quite a few places to purchase food. I recommend The Potato Patch. There are also healthier options at Bean Sprouts located at Mill Stream Eatery.
There are a few carnival games sprinkled throughout the park as well as pony rides and face-painting. You might want to have a little cash on hand for these.
As with any amusement park, do not forget your sunscreen. There are several benches if you need a break from walking, but there aren't a lot of shaded or indoor areas. The park was very stroller friendly, and we had no problem navigating it with our massive double stroller. The park offers an indoor nursing room for breastfeeding and pumping moms, but I opted to walk and feed, so my toddler could ride uninterrupted by his little brother.
Keep your eye out for a newer ride called Merlin's Mayhem. This suspended coaster goes about 60 feet up in the air at its tallest point. This is also an interactive ride featuring audio clues on a quest to find Mayhem the dragon within the park. We're hoping to return when this ride opens (and our son meets the 39-inch height requirement), because it looks pretty cool.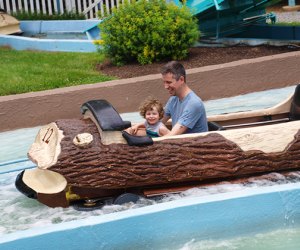 Even smaller kids can ride most of the rides here. At just 36-inches, my son could even ride the log flume.
Good to Know Info
General parking is reasonably priced and credit cards are accepted.
Bring sunscreen, hats, and water.
Don't miss the shows at The Aqua Stadium.
Check your kids' heights when you enter the park and let them know their gem so they know which rides they can and can't ride.
Bring a bathing suit if you plan to visit the water park area.
The park is nursing-friendly and a Nursing Mothers Station is available at the front of the park.
Kids ages 2 and under are FREE.
Dutch Wonderland is located at 2249 Lincoln Highway in Lancaster, Pennsylvania. It's generally open weekends only beginning in April, and then daily mid-June through Labor Day when weekends-only hours continue into the fall. The water park runs Memorial Weekend through Labor Day, weather dependent. Purchase tickets online.
Top photo courtesy of the park. All others by the author.