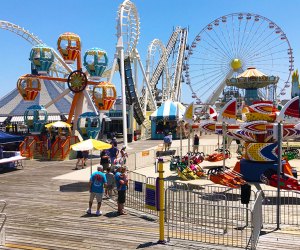 Great Amusement Parks in New Jersey for Preschoolers and Toddlers
Looking for a place to take your little ones for gentle thrills and kid-friendly amusements? We've rounded up 13 amusement parks in New Jersey that are perfect for the younger set—and open in 2021. Some, like Storybook Land and Land of Make Believe, are geared exclusively toward toddlers and preschoolers, while others, like Morey's Piers and Jenkinson's Boardwalk, offer a solid selection of kiddie rides in addition to bigger thrills.
As you plan your 2021 visit, keep in mind that all of these amusement parks require masks for guests over 2 and feature other safety procedures, such as distancing and sanitizing stations. We've limited our list of amusement parks to those located in New Jersey—to search for more tot-friendly spots in surrounding areas, check out our list of Best Amusement Parks for Preschoolers Near NYC.
Editor's note: While we are trying to promote safer activities that occur outdoors or with social distancing guidelines in place, please keep your family and others safe by always wearing a mask and practicing social distancing.
Sign up for our FREE newsletters to get posts like this delivered to your inbox.
OUR LATEST VIDEOS
2021 update: Rides are open Friday through Sunday throughout May, then daily beginning in June. Masks may be removed after entering the water park.
If you and your family aren't quite ready to take the plunge on Hydrus, Casino Pier offers plenty of milder amusements as well. Kiddie rides for those 36 inches and over include bouncing beach buggies, NASCAR-themed race cars, and a mini coaster; kids can also ride with an adult on the brand new, 131-foot-tall Ferris wheel. Find more family fun with mini-golf, an arcade, and the adjacent Breakwater Beach Water Park.
RELATED: 15 Awesome Water Parks for New Jersey Kids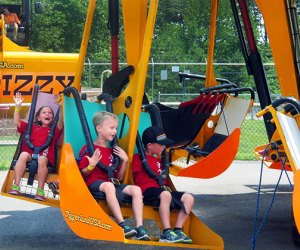 Go for a spin on the Dig-a-Round, Diggerland's version of a merry-go-round.
2021 update: Rides are currently open on weekends and daily beginning in mid-June. The new Water Main water park opens Saturday, May 22. Tickets must be purchased online.
This construction-themed amusement park is a must for Bob the Builder fans. Here, kids can operate diggers, backhoes, skid-steers, dump trucks, and tractors and take a spin on rides like the Dig-a-Round, the park's version of a merry-go-round, and the train-like Excavator Express. Kids must be at least 36 inches to go on most rides, though some require a minimum height of 42 inches. Young visitors will have fun in the Kid Zone, which includes a jungle gym with tube slides, mini diggers, and more, and there's also a rock wall, four-story ropes course, and arcade. Read our full review of Diggerland here.
2021 update: Opens Saturday, June 19 for the season and operates Tuesdays-Sundays through September, plus weekends September-November.
Take your pint-sized paleontologist to this outdoor, dinosaur-themed adventure park to meet more than 30 animatronic dinos. Formerly located in Secaucus, Field Station: Dinosaurs is set up in a temporary location in Overpeck Park (with plans to move to a new, permanent home deeper in the park in the future). The dino herd includes familiar faves like T. Rex, Triceratops, and Apatosaurus, along with lesser-known beasts like Compsognathus and Baryonyx. The park features a discovery trail with activity stations; a giant sandpit where kids can dig for fossils; and programming that includes live musical shows and workshops with dino experts. Revel in the expanded trails through the surrounding forest, great for shady walks on hot days. Read our full review ofField Station: Dinosaurs here.
RELATED: Free Admission for Kids at Nearly 50 of NJ's Biggest Family Attractions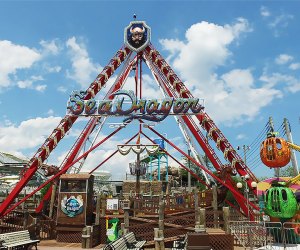 Fantasy Island's Sea Dragon Mini Coaster is a great first coaster ride.
2021 update: Rides open weekends beginning Saturday, May 22, and daily in late June.
I grew up going to Fantasy Island on family vacations to Long Beach Island, and I was thrilled to bring my own kids there a couple of years ago for the first time. This sweet little spot has 19 rides, many of which are good for the littles; my then-4-year-old had a blast on the Sea Dragon mini coaster, the Scrambler, and the mini Ferris wheel. Other tot-friendly amusements include spinning Tea Cups, flying Honey Bees, bumper cars, and a gorgeous Victorian carousel. There's also an old-fashioned ice cream parlor, boardwalk games, an arcade, and you can grab a bite to eat at Chef Gator's Grill.
2021 update: Rides are currently open Friday through Sunday. Weekdays are added in early June.
Ocean City, dubbed the No. 1 family beach community in the U.S., and has a boardwalk that looks like a 1950s film set. It's home to several small, family-owned amusement parks, with rides and games galore. Gillian's Wonderland Pier, founded in the 1920s, offers many little kid-friendly rides—both outdoors and in, so rain doesn't have to spoil the fun. Outdoor amusements include the Wacky Worm roller coaster and Raiders, a maze filled with tunnels, bridges, and slides; the indoor fun includes a carousel, balloon race, monorail, bouncing frogs, and flying elephants.
RELATED: Best Jersey Shore Beaches for Families: Sandy Hook to Cape May

Hop on classic rides, like Dumbo, at Jenkinson's Boardwalk. Photo by Margaret Hargrove
2021 update: Rides are open weekends through May and daily after Memorial Day weekend.
This Point Pleasant boardwalk has it all: an aquarium, three mini-golf courses, a funhouse, arcade, midway games, and lots of rides geared toward the shorties. Firetrucks, boats, airplanes, helicopters, motorcycles, trucks, trains—kids have their pick of a huge variety of amusements made just for them.
2021 update: Ridges are currently open Fridays through Sundays, then daily in mid-May. Runaway Rapids opens Memorial Day weekend.
This family park has been in operation since the early 20th century. Here you'll find more than 20 rides for little ones, including the Jolly Caterpillar, Mini Whip, Rockin' Tug, Tea Cups, and Happy Swing. In addition to rides, there's an adjacent water park, Runaway Rapids, a fishing pier, a rock wall, arcades, and a FREE beach. Food options are plentiful, with everything from shish kabobs and barbecue to zeppoli and ice cream.
RELATED: Worth The Drive: 12 Destination Playgrounds in NJ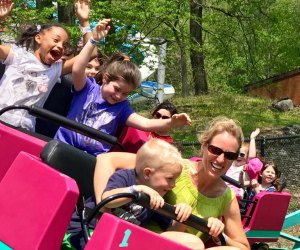 Land of Make Believe is packed with little kid-friendly thrills.
2021 update: Rides open Memorial Day weekend.
Land of Make Believe is No. 1 on our list of things to do with preschoolers in New Jersey (a ranking shared with Storybook Land, below). This kid-focused amusement park features a great selection of classic kiddie rides along with a water park. You can ride the Tilt-A-Whirl, Magic Dragon, and Bouncing Frogs, visit some farm animals, and then splash and slide in Pirate's Cove. Pack a cooler with food from home, or buy from one of nine lunch and snack spots on-site.
2021 update: Rides are open weekends until Memorial Day weekend and then daily.
Located half a mile down the beach from Gillian's Wonderland Pier is Castaway Cove. It's in the middle of the boardwalk on 10th Street, just a block away from Manco & Manco Pizza, an iconic Jersey Shore pizzeria serving giant, cheap, cheesy slices. The park has some great small-scale rides, like bumper cars and a hand-painted merry-go-round, as well as an indoor arcade that's loaded with games. Take the kids for a spin on the 90-foot Ferris wheel, and you'll be rewarded with a spectacular view.
RELATED: Get Merry and Go Round on Unique Carousels with NJ Kids

Hop on a motorcycle at Morey's Piers. Photo by Rose Gordon Sala
2021 update: Some rides are already spinning, and more join the fray at the end of May. It's weekends-only for now, but daily hours begin in June.
This classic boardwalk in the Wildwoods has more than 100 rides and amusements. You'll find the bulk of the kiddie rides on Mariner's Pier and Surfside Pier, both of which offer plenty of options for those 30 inches and over. Check out the website's handy ride chooser to find the ones that are best for your kiddos. Morey's also has two water parks and a large variety of food options—including Breakfast in the Sky, a meal served on the giant Ferris wheel. (Not that we'd recommend attempting this with small children; eating a meal on solid ground is challenging enough!)
2021 update: Open weekends in May, then daily in late June. Tickets can be purchased online.
What could be better than meandering through an entire Western frontier replica town surrounded by galloping horses, cowboys, outlaws, and lawmen? Wild West City is the only western heritage theme park on the East Coast, with 22 live-action shows every day, a working stagecoach, a miniature train winding its way through Arapaho Territory, and a score of good guys and bad guys squaring off in the wide and gritty main street. There's also a candy shop and general store, a collection of Native American artifacts, a working blacksmith shop, pony corral rides for young guests, and a barnyard zoo. After a full day here, you'll be ready to ride off into the sunset. Read our full review of Wild West City for more details.

You'll get your money's worth with the awesome selection of kiddie rides at Six Flags.
2021 update: Rides are currently open Thursday through Sunday, then daily after Memorial Day weekend. All guests must make advanced reservations. The drive-thru safari is open as well. Hurricane Harbor opens Saturday, May 15.
This popular park isn't only about death-defying drops and high-intensity thrills; it also has an awesome selection of kiddie rides. Young children will also dig the Six Flags Safari, where they can visit lion cubs, parrots, goats, and a multitude of exotic animals. Kid-friendly entertainment includes dance parties, animal presentations, and meet-and-greets with Bugs Bunny and the Looney Tunes gang. Make time to cool off at its water park, Hurricane Harbor.
RELATED: Jersey Shore Boardwalks and Amusement Parks for Family Fun

Storybook Land is a wonderful first amusement park.
2021 update: Rides are open Thursday through Sunday. Wednesdays are added after Memorial Day weekend. Reservations are required.
This charming amusement park geared toward the 10-and-under crowd offers a magical experience for young children and parents. You can literally walk through all your favorite stories, and nursery rhymes at Storybook Land, including Little Red Riding Hood, the Three Little Pigs, and Alice in Wonderland. The park's 17 sweet rides include Bubbles the Coaster, Beanstalk Bounce, Jumping Jumbos, and Turtle Twirl. Read our review of Storybook Land to learn more about this NJ gem.
This post, originally published in 2014, is updated annually.
Photos courtesy of the amusement parks unless otherwise noted