Long Beach Island with Kids: Best Things to Eat, See, and Do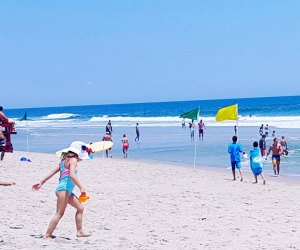 6/25/18
- By
Amy Meader
For quality family time, there are few places more magical than Long Beach Island on the Jersey Shore. This 18-mile barrier island has everything you could want in a summer vacation with the kids. Whether you're after a low-key beach getaway or a high-energy, action-packed weekend trip, the Island has it all.
LBI beaches offer the best of both worlds: the waves of the Atlantic Ocean, and the calmer waters of the Barnegat Bay. My family has been coming here since I was born, so I may be biased, but this Jersey beach truly is the best place for some family fun in the sun. Often less crowded than other popular shore towns in New Jersey, it still feels like a hidden gem. Read on for top tips on visiting Long Beach Island with kids.

The shallow water is perfect for kids to swim and investigate tidepools. Photo by Rose Gordon Sala

Family Guide to LBI Beaches
The main attraction in Long Beach Island: Some of the best beaches in the Mid-Atlantic. The sand is soft and clean, and the water varies in color from nice to nicer. Beaches here are raked every morning, and garbage-free—but the price of all that pristine sand is that you need to buy a badge in order to use the beach. Badges cost $40 for the season, $20 weekly, or $7 for a day pass.
Prime beach season on LBI runs from Memorial Day until Labor Day, weekdays included, although weekends bring more day trippers. (Note that the main bridge leading to LBI is under construction as they build a newer, wider bridge, so traffic gets a bit crazy Friday evening and again on Saturday morning.) Depending on where you go on the Island, the beaches are really wide, so you're sure to find your own place in the sun. For the most peaceful and least crowded beach experience, head left off the bridge and try Surf City or Barnegat Light. If you'd like to be walking distance to activities, the beaches of Brant Beach and Beach Haven are close to many attractions. Some sections of LBI are doing beach replenishment work, so the length of the beach varies from township to township.
Public bathrooms are only located at a few entrances to the beach—otherwise you need to rely on the municipal buildings or restaurants. The beaches are mostly lined by private homes, so if you do rent a house, you may want to set up your beach chairs close to home, due to the lack of public restrooms. Lifeguards can be found everywhere, as there are nearly 200 lifeguards on the island. (Safety first and always!)
Be sure to check the tides. Low tide is amazing for little ones as sand bars and little tide pools form. High tide offers plenty of wave action for those big kids who like to body surf! For really small kids, check out the bay beaches—your beach badges are good there as well. The Barnegat Bay is calm and great for those who are just learning to love the beach. (Insider tip: Check which way the wind is blowing. The bay beaches can be overrun by flies, and if it's a west wind, you will probably be swarmed by them).
RELATED: 100+ Free Things to Do with Kids in New Jersey This Summer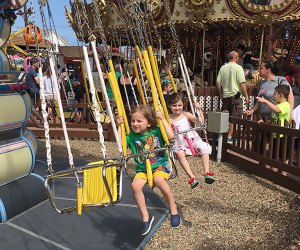 Take a swing at Fantasy Island Amusement Park. Photo by the author
Things to Do with Kids on LBI
The beaches might be the main draw, but there are tons of family friendly activities on Long Beach Island when you need a break from the waves.
Rides and Games
You can't visit LBI without a trip to Fantasy Island. It takes the place of a boardwalk and offers so many attractions for kids of all ages. Bigs and littles can spend hours in the air conditioned arcade, perfect for those rare rainy days. The rides here are great for toddlers, but there are several rides geared toward bigger kids too, and games galore. My five year-old is obsessed with the frog game!
See and Do
Bay Village in Beach Haven is a great place to shop, stroll, and snack: There's a toy store, gift shops, candy stores, plenty of ice cream options, and some fun, casual restaurants. Head to Country Kettle to watch fudge being made (they make their own clam chowder as well). Also in Beach Haven, visit the Surflight Theatre and the newly refurbished Show Place Ice Cream Parlour. You can see a show—this year's lineup is terrific—then get ice cream and watch the wait staff perform. You may even be called on to belt out a number yourself!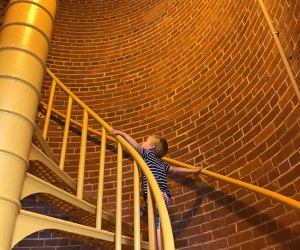 Climb the 217 stairs to the top of the Barnegat Lighthouse. Photo by Rose Gordon Sala
Barnegat Light at the very north tip of the island is definitely worth a visit. At Barnegat Lighthouse State Park you can climb the lighthouse known as Old Barney (217 steps!), take in an immersive exhibit on the lighthouse and its significance, or roam the trails and look for some fantastic wildlife. Turtles are known to roam freely there. A few blocks away is Viking Village, a quaint fishing village with adorable shops, a great fish market, and charter boats where you can go deep sea fishing or on a sunset cruise. Try the Miss Barnegat Bay for a nice family cruise up the Barnegat Bay.
And don't forget to stop by the biggest toy store on the Island! Haymarket Hobbies and Toys in Ship Bottom, close to the bridge, has something for everyone. Kids of all ages will love wandering the aisles of this impressive shop, which stocks some of the newest toys on the market as well as some old time favorites.
Mini Golf
You have to get in a game of mini golf on the Island, and there are many different courses to choose from: We love the Fantasy Island course, since it is challenging. And the Sand Trap is great for toddlers as it is well-contained.

Rent a bike at Surf Buggy and explore the island. Photo by the author
Biking and Boating
Bike rentals are taking over the island. We love Surf Buggy (with two locations in Beach Haven and Surf City) for their vast array of bikes for all sizes and riders. If biking isn't your thing, why not try stand-up paddle boarding or a kayak rental in the calm waters of the Barnegat Bay? For some real fun on the high seas head over to Beach Haven where you can sail the Black Pearl Pirate Ship around the bay. You can get your face painted and play pirate dress-up before you board the ship.
Playgrounds and Parks
While the Island offers many playgrounds in each township, the best by far is located at Bayview Park in Brant Beach, with equipment that will keep big and little kids active. Bayview Park has weekly music concerts, perfect for families, and is also the best place to take in the sunset—and an LBI sunset should not be missed.
RELATED: New Jersey Summer Fun Guide for Kids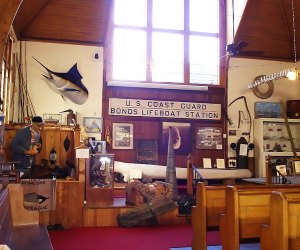 The Long Beach Island Museum keeps the history of LBI alive. Photo courtesy of the museum
Rainy Day Options
If you happen to have a rare rainy day, there are some fun educational museums to check out on Long Beach Island. My family has always gone to the Long Beach Island Museum, right in the heart of the Beach Haven Historic District. Housed in a beautiful church from the 1800s, the museum keeps the spirit of the island alive with its amazing collection of historical artifacts and photographs. Long Beach Island Museum also offers great children's programming throughout the summer on Monday mornings for grades K-12. Or check out one of their evening walking tours, which can be fun for kids of all ages!
Our family has also enjoyed time at the LBI Foundation of the Arts and Sciences. My son has been taking private and group tennis lessons there and we are so pleased with the staff and the facilities. They offer a great summer camp for kids 6 and up, with full- and half-day camp options by the week.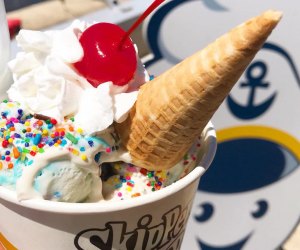 It's worth the wait for an ice cream at the Skipper Dipper. Photo courtesy of the shop
Where to Eat
LBI is full of awesome family friendly food establishments—you can have a formal meal or keep it really casual. For a great family restaurant head to Kelly's located in Barnegat Light, which has been there for decades. It's casual and nautical themed and they make the best grilled cheese around. Our family loves their Manhattan Clam Chowder. Be sure to stop next door at the Dairy Queen to finish off your meal. I have been having their root beer floats since I was a child!
For a great informal seafood place head to Ship Bottom Shellfish, or the Black Whale owned and operated by the same family. Be sure to go early as wait times can be intense. My son is a huge fan of their fried clams. If you want tacos go to Surf Taco for the best fish tacos on the island. Or if burgers are your family's thing, Woodies serves the best.
And of course, don't forget about the ice cream shops. My family's favorite is the relatively new Scoop City. They serve Nelson's ice cream from Philadelphia. If you are on a special diet head to the WooHoo in Beach Haven for the best dairy-free ice cream ever. And the most popular shop on the island is the Skipper Dipper. Be patient: There's never not a line, but the ice cream is worth it.

The Sea Shell has a pool right on the beach! Photo courtesy of the hotel
Where to Stay
While most people rent houses on the island, there are a number of hotels and motels to choose from as well. Try the Sea Shell: It's super family friendly and boasts a pool right by the ocean.
Getting to LBI
Getting to LBI is relatively easy. It is about a two hour drive from NYC. You can also hop a NJ Transit bus to Toms River and take an Uber from there to the island. There is also a private shuttle that leaves Manhattan daily, but we hear it can be unreliable, so be sure to check their website for updates.