SPONSORED
South Jersey's Construction Theme Park, Diggerland USA, Reopens with a Brand New Water Park
Ever wonder what it would be like to dig with an excavator, drive a real dump truck, or find out for yourself just how high a telehandler really goes? At Diggerland USA, the only construction theme and water park in the US, kids and their grownups can operate actual earth-moving equipment—think Ventracs, excavators, tractors, and more—plus splash around in the brand new outdoor water park come summertime.
My family of five headed to West Berlin, New Jersey for opening weekend to experience Diggerland USA for ourselves and we had a blast! With over 40 themed rides and attractions, the park gives guests the chance to have some safe and totally one-of-a-kind fun. It's the perfect destination for a weekend, spring break, or the hot summer days to come. And Mommy Poppins readers get an exclusive discount on tickets—just read on for details.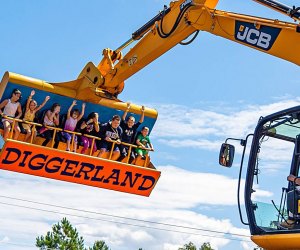 Photo courtesy of Diggerland
Top Rides and Attractions at Diggerland USA
Diggerland USA is spread out over 20 acres—with about 2 acres dedicated to the new Water Main aquatic park—and there's a ton of things to do. It takes about three or four hours to cover the entire park, but you can certainly pick and choose your activities based on everyone's ages and interests. Here are some of my family's favorite attractions:
Big Diggers, Mini Excavators, and More
The park is a large loop, and if you start with the excavators, you won't be sorry! There are banks of Big Diggers where you can operate real 7,092-pound digging equipment. Don't worry—the Diggerland staff is amazing and will teach you everything you need to know. In less than a minute, my boys were digging and dumping like pros.
Also check out the mini excavators, where you can use the crane like an arm to knock down bowling pins, pick up ducks, or dig for treasure. I was amazed by how much skill is involved in running this equipment. It truly gave us all a new appreciation for the know-how required to operate these machines.
There's plenty of other cool equipment to try out too. New this season is the ROXOR A/T, a turbo-diesel jeep that you can drive through a controlled "off road" course. You can also learn how to operate Ventrac 3400 hydrostatic compact tractors, skidsteers, steam rollers, or farm tractors, and then drive them around a fun course. When my son walked proudly away from one of the courses, I thought, "Wow! I can't believe my second grader just drove a steam roller!"
I loved seeing that little ones were able to get in on the fun too. While a number of the attractions require the driver or operator to be at least 40" (and sometimes even taller), kids who are at least 36" are often able to be lap riders and see for themselves what it's like to dig and drive. I also saw plenty of multigenerational families on outings, too—a perfect grandparent-tween date!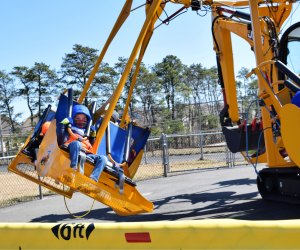 Photo by Kaylynn Ebner
Construction-Themed Rides
Diggerland USA isn't just about the driving and digging. The park is filled with incredibly unique construction-themed rides! The Dig-A-Round is perfect for little ones. It's sort of like a carousel, but in true Diggerland style, you ride in the bucket of a JCB 8065 excavator. You can also take a spin on the Excavator Express—a family-friendly Diggerland train pulled by tractor—or see what it's like to ride on a real five-ton military transport vehicle. Kids can even experience new heights in the Elevation Station, a plate deck that makes a slow 60-foot vertical trip—a favorite of my seven-year-old!
Little guys (again the 36"+ crowd) can also experience the thrill of driving their very own Digger Derby mini-car around a small track. A huge shout out to the Diggerland instructor on this one, who patiently guided and encouraged my four-year-old daughter until she figured out how to make her way around the track.
Other great calmer attractions include the Kid Zone slides, duck racing with a water pump, a bean bag toss, a giant four-in-a-row game, panning for gold, and the adorable barrel train, which takes the littlest of passengers around a short track.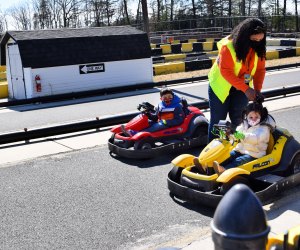 Photo by Kaylynn Ebner
Rides for Thrill-Seekers
A major highlight of our trip was an exhilarating ride on the Soaring Eagle Zipline. Sit side-by-side a buddy as you soar 700 feet back and 130 feet up in the air. Our hearts were pounding by the time we stepped off this one!
Another not-to-be-missed attraction is the Spin Dizzy, a modified excavator with a gondola that spins 25 feet in the air! Speaking of heights, try the Sky Shuttle, modified backhoe with a telescopic arm that raises a gondola of passengers 50 feet in the air. A super-unique fan favorite of our family was the Greased Beast, a steel demolition trailer that raises passengers over 30 feet in the air before "dumping" everyone forward. Don't worry; everyone is harnessed in tightly, but it's a real thrill!
There's also an enormous Ropes Course where you can suit up and try to make it to the top of the four-story structure, or scale the 32-foot high Rock Wall.
No matter which ride we chose, we couldn't have been more impressed by the professional, kind, and courteous staff that ensured safety with careful instructions and took the time to disinfect the seats between each group.

Photo courtesy of Diggerland
NEW: The Water Main Aquatic Park
Opening its doors Memorial Day Weekend, The Water Main aquatic park is an awesome new addition to Diggerland—plus it's included with general admission to the park! Water-loving families can enjoy construction-themed splash pads, water slides, in-pool basketball, leisure swim areas, and even personal lockers to store all your belongings while you get soaked. Spacious shaded personal cabanas are also available for rental, complete with lounge chairs, tables, fans, and refrigerators.
Diggerland Dining Options
When it's time to refuel, there are plenty of dining options across the park! Head to the Lunch Pail, The Munch Box, or Fork Lift Cafe for a slew of family-friendly options like pizza, cheesesteaks, quesadillas, burgers, grilled cheese, and chicken tenders. Or, grab a snack like ice cream, pretzels, and ices. If you're busy splashing around at The Water Main, The Tool Box is new to the dining line-up, serving up lunch, snacks, and beverages.
There are plenty of seats and tables in the outdoor pavilions.
Birthday Parties at Diggerland USA
Of course, Diggerland USA is a fantastic and totally unique spot for a birthday party. Party packages include admission for 10 kids (the birthday child is free!), 12 adults, time in the park, and time in the pavilion for food.

Photo courtesy of Diggerland
Health and Safety at the Park
Diggerland USA has always prided itself in putting safety first, and they've added a number of new precautions in response to COVID. All guests are required to wear masks unless eating, drinking, or swimming; social distancing is enforced; high-touch surfaces are regularly sanitized; and contactless admissions and payment options are available. Admissions are also being capped at 50% of maximum capacity, and some rides have reduced capacity or staggered entry as well. If you're interested, you can see all of the safety guidelines here.
Schedule and Ticket Reservation
Visit the Diggerland USA calendar for park hours, as well as special events like campouts, drive-through holiday lights, fall festival, and more. Also, note that Diggerland will be open from March 27 through April 11 from 11:00am to 6:00pm for families looking to have some spring break fun.
Day tickets can be easily reserved online and construction-loving superfans might be interested in the season pass, which includes unlimited visits to Diggerland and The Water Main, free parking, and tons of special discounts and perks. Plus, it pretty much pays for itself after three visits.
No matter which option you dig, you can snag your tickets here! And get $5 off each ticket the exclusive code MOMMY21.