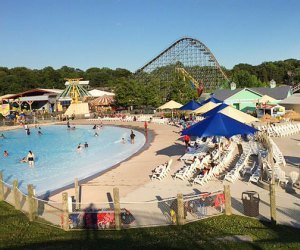 Clementon Park in South Jersey: Amusement Rides and Water Fun for Kids
What's your favorite type of theme park attraction: water rides, dry rides, or wave pools? If your family loves all three, there's no need to choose at Clementon Park and Splashworld. This South Jersey combo theme/water park next to Clementon Lake has a 110-year history of entertaining New Jersey, Pennsylvania, and Delaware families with a variety of attractions.
If you have preschool and elementary school-aged children and you live a short drive from Camden County, Clementon might be a nice day trip for your family. Before you go, however, make sure you know your child's height. Anyone under 36 inches won't have to pay admission, but there are also very few options available to them. Kids under 42 inches also will be excluded from many of the faster/bumpy rides. The staff (who were very friendly and professional) strictly enforce these rules.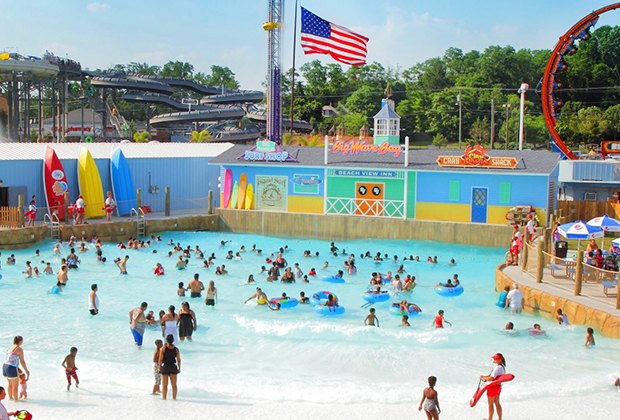 Kids can splash and play while parents lounge nearby at Big Wave Bay.
Water Fun
Huge draws of Clementon Park are the pool area and water rides. Big Wave Bay is an awesome wave pool and lounge area that I could envision local families making frequent use of with a season pass. It's 23,000 square feet, but not all that deep; your kids can splash and play in the waves for hours. I thought it was great that the park keeps a slew of lounge chairs set up next to the pool and life vests for children (required for kids under 42 inches). There's also a nice bathroom and changing area adjacent to the pool. On some nights, season pass holders can watch "Dive-In Movies" next to Big Wave Bay.
Keep the swimsuits on and check out the slides, which kids (42 inches and taller) can ride on a mat or tube depending on the ride. One thrilling slide drops riders (48 inches and taller) in a 60-foot free-fall. There's also the King Neptune's Revenge log flume ride, which takes you over a watery course, ending with a speedy splash. My 6-year-old rode this one five times in a row!
RELATED: 15 Awesome Water Parks for NJ Kids and Families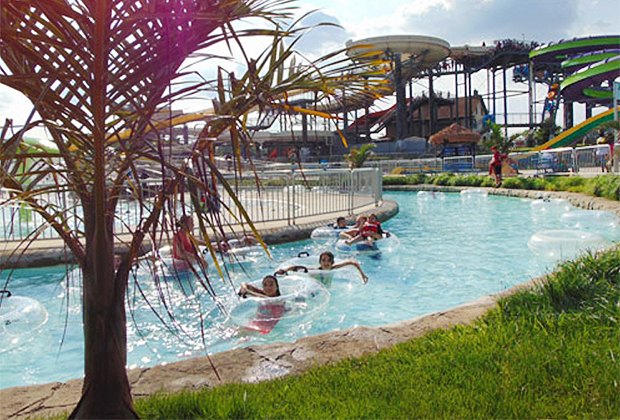 Enjoy a relaxing float along the Lazy River.
Kids who prefer tamer water rides may enjoy the Lazy River tube float or the family tube ride (must be 42 inches or taller) that slips down three slides for some splashy thrills. There's also the pirate ship–filled Shipwreck Bay and Laguna Kahuna, a kids' splash pool with smaller slides, shooting water jets, water dumps, and more.
Dry Rides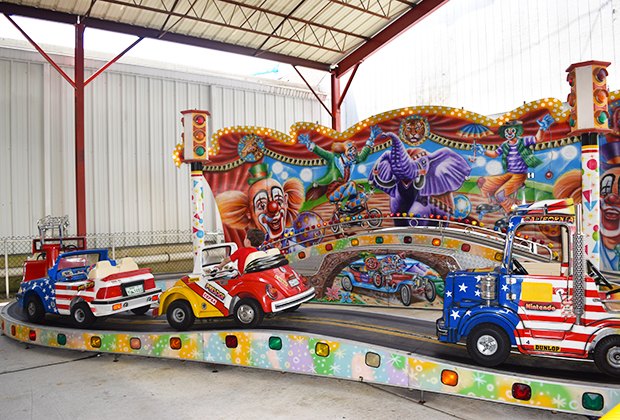 Kids can choose from a variety of vehicles in this classic kiddie ride. Photo by the author.
Many of Clementon's rides for young children are on par with what you'd find at a carnival, and many are grouped under a roof for shade. You'll find flying elephants, cars that ride on a fixed circuit, a safari train, hot-air balloons, and the like. My boys (ages 4 and 6) loved the enormous, multi-level Playport play maze and bounce house. Playport was a little faded and clearly had been entertaining children for many years, but my kids loved it just the same. I'd say they spent a good 45 minutes in there.
Young kids may also enjoy the carousel and a short ride on C.P. Huntington Railway, which probably could use some updated animals to look at. This slow-moving ride will be popular with children under 6 or so; it was the perfect way to end our day at Clementon.
RELATED: Great Amusement Parks for Preschoolers and Toddlers in New Jersey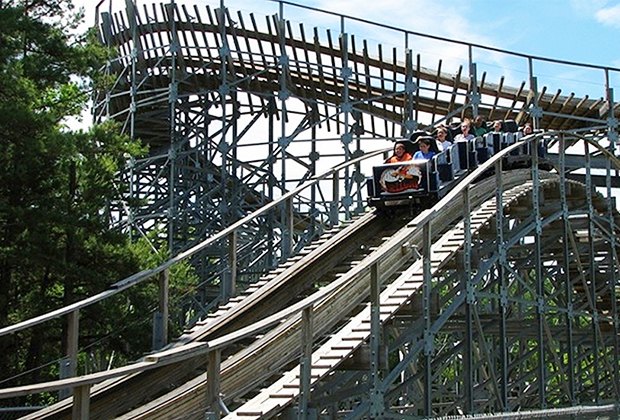 Clementon offers a few bigger thrills, including a classic wooden roller coaster.
Clementon also has about five or six thrill attractions like drop rides, roller coasters, a huge ferris wheel, and an upside-down loop ride for older children.
All in all, I'd say if your kids like repeating rides and small-to-medium attractions, they'll be happy at Clementon. We ran into some families that were looking for more variety for their elementary school–aged kids, but my boys thoroughly enjoyed the day and weren't ready to leave after spending hours in the park. While some areas might need some updating, I think it's a great option for families who want both wet and dry rides, with a little swimming mixed in.
Food and Games
There are plenty of kid-friendly food options and fun snacks sprinkled around the park. We also enjoyed some of the classic carnival-type games, like balloon darts, fishing, and ring toss, and we won some nice little prizes.
Admission
Note that everyone 36 inches and taller must pay admission ($30 for kids and seniors, $43 for adults). Tip: You'll pay $33 for adult admission if you buy tickets online before you go.
If you live nearby, season passes are definitely the way to go. Depending on when you buy them, the cost is $50-70/person, and payment plans are available pre-season. There are also plans for meals, lockers, and parking that you can add on. Expect to pay $10 to park if you pay by the day.
Last tip: Clementon is very popular for private events. Call before you go to ensure the park will be open to the public on the day of your visit.
Unless otherwise noted, photos courtesy of the park.