Visiting Field Station Dinosaurs with Kids: Tips for a Family-Friendly Expedition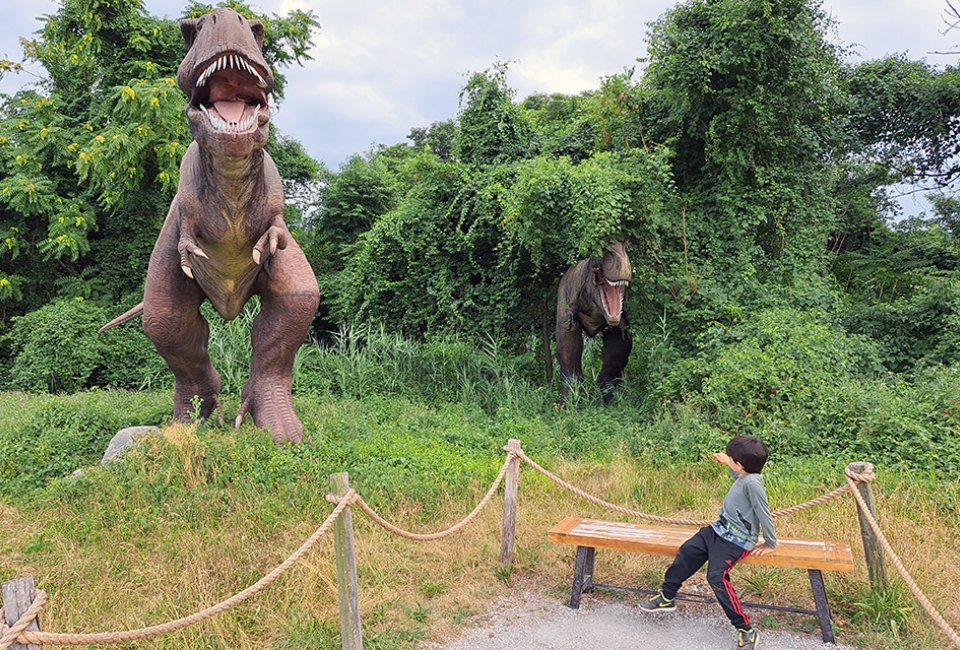 7/19/22
- By
Rose Gordon Sala
Calling all pint-size paleontologists: Field Station: Dinosaurs, New Jersey's dinosaur-themed adventure park celebrates its 10th anniversary this season and is celebrating with some fun new additions to a park that already included 30-plus animatronic dinos, including Tyrannosaurus rex, Stegosaurus, Triceratops, and Spinosaurus.
Read on for our review of this seasonal dinosaur attraction, which makes a great day trip from the tri-state area. Find more places for prehistoric fun on this list of local dinosaur destinations.
Subscribe to our newsletters to get stories like this delivered directly to your inbox.



Field Station Dinosaurs is home to many interactive stations, including the brand new Jurassic Jump. Photo by Katherine Dhurandhar
Why Field Station: Dinosaurs Is an Awesome Family Destination
Field Station: Dinosaurs returns for its summer season with new shows and attractions, including the Jurassic Jump, which propels guests high in the sky with trampolines and bungee cords, an adorable Toddlersaurus show, and Dinos after Dark taking over the park on Friday and Saturday evenings in October.
In addition to these new attractions, visitors to Field Station: Dinosaurs can enjoy the dinosaur trail, which allows guests to follow the path as it winds around the park, encountering different dinos along the way. The dinosaurs are animatronic, so they make small movements and some calls and growls here and there. Some are quite small, while others are astoundingly tall or long, like the 90-foot-long Argentinosaurus. There are raptors, the popular Stegosaurus, baby dinosaurs, and plenty more. All the specimens stand behind a rope, so kids are not allowed to touch them.
RELATED: Bronx Zoo Dinosaur Safari Brings Dinos Roaring Back to Life

Surprises wait seemingly around every twist and turn at Field Station: Dinosaurs, captivating kids! Photo by Katherine Dhurandhar
The T. rex specimens, which are more than 15 feet tall, make some particularly realistic monster noises, so watch out! There are small side trails into the forest that give the feeling of a real dinosaur safari as dinos randomly appear in the bushes and move and roar. These forest trails also offer much-needed shade on hot days, and there are benches to sit on and take a break (of course my son was not willing to do that!).
During our visit, there were so many interactive stations scattered along the trail, we hardly had time to do them all. Each day is also packed with a slew of family-friendly programming, from kiddie concerts to fossil Q&As. So while you could probably whip through the trail, seeing all the dinosaurs in 30 minutes, you'd miss some of the best parts of your "expedition." Remember, we're playing scientist here! We spent two hours there, and still didn't get to it all, though we did see every dino. Kids can earn stamps at the various stations to fill up their "credential" field book along the way.
RELATED: American Museum of Natural History in NYC: What to See with Kids

Kids can play paleontologist carving marine fossils out of bricks and identifying them in the Paleontologist Lab. Photo by Katherine Dhurandhar
Must-See Things at Field Station: Dinosaurs
Paleontologist Lab
This was one of the most popular hands-on stations we came upon. Kids are given a brick with real marine fossils inside and tools to chisel it open and find the treasure. They can then identify what they have found by matching it to the chart provided and take it home in a sachet as a keepsake.
The Amphitheater
Catch a storytime, sing-along, dance party, and more at this performance space, all with educational elements woven in, such as the history of local dinosaur discoveries and various dinosaur species trivia.
The musical shows include the "Feeding Frenzy" show, which offers a musical introduction to the gory eating habits of T. rex. A brand new debut this summer is the "Toddlersaurus Surprise Party," where the Dinosaur Troubadour sings and dances with the adorable and lifelike Toddlersaurus, a baby T. rex puppet who is trained to do tricks but doesn't like to follow directions. After the Toddlersaurus exits the stage, the big T. rex comes out and audience members are chosen to play games with the dino while learning fun facts. The T. rex is pretty lifelike and "in your face," so smaller kids who might get scared should not be in the front row. Even my 7-year-old got a little startled when the big teeth came close.
RELATED: Best Amusement Parks Near NYC for Preschoolers

The sand pit at Field Station: Dinosaurs is filled with prehistoric treasures to unearth. Photo by Katherine Dhurandhar
Fossil Dig
This experience is a huge sandbox with large dino-sized bones buried in the sand, and it was another big hit. Good luck convincing your kids to leave this fun zone behind.
More Fun Activities at Field Station: Dinosaurs
There are plenty of extras if the kids need more dino fun. Next time we have to check out the Dinos Origami workshop, Paleo Picasso, where kids draw their dinos, or a scavenger hunt. And we couldn't resist perusing the gift shop for some dinosaur memorabilia (we came away with a dinosaur tail that attaches at the waist and two "watch them grow" dinosaur eggs that hatched sponge dinos after being submerged in water for several days).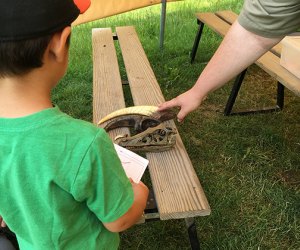 There are tons of opportunities for hands-on exploration and discovery. Photo by author
Know Before You Go to Field Station: Dinosaurs
Staff, dressed in khaki and cargo shorts, are friendly and plentiful.
Want to treat your dino lover to a celebration or a snack? There's a tent for birthday parties, and a concession stand where we grabbed pretzels, hot dogs, and Gatorades.
There is a fancy, raised port-a-potty type comfort station, but no changing table. The trail is wide and hard-packed, and strollers are welcome.
Everyone ages 2 and up must purchase a ticket to attend. Buy them on-site when you arrive, or online in advance. Tickets start at $17.75 per person.
Parking is FREE. It's a short drive from NYC, and accessible via NJ Transit bus from the George Washington Bus Terminal.
Field Station: Dinosaurs is located at 40 Fort Lee Road in Overpeck County Park in Leonia, New Jersey. Hours vary by season, so visit the website for the current schedule.
Originally published in 2016. Katherine Dhurandhar contributed additional reporting
Places featured in this article:
Click Here to Sign Up!
i