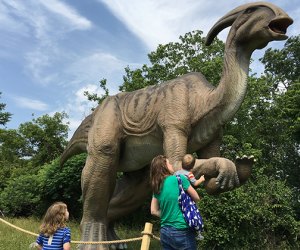 Dinosaurs Return to New Jersey at Field Station in Leonia
Field Station: Dinosaurs reopens August 15, 2020, with new social distancing rules in place.
Calling all pint-size paleontologists! The outdoor dinosaur-themed adventure park, Field Station: Dinosaurs in New Jersey's Overpeck County Park is getting its 30-plus animatronic dinos, including Tyrannosaurus rex, Stegosaurus, Triceratops, and Spinosaurus, ready to roar into another season.
The seasonal kiddie attraction skipped over from its old location in Secaucus, New Jersey, to a flat, sunny field not far from the George Washington Bridge in the summer of 2016. Initially, the dinosaurs were lined up across the field, but newly expanded trails in 2018 some dinos to move a bit deeper into the surrounding forest, offering more opportunities for exploration as well as some much-needed shade on hot days.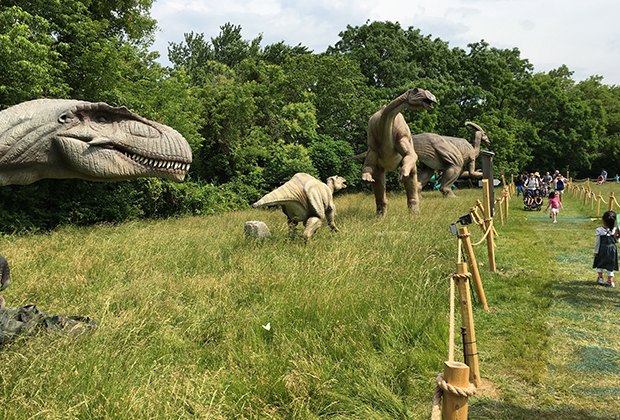 The sight of so many lifelike dinosaurs is pretty stunning.
During our visit, there were so many interactive stations scattered along the trail, we hardly had time to do them all. Each day is also packed with a slew of family-programming, from kiddie concerts to fossil Q&As. So while you could probably whip through the trail, seeing all the dinosaurs in 30 minutes, you'd miss some of best parts of your "expedition." Remember, we're playing scientist here! We spent two hours there, and still didn't get to it all, though we did see every dino.
RELATED: Best Amusement Parks Near NYC for Preschoolers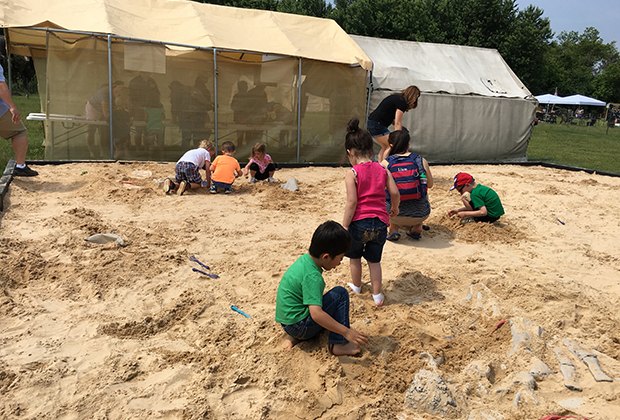 Kids can unearth dinosaur bones in the Fossil Dig.
When you arrive, the gates to the exhibit are closed. You're gathered as a group in front of them as a staff member sets the scene, giving you a bit of a preview and building up a bit of suspense. With a "good luck on your expedition," you're released into the field for a self-guided tour, walking to and from pairs and single dinosaurs, as well as activity stations. Kids can earn stamps at the various stations to fill up their "credential" field book along the way.
RELATED: Giant Titanosaur Arrives at American Museum of Natural History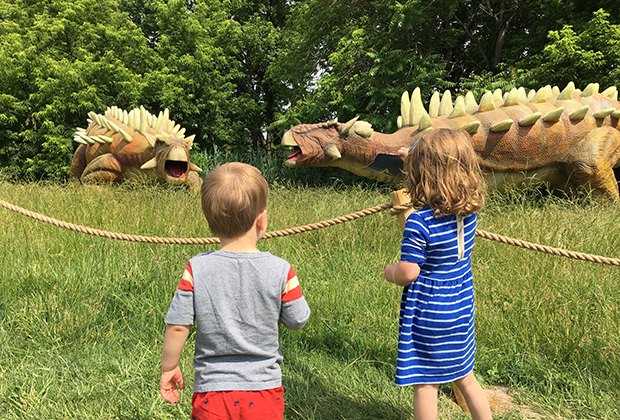 This pair of armored Ankylosauruses captivated the kiddos.
The dinosaurs are animatronic, so they make small movements and some calls and growls, here and there. Some are quite small, while others are astoundingly tall or long, like the 90-foot long Argentinosaurus. There are raptors, the popular Stegosaurus, baby dinosaurs, and plenty more. All the specimens stand behind a rope, so kids are not allowed to touch them. It's not scary, but two did make my youngest jump and wrap his arms around my neck, including the finale of three massive T-rex specimens, all more than 15 feet tall. The last one makes some particularly realistic monster noises, so watch out!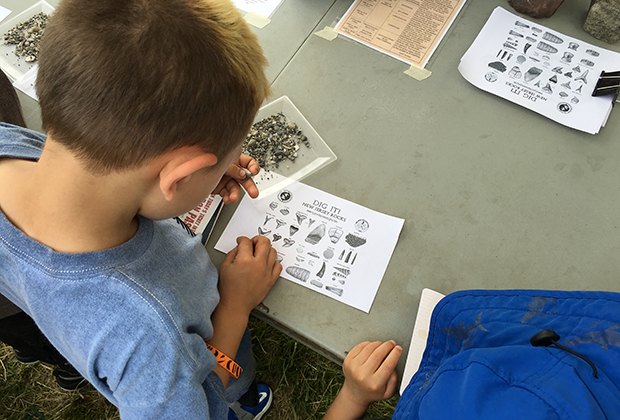 The park's many interactive stations are a popular draw for budding paleontologists.
One the most popular hands-on stations we came upon was a geology-focused table where kids dug through native New Jersey stones to find things planted by staff that looked like fossils. The actual Fossil Dig, basically a huge sandbox with large fossil-like bones buried into the sand, was another big hit. Kids dug the amphitheater too, where you can catch a storytime, sing-along, dance party, and more, all with educational elements woven in, such as the history of local dinosaur discoveries and various dinosaur species trivia. I saw many young kids and older ones thoroughly engaged in the paleontologists' laboratory, dusting off fossils, and another crowd shrieking with delight at the "Feeding Frenzy" show that offers a musical introduction to the gory eating habits of T-Rex.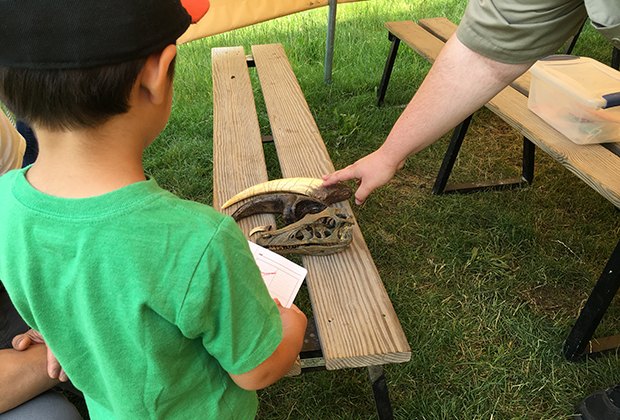 There are tons of opportunities for hands-on exploration and discovery.
Staff, dressed in khaki and cargo shorts, were friendly and plentiful. There's a tent for birthday parties, and a grill/snack station where we grabbed pretzels, hot dogs, and Gatorades. I changed a diaper on the grass and got a few looks but didn't see an alternative. There is a fancy, raised porta-potty type of comfort station, but no changing table. The trail is wide and hard-packed, and strollers are welcome.
There are plenty of extras if the kids need more dino fun. For a fee, you can splurge on a 3D movie, let the kids pose in front of a dinosaur-themed green screen for a take-away memento, or peruse the gift shop for some dinosaur memorabilia (we came away with two "watch them grow" dinosaur eggs that hatched sponge dinos after being submerged in water for several days).
We got there when it opened at 10am on a Saturday morning and there was a minimal line. By the time we left around noon, they were parking cars in the overflow lot, but there still wasn't a line of more than a few families to get in.
Field Station: Dinosaurs is located at 40 Fort Lee Road in Overpeck County Park in Leonia, New Jersey. It's open Memorial Day through Labor Day on weekends only until June 23, 2019; starting on June 25 its hours expand to Tuesday through Sunday (rain or shine). Fall hours shrink down to weekends only through October 27. The park will be open on Memorial Day, Independence Day, and Labor Day.
Everyone ages 2 and up must purchase a ticket to attend. Buy them on-site when you arrive, or online. Season tickets, birthday packages, and camp field trips are available. Strollers and wheelchairs are also available to rent. Parking is free. It's a short drive from NYC, and accessible via NJ Transit bus from Port Authority, though the latter will take upwards of an hour.
All photos by the author.
This article first published in June 2016 and is updated annually.