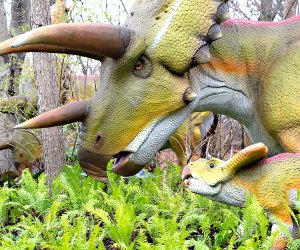 Life-Size Robot Dinos Roar at New Dinosaur Safari at the Bronx Zoo
They roar, brandish their teeth, and swing their tails and claws at you, but these prehistoric giants can't hurt anyone...we think. They're all part of the new Dinosaur Safari opening at the Bronx Zoo on April 19, just in time for spring break.
Families board an open-air wagon to hit the trail in the Bronx for a ride through a prehistoric-themed display of 40 life-size, animatronic dinosaurs. Read on for all the details on this fun new attraction for kids at NYC's largest zoo, including how to get tickets and must-know tips for families.

A deinonychus roams free at the Dinosaur Safari at the Bronx Zoo.
Catch the safari wagon near the Fountain Circle (and sea lions), for a woodsy ride through two acres along the northern edge of the zoo next to Fordham Road. An expert narrator points out which species is which, along with fun facts about them, from their hunting behaviors to what they really used those horns for. The tour and printed field guide both also encourage kids to draw comparisons to modern animals and see connections with living zoo creatures. "Did the deinonychus hunt like an African wild dog?" In packs? Maybe!
RELATED: New T-Rex Exhibit Opens at NYC's Natural History Museum

A Maiasaura tends to her offspring at the Dinosaur Safari at the Bronx Zoo.
Along the safari route, kids will see dinosaurs in various lifelike poses and scenes, some protecting eggs, some foraging for food, and some even hunting prey. A tarchia peeks through the foliage at eye level, while the long neck of a 60-foot omeisaurus stretches to the treetops. A baby kosmoceratops hides between its massive-horned parents. There are winged species and even one aquatic display toward the end of the experience. You'll also hear them roar and move their head, tails, and arms around as the wagon rumbles on.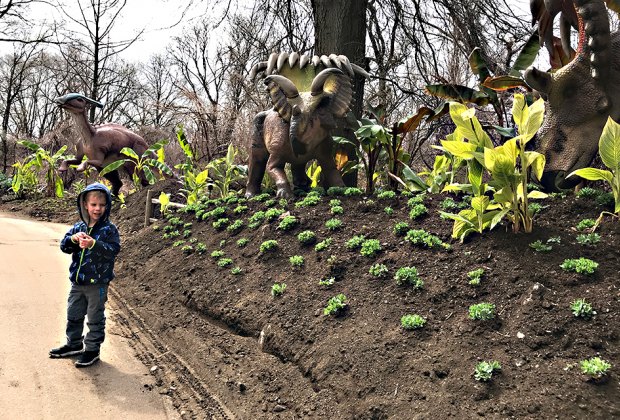 The zoo's dinosaur experience encourages visitors to "think like a paleontologist" as they watch dinosaurs battle each other, care for their young, and snack on plants.

It's not meant to be scary, and it's all done in the daylight hours, of course, but my 4-year-old dinosaur nut was a bit nervous about being too close to these beasts. He made me reassure him more than once that they weren't real, and he nearly jumped out of his skin at a few of the roars. Still, he loved the experience overall, nearly squealing in delight when he recognized a favorite: "That's stegosaurus, Mommy!" And he enjoyed pointing out dino trivia along the way: "See, some did have feathers," and "That mom is protecting the eggs."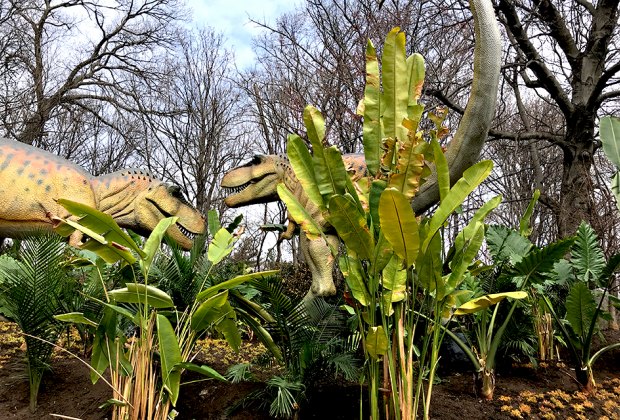 Two T. rexes battle in the Dinosaur Safari exhibit at the Bronx Zoo.
There's one scene of carnage that shows a few predators feasting on the innards of a luckless herbivore, but for some reason, that barely fazed my kid. But the enormous pair of 40-foot Tyrannosaurus rexes (we mentioned these guts were life-sized, right?)...well, he wanted to get away from those two ASAP.
RELATED: See the Bronx Zoo Like a Local: Top Tips for Visitors
You might remember that the zoo hosted a previous version of Dinosaur Safari a few years back, but this time the creatures and the experience are completely new, zoo representatives told us. The models were developed in coordination with a dinosaur expert and "Dino" Don Lessem, an author of dozens of popular science books, and a movie and theme park consultant. Dino geeks and novices alike can enjoy the tour. I was impressed by the number of dinosaurs on display, as well as their lifelike sizes and motions. The lushly planted trail makes everyone feel like they're on a real expedition, but the dino calls and shrieks might put you more in that paranoid Jurassic Park state of mind!
There's a fossil dig at the end of the tour, along with a few more dino-themed activities and displays. Shows, special events, and even parades are planned as part of the prehistoric fun.
Know Before You Go
When: The temporary exhibit will run from Friday, April 19 through Sunday, November 3, during normal zoo hours.
How much? The Dinosaur Safari is included in a Total Experience ticket, or single tickets are available at the ticket booth near the ride for $6 per person (ages 2 and under are FREE).
Where: Find the entrance to the exhibit near the Fountain Circle, just past the where the sea lions swim. All visitors must stay in the wagon at all times. Certain membership levels have access to early morning walking tours, which let everyone get closer to the beasts.
Unless noted, photos by the author