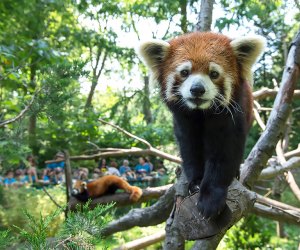 The Best Zoos and Aquariums in NYC
Ever think you would spot a seal in Manhattan or a giraffe in the Bronx? Did you ever hope you'd be surrounded by sharks at Coney Island? New York City zoos offer families the chance to get up close and personal with animals from all over the world. Each borough has its own unique zoo experience. Whether your children are big or small, there is a zoo somewhere in NYC suited to their age, interests, and attention span. Best of all, access to these creatures doesn't have to break the bank. Free admission can be as easy as picking the right afternoon to visit. Check out our insider tips for making the most of New York City's zoos and aquarium.
Editor's note: While we are trying to promote safer activities that occur outdoors or with social distancing guidelines in place, please keep your family and others safe by always wearing a mask and practicing social distancing.
Be sure to click through to each zoo's website as you're planning your visit. Currently, all NYC zoos and aquariums are limiting entry, and timed-entry tickets are required to visit. Book your tickets in advance to ensure entry.
Bronx Zoo – Bronx Park, the Bronx
The largest of the city's zoos, the Bronx Zoo spans more than 250 acres and has 750 species on display—it's impossible to experience it all in one day, though it's certainly fun to try. Animal habitats are organized by geographic location and species, so you'll find the lions in the African Plains, the gorillas in the Congo Gorilla Forest, and the leopards in the Himalayan Highlands. Plus, there are giraffes, monkeys, bears, and tigers, to name just a small sample of the kid-favorite species you'll find at this epic NYC destination. The Children's Zoo offers a tamer, more tactile experience for those looking for a more hands-on visit: Little ones can interact with donkeys, sheep, and goats. In addition to animals, the zoo boasts a bug-themed carousel and an epic Nature Trek experience that offers families a birds-eye view of the zoo. It lets children as young as 3 climb through elevated tunnels and across rope bridges to see zoo attractions from the treetops. Older kids (7 and up with adult supervision) can navigate the Treetop Adventure, which offers a zipline over a river and an obstacle course suspended in the trees. It also requires a hefty admission fee all its own. Visit the zoo on a Wednesday, and general admission is FREE (tickets are released on Mondays at 5pm), but keep in mind that not everything is included: Attractions such as the Children's Zoo and several animal exhibits can be added on for an additional $14.95 per person ages 3 and older. Total Experience tickets are $29.95 for ages 3-12; $39.95 for ages 13+. Children under age 3 are FREE. Parking is $17 if you decide to drive, but several buses and trains can also take you there. Single and double strollers are available to rent, which can come in handy at a zoo as expansive as this one.
RELATED: Best Family-Friendly Restaurants Near the Bronx Zoo

It's a special experience to watch the sea lions at the Prospect Park Zoo. Photo by Louise Finnell
Perfect for even the smallest animal enthusiasts, the Prospect Park Zoo is a fun, and manageable family destination tucked in the Children's Corner of Prospect Park. Though you won't find the most exotic animals here, there are still tons of fun things to do with kids at this NYC gem. The Discovery Trail is a winding, shady path that snakes through an array of animal habitats and includes interactive games for kids, like a climbable spider web. Red pandas, a duck pond (bring quarters to feed them), and an aviary are just a few of the awesome attractions you'll encounter. The Kid's Zoo has farm animals to feed and interact with, and the sea lion show is not to be missed. Admission costs less than $10, and children ages 2 and younger visit for FREE.
RELATED: 25 Best Things to Do in Prospect Park with Kids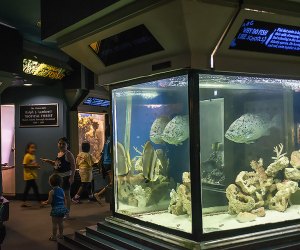 The Staten Island Zoo features indoor and outdoor exhibits. Photo by Julienne Schaer
Staten Island, just a stone's throw from Manhattan and Brooklyn, is one of NYC's greatest destinations for family fun. Not only does the island offer great beaches, hiking trails, and a Children's Museum, it's also home to a fantastic zoo that alone is worth a trip across the harbor. The Staten Island Zoo is accessible by bus, ferry, or car (Bonus tip: Parking is FREE) and has 300 different animals species, including kangaroos, leopards, and an impressive variety of birds of prey. If you need a break between attractions, there's a cafe on the grounds as well as a covered pavilion with picnic tables where you can rest and snack between exhibits. The zoo hosts events throughout the year, in addition to its expansive roster of kid-friendly activities. Admission to the zoo is reasonably priced, and families can visit for FREE on Wednesdays after 2pm. Hard to part with your new animal friends? Check out the Adopt-an-Animal program: Kids will love the idea of helping an animal friend, and the proceeds are donated to the zoo.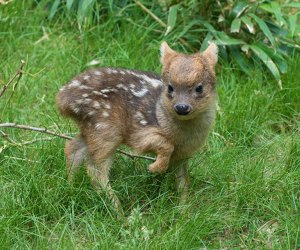 The southern pudu will win your heart. Photo by Julie Larsen Maher for WCS
Queens Zoo – Flushing Meadows Corona Park, Queens
Bison, bears, elk, and pumas all live in harmony at the Queens Zoo. This zoo is on the smaller side, with a focus on North American animals. Wander down the Animal Trail, or explore the Aviary, which features a dome from the 1964 World's Fair. Like the other zoos, it has resident sea lions who perform for visitors at intervals throughout the day. There is a petting zoo for kids with food for the animals available on-site (again, bring your quarters). If you've got any energy left, hit the playground near the petting zoo on the way out to do some monkeying around.
RELATED: 25 Best Things to Do With Kids in Flushing Meadows Corona Park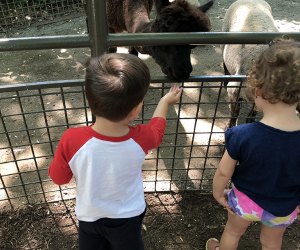 Kids can feed the animals at the Children's Zoo at the Central Park Zoo. Photo by Louise Finnell
The Central Park Zoo is steeped in classic NYC charm. This zoo offers a crash course in climates—kids can see everything from snow leopards and snow monkeys to grizzly bears and poison dart frogs. The Tisch Children's Zoo is adjacent to the main zoo and is a perfect pit stop for the little ones. Follow the winding trail through a whimsical forest where kids can feed and interact with the animals—bring lots of quarters for animal food. Don't forget to stop at the George Delacorte Musical Clock and watch hippos, goats, and bears serenade visitors with a selection of nursery rhymes every 30 minutes. There's a lot to see at the Central Park Zoo, so take a time out and fuel up at the Dancing Crane Cafe. Keep in mind that general admission does not include all the attractions (pricing guidelines are outlined on its website). Given its heavily trafficked location in Central Park, this spot draws a big tourist crowd and the relatively expensive price tag to match.
RELATED: 23 Fun Things to Do in Central Park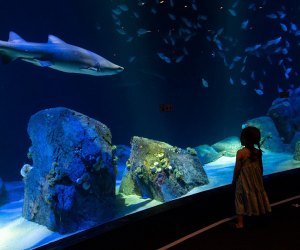 Visit Sharks! at the New York Aquarium. Photo by Julie Larsen Maher
The Shark Exhibit at New York Aquarium is probably most popular among visitors, and for good reason. Opened in summer 2018, this exhibit allows visitors to walk through a glass tunnel and be surrounded by ocean life on all sides. The immersive experience is unquestionably one of the aquarium highlights, so don't rush through because there's plenty to see along the way. In addition to the Shark Exhibit, tons of fish, playful otters, a squadron of pelicans, and some very vocal sea lions will all be jockeying for your attention. Not to be overshadowed, though, is the new Spineless Exhibit which opened in 2020. This fascinating exhibit features a giant Pacific octopus, many moon jellies, and loads of other captivating invertebrates. Though some of the attractions are indoors, keep the weather in mind when you visit, as many of the animals live outside. Parking is available at a cost, or take the subway, which is just a short walk away.
It's worth noting that, except for the Staten Island Zoo, all the other picks on our list are Wildlife Conservation Society parks, and one family membership grants gratis admission to all the zoos; a higher level of membership ensures your New York Aquarium visits are included, too. Membership is definitely worth the money and can pay for itself in as little as two visits. The Staten Island Zoo offers a reasonable membership of its own.
A version of this post was published in 2018; it has been updated for 2021.