Zip Line and Aerial Treetop Fun Coming to Bronx Zoo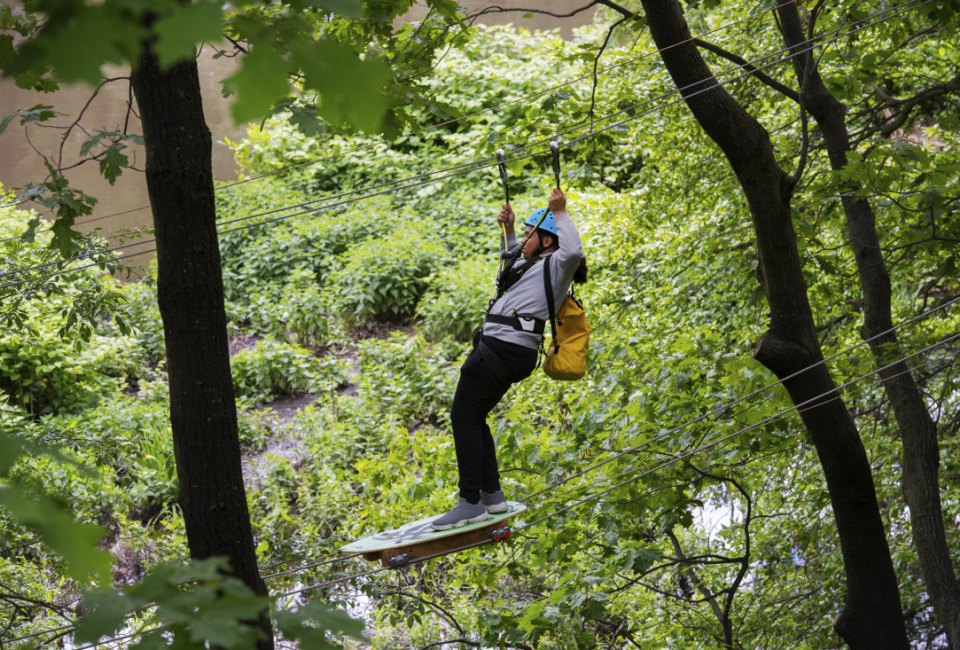 5/31/17
- By
Rose Gordon Sala
We must have been good this year. New York City kids have barely had time to check out the just opened zip line and climbing tower at Adventures at Governors Island when the Bronx Zoo confirms it will open a Treetop Adventure park with a zip line that soars 400-feet in each direction across the Bronx River, multiple aerial climbing courses, and more in mid-June. (Note: The opening dates have been pushed back as of June 9. We will update you as soon as we have the info.)
Just a few weeks ago, NYC kids had but one outdoor adventure park with a zip line. Now they'll be able to boast of three! Read on for what to expect from these new top Bronx attractions, including opening dates.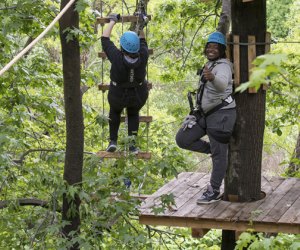 Climb among the trees at the Treetop Adventure course.
The Bronx Zoo's Treetop Adventure offers dual, side-by-side zip lines that coast 50 feet off the ground and travel from one side of the river to next, spanning 400 feet. The climbing portion of the Treetop Adventure course includes seven climb options of varying difficulty and is made up of wobbly bridges, ladders, tightropes, and more. The best part? It's set into the tree canopy. With all the wildlife around, perhaps it will feel like a true jungle adventure.
The Treetop Adventure park will open Friday, June 16 (The opening is delayed. We will update with new dates soon). It requires a separate ticket sold in timed slot increments: a two hour climb is $64.99; a two-way zip across and back is $34.99; or purchase a combo ticket for $74.99. Rules: Kids must be at least 7 years old to ride, as well as at least 50 pounds (and under 275 pounds), and able to reach up to 5-feet and 6-inches from flat feet. Those ages 7 to 9 must be accompanied by an adult the whole way, while 10 to 17 year olds can ride solo but must have a parent or guardian present. Everyone requires closed toe shoes, an ability to fit securely into safety harnesses, and a signed waiver. More details will be available on the zoo's site. It's located near the Bronx River Parking entrance and is expected to be year-round, weather permitting.
RELATED: Sports Gyms and Fun Zones for NYC Kids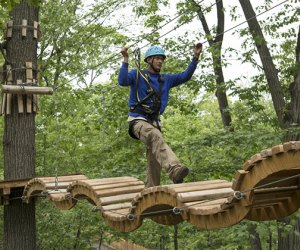 Test your balance (and appetite for heights) with wobbly bridges and more.
Younger fans won't miss out on the fun. On Friday, June 23, the zoo will open a second attraction, the Nature Trek. It offers more mild challenges, including a netted "bridge and tower course" for ages 5 and up, as well an all-ages nature play area with elements like sand, water, and branches. The climbing section is two stories off the ground with 12 connected bridges and balance challenges, so it should offer a few thrills for grade-schoolers! There's also an ADA-accessible route through the Nature Trek.
Nature Trek will be included in a Total Experience ticket, and with some membership levels, or for an additional $6 with a general admission ticket. It's expected to be open nearly year-round, although only as the weather permits from November through March. Find it near Asia Plaza.
Read about more highlights and tips for seeing the Bronx Zoo from our resident Bronx mom of three.
Got a news tip about something cool opening in your NYC neighborhood? Let us know at nyc@mommypoppins.com.
All photos are of the Treetop Adventure; by Julie Larsen Maher/courtesy of the zoo.
Places featured in this article:

Sign up for our free
newsletters.
Mommy Poppins is a family activity website that helps people find things to do with kids.
©
2023
MommyPoppins. All Rights Reserved.
mp-prod4-v4.32.99
We use cookies and other data collection technologies to provide the best experience for our customers.
Learn More