Zip Line and 25-Foot Climbing Tower to Open on Governors Island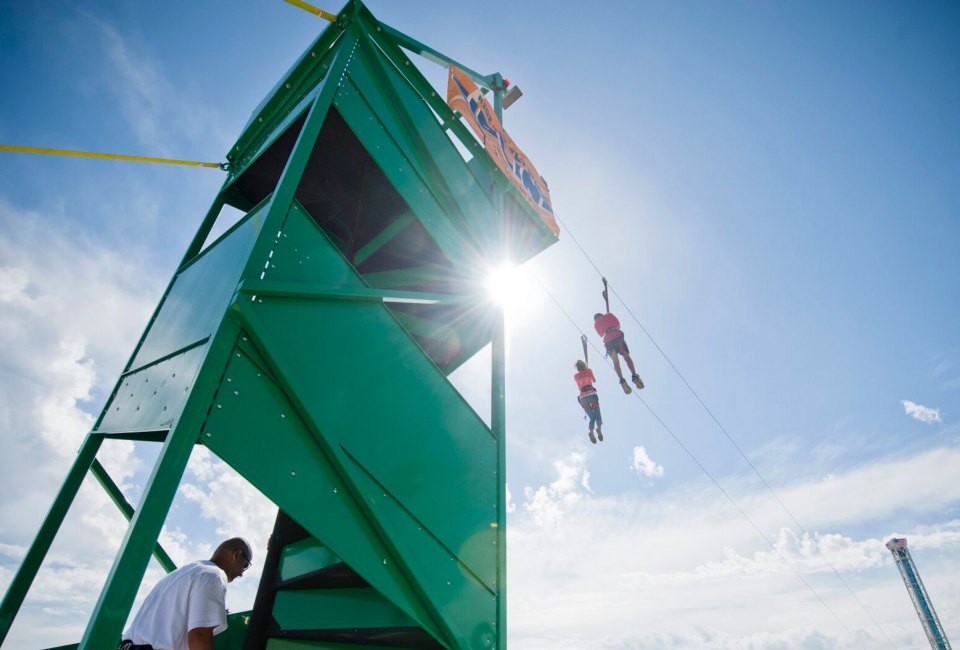 5/23/17
- By
Jody Mercier
Run by the folks at New York Carousel, which also operates other favorite family-friendly destinations like the Seaglass Carousel and Fantasy Forest Amusement Park, Adventures at Governors Island is expected to open to the public on Saturday, May 27, just in time for Memorial Day weekend and the park's annual Family Fun Day.
Adventures @GI is located in the Western Development Zone, just beyond last year's big addition, The Hills and across from the Liggett Terrace food court area.
A trio of attractions make up Adventures at Governors Island, but those wanting to get their thrills in will have to pay; unlike many of the island's attractions, each activity here will cost you between $6-$12 per person, per activity. If you decide to try all three, though, you'll get a price break as $22 buys you the chance to climb, fly, and get lost.
RELATED: Coney Island with Kids: Luna Park Rides, Aquarium, Mermaids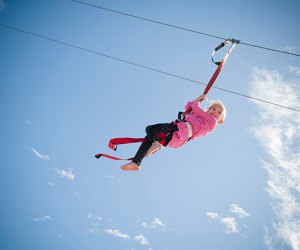 Catch a view of New York Harbor and Lady Liberty as you soar along the zip line!
Zip line fans are in for an exciting ride, with a view to match. The Flywire Zip Line begins at a peak of 35 feet above the ground and offers a double zip line, so you and a pal can race down the line's 300-foot length simultaneously. Soar at speeds of up to 21 mph, but be sure not to blink, or you'll miss the views of Lady Liberty and the Manhattan skyline. A ride on the Flywire costs $12; two rides can be purchased for $20. Riders must weigh between 40 and 250 pounds and safety harnesses are a must, so this isn't for our littlest New Yorkers.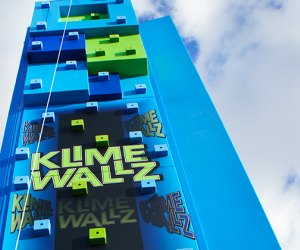 Will you be able to make it to the top of the 25-foot-tall tower?

If you're more a climber than a flier, consider tackling the Climbing Challenge, a zig-zagging 25-foot-tall tower that features three seperate paths suitable for even the most novice of climbers. A trip up the tower costs $6 and the same weight and safety harness restrictions apply.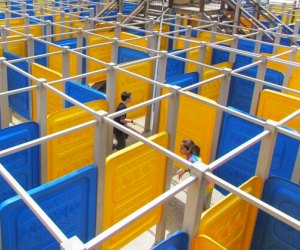 Kids can try to tackle the Amazen' Maze, a 3,600-foot brainteaser.
If you prefer to keep your feet on the ground, or your kids aren't quite big enough for the other attractions, consider getting lost in the Amazen' Maze. You'll enter the 3,600-square-foot brainteaser and attempt to find not only your way to the exit, but also collect four stamps on your passport. Race against friends or the clock, or take your time meandering through. Maze runs are $8 per person.
Adventures Governors Island is open daily, weather permitting, throughout the season. Weekday hours are 10am-5pm; weekends are 10am-6pm.
Looking for even more thrilling fun? Check out these other great adventure spots just beyond city limits.
Got a news tip about something cool opening in your NYC neighborhood? Email us at nyc@mommypoppins.com.
All photos show examples of what the not-yet-open adventure park will look like and are courtesy of New York Carousel, the operator.
Places featured in this article:
---
Adventures at Governors Island

Sign up for our free
newsletters.
Mommy Poppins is a family activity website that helps people find things to do with kids.
©
2023
MommyPoppins. All Rights Reserved.
mp-prod4-v4.32.99
We use cookies and other data collection technologies to provide the best experience for our customers.
Learn More
t Click Here to Sign Up!