Slide Hill Opens on Governors Island with New Playground Fun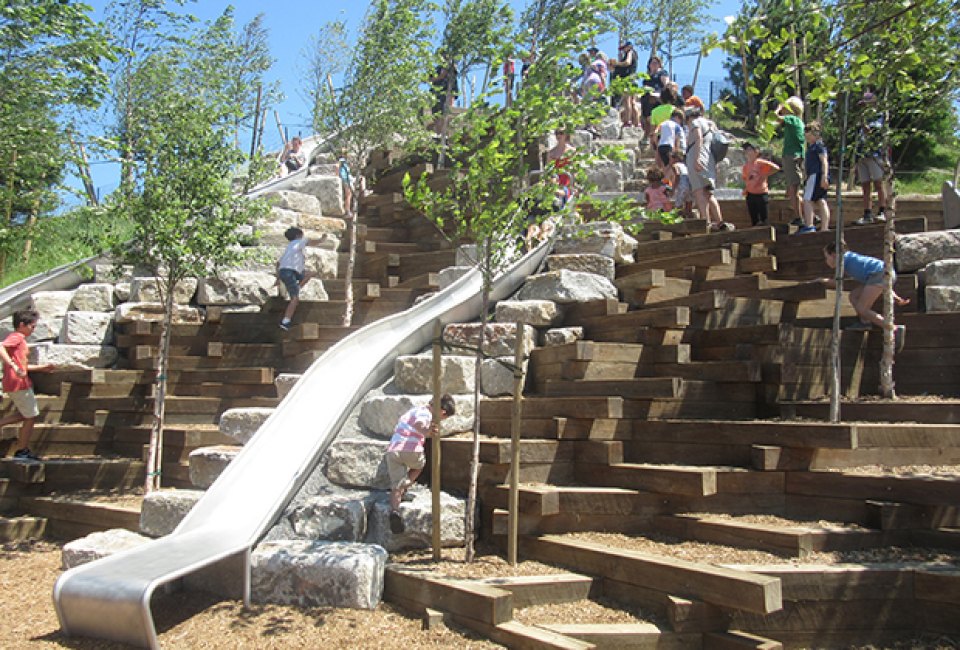 7/21/16
- By
Jody Mercier
The Hills are alive on Governors Island. July 19 marked opening day for the long-awaited addition of new green spaces and playground fun on this seasonal city play space. Judging by the throngs of people dashing up the granite scramble as soon as the ribbon was cut, we weren't the only ones excited to check out this new section of the island.
Made up of four distinct hills, the 10 acres of parkland include 70-foot-high Outlook Hill, 25-foot-high Grassy Hill, twin 40-foot peaks together dubbed Discovery Hill, and Slide Hill, which is undoubtedly the most family-friendly of them all, packed with four slides.
Like the camp kids invited to the grand opening, your kids might be disappointed by Outlook Hill once they scramble to the top and realize there is, in fact, no slide. Save a trek to the top of Outlook for after your visit to nearby Slide Hill. There you'll be greeted by a series of four slides, including one that's a whopping 57 feet in length (reportedly the longest in NYC).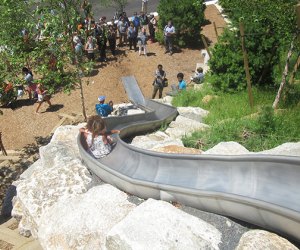 Four slides await kiddie climbers at the peak of Slide Hill.
Though geared toward children ages 5 to 14, Slide Hill brought joy to a wider range of ages on opening day. Adults and children alike zoomed down the mega slide. After two runs on it, my toddler decided the milder "bumpy slide" was more her speed. My 10-year-old took a few runs on the big slide, but it really hit the sweet spot for my 6-year-old, who couldn't get enough, scaling up the natural timber-and-granite steps and trying different speed-maximizing techniques each trip down. Her pro tip: Lay on your back and lift your feet slightly off the slide. By her count, she sped down that slide 21 times, even asking for a second round of runs following our picnic lunch.
For my part, I couldn't resist one run...but that was enough. Adults go a lot faster than kids. Despite the long, level spot at the end, most adults (myself included) shoot off the slide for a crash-landing. Beware of this when poised to take a photo at the bottom or trying to catch any kiddos. Another word to the wise: The slides are metal and can get hot in the afternoon sun. Though my daughter never seemed to feel the heat, my friend did, so test a swath before you slide.
RELATED: 100 FREE Things to Do with Kids in NYC this Summer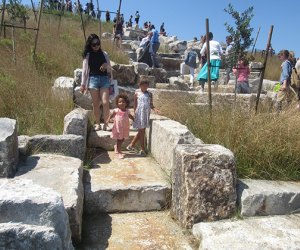 Climb Outlook Hill; the stone steps are made of granite from the island's former seawall.
When you've had enough of the slides, be sure to check out the other hills, which are a bit of an engineering marvel. Built with enough debris to fill 1,806 subway cars—enough to build a train 29 miles long—The Hills were constructed using a combination of salvaged debris from non-historic structures demolished on the island, clean fill, and lightweight pumice stone, without which The Hills would be too heavy and push the old island fill into the harbor.
The base of Outlook and Discovery Hills, which face the harbor, are surrounded by a white border, which made a great seat for us to enjoy ice cream and served as a barrier against ocean waves.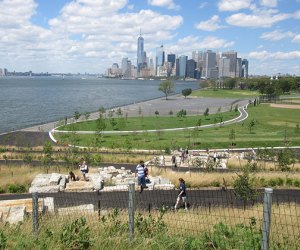 Outlook Hill offers breathtaking views of Lower Manhattan.
Another fun fact: The scramble of steps built to climb Outlook Hill is made entirely of granite rocks from the island's old seawall. They make the trip to the top an adventure instead of inducing complaints from tired kids. If you're traveling with a stroller or in a wheelchair, there's a gently sloping switchback path you can take instead. Either way, it's definitely worth the trip: Awaiting at the top is a breathtaking 360-degree view of New York Harbor. The Statue of Liberty sits front and center to the west but there's plenty to see in all directions.
To the south of Outlook Hill, you'll find Discovery Hill. A smaller climb at just 40 feet (and due to mulch covering its path, a less stroller-friendly one), this hill is filled with ornamental plantings and—keeping with Governors Island's appreciation of public art—houses the site-specific sculpture Cabin by British artist Rachel Whiteread. One of my favorite views was from ground level, walking down the path between Outlook and Discovery Hills, which perfectly frames the view of the Statue of Liberty. Indeed, officials said in building The Hills, they wanted to give more of Lady Liberty to visitors, and it's clear she is a focal point of the project.
The last hill, Grassy Hill, is less imposing than the rest and offers a view of the Play Lawn and a pair of ball fields below.
While on the isle, be sure to check out some other family-friendly programming. The National Park Service hosts plenty of kid-friendly, educational fun at the island's two historic forts and the new adventure playground has been drawing rave reviews all summer, though it's only open on the weekends.
Governors Island is open daily through Sunday, September 25 and is accessible by ferry from the Battery Maritime Building in Lower Manhattan and Pier 6 in Brooklyn Bridge Park. The Brooklyn and Manhattan ferries are free before 11:30am on weekends, but charge a $2 round-trip adult fare on weekdays and weekend afternoons. The East River Ferry makes weekends-only stops here, too.
All photos by the author.
Places featured in this article:
t Click Here to Sign Up!