Check Out the 57-Foot Mega Slide and More at Governors Island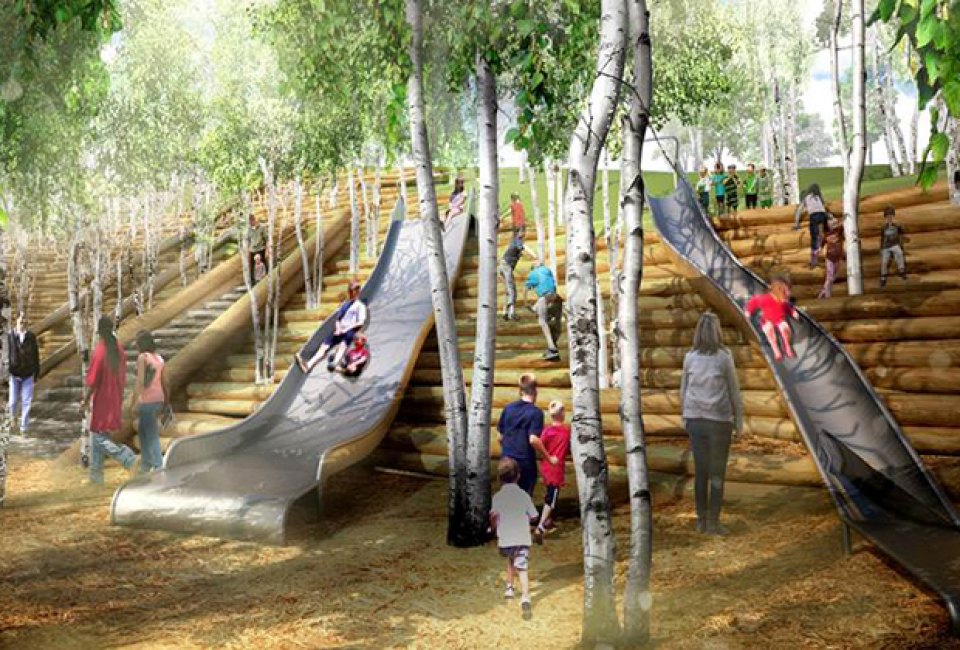 5/17/16
- By
Rose Gordon Sala
If we were giving out rewards to "most improved" NYC park, surely Governors Island would blow the competition away. The trust that operates 150-acres of the island under the direction of the city continues to open new parklands, add more kid-friendly features and expand hours, making it a must-do on every New Yorker's summer bucket list.
Summer 2016 will see the addition of an entire hill of slides, including one that will reportedly be the longest in the city at 57-feet-long, a brand-new treehouse and the debut of the city's only "adventure playground," a free-for-all, kids-only build and destroy space. Oh, and it is all FREE, our favorite kind of summer fun.
Governors Island opens for the season on Saturday, May 28, Memorial Day weekend and hosts its annual Family Fun Day that Sunday. Not all the features will be ready for opening day, but some will.
Here's a breakdown on what's new and when it will be available for family fun on this car-less isle.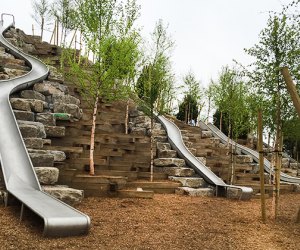 Four slides make up the daring Slide Hill at Governors Island, include one that's nearly 60-feet long. Photo courtesy West 8.
Slide Hill
Opens July 19
The brand-new "Hills," a manmade series of hills designed by West 8 that offer impressive vistas for walking and exploring, are expected to open in July. The tallest one rises 70 feet above sea level, dishing up selfie-worthy views of the city, harbor and landmarks like the Statue of Liberty.
For families, though, the mini mountain dubbed Slide Hill will be the big hit. Boasting four twisty metal slides, including one that will measure almost 57-feet in length, kids will love zooming down these beasts. Take the timber scramble back up for another go at the slides, rest for a bit under the evergreens or head back up the path to hit one of the other slides, including a family slide that allows multiple family members to slide together. The slides are recommended for ages 5 and up, but we suspect that we won't be able to hold certain preschoolers and tots back.
RELATED: Ahoy! Shipwrecked Miniature Golf Opens in Red Hook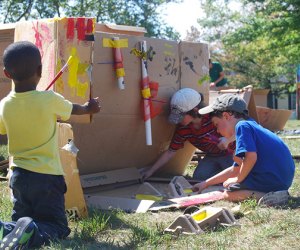 Kids are encouraged to build, tear down and generally create the space as they see fit at an adventure playground. Photo courtesy of play:groundNYC.
Adventure play:groundNYC
Open May 28-September 25 (weekends only)
The city's first "adventure" playground will open on Governors Island this year, offering roughly 10,000-square-feet of outdoor play area where kids can build, create or destroy without parental intervention. For those unfamiliar with the term, adventure playgrounds are created with a junkyard aesthetic and a DIY ethos that lets kids rule.

Play:groundNYC was founded by local NYC parents. The organization hosted a series of pop-up adventure playgrounds around the city, but when Governors Island offered it space, it jumped at the chance for a more permanent location, says cofounder Eve Mosher, a Brooklyn mom to two girls. Located behind the Cornelius Chapel in an open area, the playground will be split into two sections: the "mess kitchen" will host younger kids and their parents, while the main section is for kids roughly ages 6 to 13, and parents are kindly asked to butt out, or better yet, go read a book in the shade. "We're going to ask you to sit back, so kids have the ability to create and play with other kids," says Mosher.

When you arrive, you'll need to sign in and sign a waiver to get started; there's no cost to enter. Then kids can just go at it. Objects found in the playground are donated by the community and added by staff. There are no slides, swings, climbing structures or any of the other usual playground fare. Instead, the mess kitchen will likely contain buckets, shovels, access to water, car tires and maybe some fabric. The big kids' area might even have furniture, things with wheels, tools, rope, piping, larger pieces of wood and more. They would love a rowboat if anyone has one to donate! The surface is made up of soil, grass and wood chips, so kids can dig, make a mess and generally muck about. They might even grow stuff. "It's this amazing space with sort of endless possibility," says Mosher.
Playworkers, or trained adult helpers, will be on hand to assist kids if needed and generally manage the door. A cap of 20 kids will keep things enjoyable for all, though we suspect lines will build, so get there early! Open weekends only. The play:ground will also host a summer day camp for kids on the island during the week.
RELATED: Dumbo Boulders: Climbing Brooklyn Bridge Park's Brand-New Outdoor Wall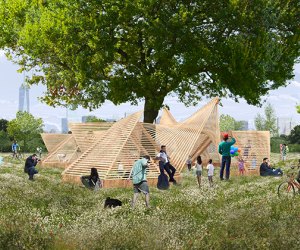 An artist's rendering of a brand-new treehouse coming to Governors Island this summer. Image courtesy FIGMENT.
Treehouse from FIGMENT
Open June 3-August 26
The interactive FIGMENT art fest returns to Governors Island for its 10th annual season on the island, bringing with it a brand-new treehouse and of course, a new version of its artist designed miniature golf course, beginning June 3. The wildly popular 5-year-old FIGMENT treehouse was retired last year, so a new one designed by Columbia University architecture students will debut at the south end of the Parade Grounds. Dubbed "Felix," the new treehouse will be free for lounging. The no-cost golf course will carry a theme of "Mini Is the New Big," with artists enlarging objects that are typically small, such as a footprint, to decorate the 2016 putt-putt. Although the art fest runs just the weekend of June 3-5, the treehouse and golf course will remain open through the end of the summer (August 26).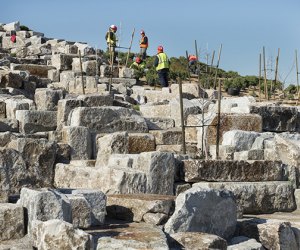 When the "Granite Scramble" is complete, families can hoof it to the top of Outlook Hill for a unique view of the city. Photo by Tim Schenck/Courtesy the Trust for Governors Island.
More NEW Stuff
Families will also be able to grill for the first time on Governors Island. Reserve one of six grills, either in Nolan Park or on the Parade Grounds, via an online form.

Hit the promenade for a stroll or a bike ride. It reopens this July with the completion of the Hills.

Tackle the Granite Scramble, a winding stone path created with boulders from the island's old seawall (since replaced) that leads to the top of Outlook Hill, the isle's highest point.
Old Favorites
Bring your bike (bicycles ride for free and often board first on the ferry), or rent a Citi Bike once you arrive. Blazing Saddles is also offering a freebie weekday rental on Governors Island at Colonels Row. Once the Hills section opens to the public, families can walk or bike around the island's entire 2.2 mile promenade. The southern portions of the promenade and Picnic Point were closed in 2012 as the park's overhaul began in earnest.
Don't forget to zip by Liggett Terrace to swing at Hammock Grove and romp on the impressive climbing playground. There's no word yet on when those Liggett play fountains, scheduled for a 2015 opening, will be ready for splashing, but we'll let you know as soon as we hear!
Read about all our favorite things to do on Governors Island with kids in our previous article, including exploring national monuments maintained by the Park Service, fun festivals, fishing, a manmade beach and more.
Governors Island is open daily May 28 through September 25, 2016. Join the opening day Family Fun Day fest on Sunday, May 29 for a full-slate of family programming, one of our top NYC event picks for May.
Ferries leave for the isle from Pier 6 in Brooklyn Bridge Park (straight shot down Atlantic Avenue) and the Battery Maritime Building in lower Manhattan. Fees (and lines) apply. See the full ferry schedule online, www.govisland.comwww.govisland.com. Tip: IDNYC holders ride for FREE – always, and kids under age of 12 do too! Grab an early weekend ferry (Saturday and Sunday mornings (10 AM, 11 AM and 1130 AM), and the whole family rides for FREE.
Overwhelmed? Check out the Governors Island map here to orient yourself before you step off that ferry with the kids.
Top photo: The variety of slides at Slide Hill are aimed at appealing to a range of families but generally ages 5 and up. The trees provide shade in the warmer summer months. Photo courtesy West 8.