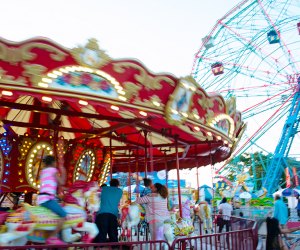 Best Things to Do in Coney Island with Kids: Luna Park, Aquarium, Beach, Mermaids
The shores of Coney Island and Brighton Beach open for the season on Memorial Day weekend, but the amusement park rides have been spinning since the first weekend of April, and the boardwalk and New York Aquarium are open year-round, making this season the perfect time for a Brooklyn day-cation!
New for 2019, Luna Park is debuting a brand-new, circus-themed section, with plenty of high-flying, ropes-course style fun, while the new-in-2018 home for certain sharp-toothed aquarium residents are sure to draw continued crowds, too. You can also enjoy the old-school favorites like the carousel and Deno's Wonder Wheel, visit the Coney Island Museum or Circus Sideshow, and scarf down a Nathan's Famous hot dog. And we haven't even mentioned the sandy beach and waves and Friday-night fireworks. Without further ado, here are the best things to do in Coney Island with kids this season.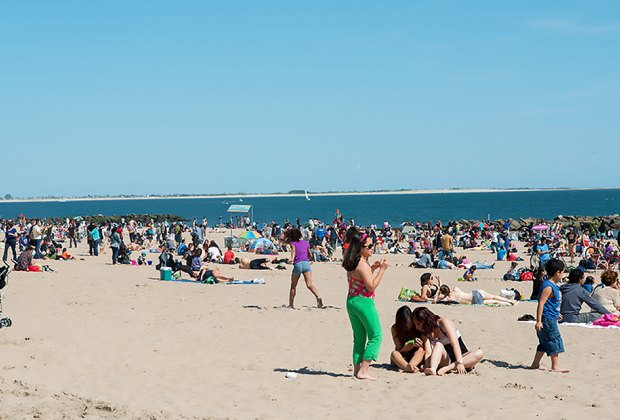 Hang out on the expansive beach for the day. Photo by Julienne Schaer for NYCgo.
Hit the Beach
Yes, we realize this sounds like a no-brainer, but you'd be surprised how many folks are afraid to dip even a toe into the water. (Urban beaches get a bad rap.) Well, we love swimming at Coney, and kids dig (no pun intended) the two and a half miles of sand. If you are planning on swimming, make sure you arrive wearing your bathing suit, as changing in the public bathrooms isn't allowed: If you're caught, you will be chastised.
Enjoy the Rides
Luna Park, which opened in 2010 and is run by the folks behind Central Park's Victorian Gardens, also has a bunch of family-friendly rides, including the Seaside Swing and the Tea Party spinning teacups. The new Rope Circus provides multiple zip line courses for all ages, plus stunning views of the boardwalk, beach, and beyond. The beautifully restored B&B Carousell is also a Coney Island must-see, though it's located outside of Luna Park, off the boardwalk. Looking for more of a thrill? There are several high-octane rides like the Thunderbolt and the Cyclone, which is on our list of 100 Things to Do in NYC with Kids Before They Grow Up. It's open on weekends during April and expands to daily hours beginning Memorial Day weekend. Tickets can add up, so purchase ahead of time online if you can.
Deno's Wonder Wheel Amusement Park has been around a while, although not as long as its namesake Ferris wheel, which began turning in 1920 and offers breathtaking views of the ocean. The park has 16 carnival rides for kids, like spinning dragons, a tame roller coaster, and a carousel, plus a handful of "adult" rides, including the Spook-a-Rama and a virtual-reality experience. Since the Wonder Wheel has no height requirement, you can even take babies, though all passengers need an $8 ticket. If you don't want your stomach jumping into your throat, opt for a stationary car over one of the swinging cars, which aren't as high on the wheel but are positively terrifying for riders of all ages!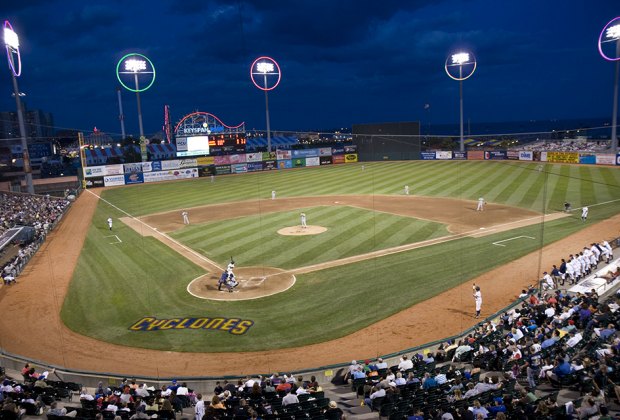 MCU ballpark is an amazing place to watch the Brooklyn Cyclones. Photo by Jen Davis for NYCgo.
Catch a Ballgame
At the western end of the boardwalk, you'll find MCU Park, home of minor-league team the Brooklyn Cyclones. Games are inexpensive ($12–$17) and extremely family-friendly. The stadium is small, so every seat has a great view of the game (and of the ocean beyond), and there are lots of promotions, giveaways, and special activities, like fireworks nights or the chance to run the bases at select games. Plan ahead, as tickets sell out quickly. The first 2019 home game is Friday, June 14.
See the Fireworks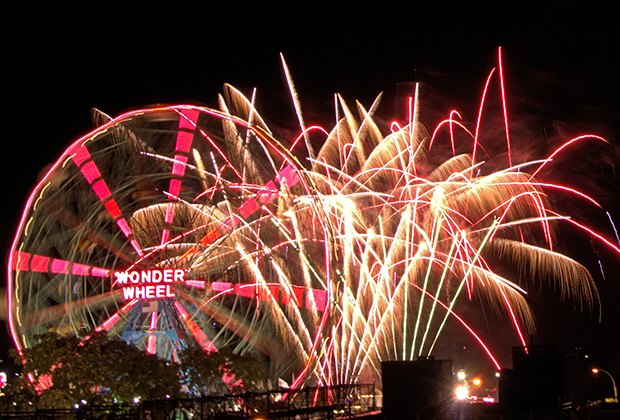 Fireworks delight beachgoers most summer Friday nights. Photo courtesy of Deno's Wonder Wheel Amusement Park

On Friday nights from June 21 through Labor Day weekend, the Coney Island sky comes alive with fireworks starting at 9:30pm. Meanwhile, the Cyclones set off blazing displays after select games.
Visit the New York Aquarium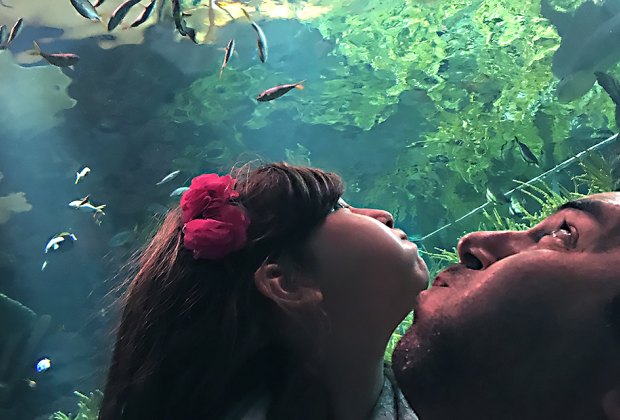 Hold your breath for fun as you go through the tunnel at the New York Aquarium. Photo by Siobhan Adcock
The New York Aquarium was absolutely devastated by Hurricane Sandy. Prior to the storm, the Aquarium had begun a $151.7 million overhaul and though the storm delayed the construction, last summer the magnificent Ocean Wonders: Sharks opened, bringing with it an added 57,000 square feet of exhibit space. Beyond that, the sea lion show is always a big draw, plus there are more aquatic friends to meet in Conservation Hall at Glover's Reef and at the Sea Cliffs. There's still renovation ongoing, but judging from the sharks' new home, it'll be worth the wait.
Gawk at the Coney Island Circus Sideshow
Admittedly, this won't be every family's cup of kooky, but the performances bill themselves as family-friendly, and I've brought my kid to enjoy an afternoon of good, old-fashioned, not-too-freaky fun. Six performers tackle 10 outrageous acts using scripted, traditional dialogue that goes back half a century, as they present feats including magic, contortion, sword swallowing, fire eating, snake charming, and more. Upstairs, the Coney Island Museum showcases boardwalk relics, including parts of old rides and funhouse mirrors. It also an ongoing, family-friendly magic show.
See a Free Film
This annual outdoor movie series shows family-friendly flicks on alternating Monday evenings in July and August on a 40-foot inflatable screen.
Peep Some Street Art
Visit the Coney Island Art Walls, where well-known street artists mount elaborate outdoor displays each season. There were 35 murals in 2018, making for a cool Instagrammable backdrop. Street-food vendors and live music round out a visit to this fun spot, located in the heart of Coney Island, at 15th Street and Surf Avenue.
Attend an Iconic Annual Event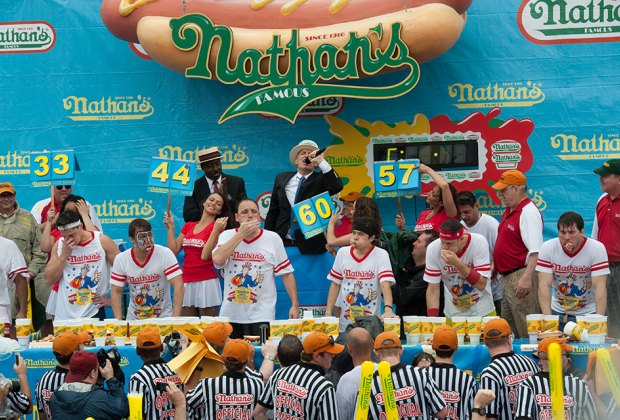 You're never too young (or old) to watch Nathan's Hot Dog Eating Contest! Photo by Julienne Schaer NYCgo
There's always something wild going on in Coney, but there are certain annual celebrations every family should try at least once. Warning: These events are insanely crowded!
Eat Unhealthy Food

Coney Island is a great place to indulge in over-the-top sweets and treats. Photo by Jody Mercier
Totonno's, highly regarded in the high-stakes world of NYC pizza, started on Neptune Avenue back in 1924. The restaurant's Brooklyn-style brick-oven pies are seriously good and heavy on the tomato sauce. Be sure to go when you're hungry or with friends: no slices, and it's cash-only.
Nathan's Famous serves delicious hot dogs, of course, but you can also get burgers, beer, clams on the half shell, chicken, and Nathan's famous crinkle-cut french fries.
Classic boardwalk-strolling snacks include cotton candy, popcorn, candied apples, saltwater taffy, and other treats. Local landmark Williams Candy, right next to Nathan's on Surf Avenue, is an old-school candy store that makes its own sweets, including fudge, marshmallow sticks, and ice cream. Kids and parents alike will literally eat it up!
Find more of our favorite eats in our roundup of Family-Friendly Restaurants on Coney Island and in Brighton Beach.
This article was originally published in May 2010 but is updated annually.