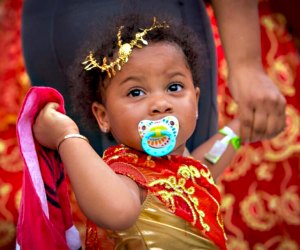 Best Free Annual Parades in New York City for Kids
As the saying goes, everyone loves a parade. And in NYC, we have plenty of processions to choose from. During the warmer months, there are parades practically every week celebrating a wide variety of cultures and causes, and all of them are FREE.
While it's always cool to watch the colorful costumes, floats, and performers pass by, there are certain annual parades that are particularly great for families. These processions are either exceptionally vibrant like Chinatown's Lunar New Year Parade or the Three Kings Day Parade, or invite costumed kids to get in on the action like the small Halloween Parades that are much less intense than the big one in Greenwich Village.
Included in our list are parades we've attended—some many times—or others that come highly recommended. So, get our your calendar and save these dates to see if you can catch them all!
Three Kings Day Parade – East Harlem
2020 Parade: Monday, January 6
Also known as Epiphany, Three Kings Day is the last official day of the Christmas season, or the "12th day of Christmas" as the song goes, and is primarily celebrated by Hispanic cultures. NYC hosts multiple Three Kings Day parades, including small ones in Brooklyn and Inwood, but the big bash is El Museo del Barrio's annual procession in East Harlem. Even when January 6 falls on a weekend, this parade takes place on a weekday since lots of local public school kids are involved. The highlights are the live camels and the massive Three Kings Day puppets, which lead the procession and stay on display in the museum after the event. It's fun but modest, so find a spot near the start on 106th Street and Park Avenue (it's never crowded), watch for 15 minutes or so and then continue celebrating with a great Mexican meal at a nearby eatery.

Chinatown's Lunar New Year Parade and Festival is a colorful and family family-friendly celebration. Photo courtesy of Better Chinatown
OUR LATEST VIDEOS
Chinatown Lunar New Year Parade and Festival – Chinatown
January or February, depending on when Lunar New Year falls. 2020 Parade: TBD
NYC also has multiple Lunar New Year Parades, but the smaller processions pale in comparison to Chinatown's. Every year, more than half a million spectators line the streets for the colorful pan-Asian parade, which includes Chinese, Korean, Japanese, Vietnamese, Taiwanese, Malaysian, and even Hispanic floats and cultural performances, plus traditional Lion and Dragon dances. It's a very festive, very crowded, and very loud affair, with firecrackers popping and confetti flying everywhere you look, so it's probably a bit much for younger children. Afterward, you can hit the cultural festival in Sara D. Roosevelt Park at Canal and Forsyth Streets or grab some dim sum at a family-friendly Chinatown restaurant. Just be prepared to wait.

The bonnets are amazing at the Easter Bonnet Parade. Photo courtesy of the event
Easter Parade – Midtown East
2020 Parade: Sunday, April 12
Calling this annual gathering a parade is a bit misleading. Really it's more of a promenade, as Fifth Avenue between Rockefeller Center and 57th Street is closed to traffic and opened to incredible headgear. There are no floats or procession. Folks just meander about posing for pictures. While many opt for traditional flower-filled bonnets and their Sunday's best, you'll see some really outrageous outfits and hats here. To really get the full event experience, check out our video from 2017.
New York Dance Parade – Flatiron to the East Village
2020 Parade: Saturday, May 16
This procession kicks off around Madison Square Park and ends in Tompkins Square Park. Along the way, 10,000 movers and shakers shimmy down Broadway in elaborate costumes doing more than 75 dances, including salsa, tango, waltz, the hula, break dancing, and more. If you want to participate, you must register in advance and join a group. Otherwise, go and cheer them on and hit the after-party in Tompkins Square Park for dance workshops and performances.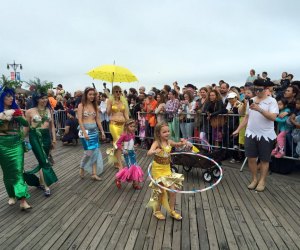 The beach, the boardwalk and mermaids—what better way to spend the day! Photo by Raven Snook
Mermaid Parade – Coney Island, Brooklyn
2020 Parade: Saturday, June 20
The Mermaid Parade is nearly indescribable. Wait until you see all the sea-themed sights in person, as thousands of mermaids, mermen, pirates, fish, showgirls, vintage cars, funky floats, and a fair amount of topless ladies descend on Coney Island to celebrate summer solstice. Make sure you opt for comfort over glamor (your feet will thank you) and pack plenty of water and food as Nathan's and the boardwalk are mobbed throughout the day. If it's sunny, bring a parasol or hat, and be prepared for lots of crowds, especially if you want to hit the beach or the rides afterward. If you're considering marching, keep in mind you'll do a lot of waiting under the hot sun and you miss a lot of the costumes. It's better to dress up and watch from the sidelines.
West Indian American Day Carnival and Children's Parade – Crown Heights, Brooklyn
2019 Parade: Saturday, August 31
While the big parade on Monday may be too much for children, the mini-procession on Saturday was created specifically with kids in mind. Children of Caribbean descent don elaborate garb as they travel through the neighborhood and onto the grounds of the Brooklyn Museum for a costume contest. There's a small fee of $5 for the carnival.
Ragamuffin Parade – Bay Ridge, Brooklyn
2019 Parade: Saturday, September 28
Why wait until Halloween to wear your costume? Since 1967, Brooklyn families have been putting on their outfits a month ahead of time to march in the annual children's Ragamuffin Parade, which marches down Third Avenue from 76th to 92nd Streets in Bay Ridge. There are also bands, cheerleaders and makeshift floats. Usually schools sign up their students to participate, however, individual families can find parade consent forms on the Ragamuffin website.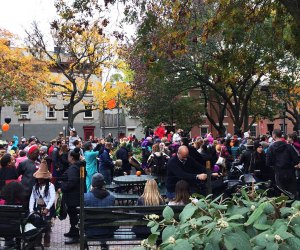 Clinton Street is closed to traffic for the ultra-fun Cobble Hill Halloween Parade. Photo by Sara Marentette
Halloween Parades for Kids – Citywide
2019 Parades: October 31
Forget the always insane Village Halloween Parade until the kids are teens. Instead, hit one of NYC's many family-friendly neighborhood parades that include stops for trick-or-treating at local businesses and homes. While it's hard to pick a favorite since each one has its own flavor and charm, the biggies are the Jackson Heights Halloween Parade in Queens, which claims to be the second-largest Halloween parade in NYC (after the one in the Village); the Park Slope Civic Council Children's Halloween Parade, which culminates in a party at the Old Stone House; the Cobble Hill Halloween Parade; and the Upper West Side rite-of-passage Hippo Playground Halloween Parade.
Macy's Thanksgiving Day Parade – Upper West Side to Midtown West
2019 Parade: Thursday, November 28
I doubt I need to sell you on the kid-friendliness of this nearly century-old tradition—it celebrates 93 years running in 2019! Really the only thing that isn't family-friendly about this procession of pop-culture infused floats and giant balloons is the fact you need to arrive around 6am to claim your spot! Unfortunately there is no secret trick to snagging a good viewing location. Arrive early, or watch from way in the back. You'll still see something! Or find a friend (or friend of a friend) who lives on the route. Ask around! You never know...
A prior version of this post was originally published in 2013. Raven Snook contributed to its reporting.