The Adventures of Tortoise & Hare The Next Generation
The Sheen Center

The Very Hungry Caterpillar Show
DR2 Theatre

NYC Easter Brunch Cruise 2023
Event Cruises NYC
Sign up for our free newsletters.
(Video) Crazy Cool Easter Bonnets and Kids at the NYC Parade
4/17/17
- By
Rose Gordon Sala
NYC families turned out in droves for the city's annual Easter Parade and Easter Bonnet Festival, from babies in strollers to groups of moms in long gloves and neon-hued hats. Bedecked in all manner of costume and creative bonnets, the Easter Sunday revelers mingled along Fifth Avenue in Midtown, gathering near St. Patrick's Cathedral across from Rockefeller Center.
The energy was pure positivity with spring colors and flowers, as well as NYC's theatrical streak on full display, reports our videographer and photographer who attended this year's fun on April 16. She described it as a "bit like a fashion show." It's FREE silly fun and uber family friendly with balloon artists, dancing, and puppetry; no wonder it's one of our top recommended things to do with NYC kids in April and this spring.
Check out the video and photos below of some of the coolest kids and families at the beloved annual fest.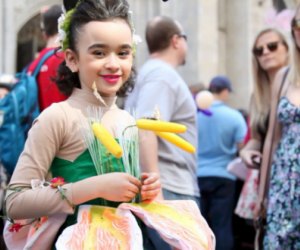 Flowers are always an on-trend theme at the Easter festival.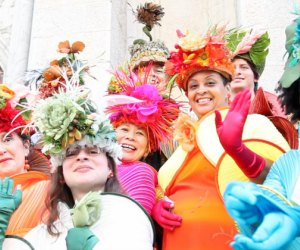 Hats, gloves, and full makeup take us all back to another era.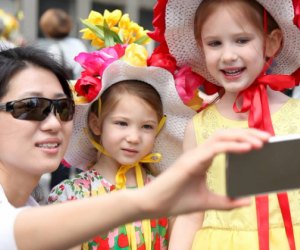 It might just be the perfect family selfie opportunity.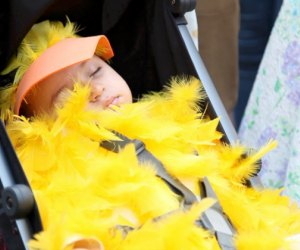 Leave time for naps amid all the excitement!
All video and photos by Alice Grindling for Mommy Poppins.