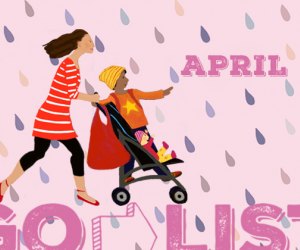 April GoList: Best Things To Do with NYC Kids
Spring festivities are kicking into high gear, so get your calendars ready! We've rounded up the best things to do in New York City with kids in April—many of them FREE.
Families can finally get outdoors: Don't miss the annual Children's Carnival at the Queens County Farm Museum, the spectacular Easter Parade and Easter Bonnet Festival, the Brooklyn Folk Festival, Street Games in East Harlem, and Sakura Matsuri in Brooklyn and more bloom sightings.
If you're looking for a few more indoor activities (Northeast weather is unpredictable in April), EarthFest at the American Museum of Natural History features an incredible lineup of performances and parties, and there are a number of can't-miss children's shows this spring, including a page-to-stage adaptation of Anne of Green Gables, and the further adventures of the four-legged heroes of Nick Jr.'s Paw Patrol.
For more outing ideas, see our Event Calendar, our list of FREE events in NYC in April, and our Spring Break Guide. And get a jump on planning the summer school break with our Summer Camp Guide, which includes FREE and low-cost camps as well as brand-new camps for the 2019 season.
As always, if an event piques your interest, click through to our listing for all the details, including addresses and times. And keep in mind: In NYC, really cool things to do with kids often book up quickly, so buy your tickets ASAP or, in the case of FREE events, arrive as early as possible to beat the crowds.
Spring Family Day: Journey to the Harlem Renaissance — Midtown West
Sunday, April 7
Part of Carnegie Hall's Migrations: The Making of America project, this day of workshops and performances lets families explore music, poetry, and art to learn how Harlem became a hub for African American artistic expression. Learn the Charleston and other dance moves, create collage art inspired by Jacob Lawrence, and even build your own instruments. FREE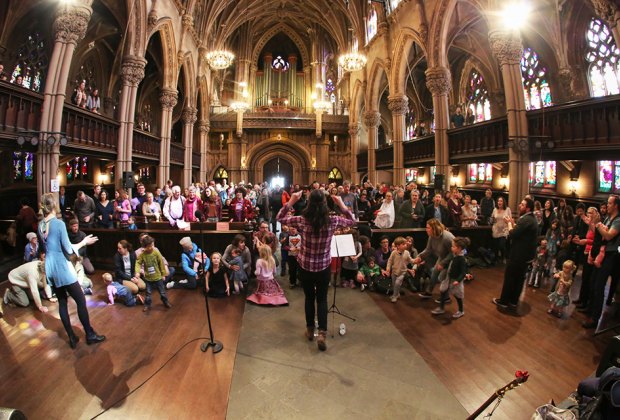 Jalopy Theatre and School of Music brings back its annual Brooklyn Folk Festival. Photo courtesy of the festival
Brooklyn Folk Festival — Brooklyn Heights, Brooklyn
Friday, April 5-Sunday, April 7
Jalopy Theatre and School of Music brings back its annual Brooklyn Folk Festival, a three-day music fest with dozens of bands, dance performances, sing-alongs, and more. This year's festival includes a square dance, a puppet show, a flapjack breakfast, and a "Banjo Toss" banjo throwing competition, which children are encouraged to join. Children 5 and under are FREE.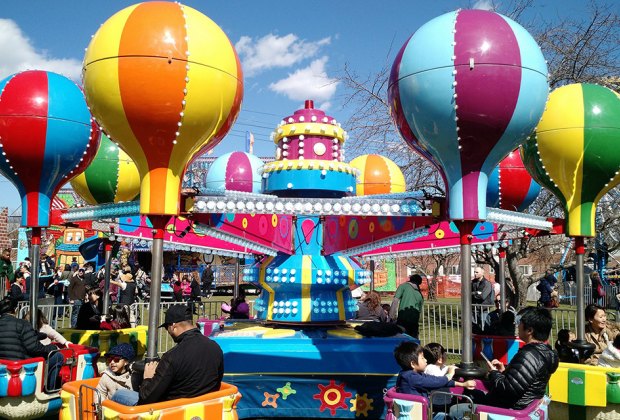 Enjoy the Children's Carnival on a real working farm at The Queens County Farm Museum. Photo courtesy of the museum
Children's Carnival — Floral Park, Queens
Saturday, April 6-Sunday, April 7, and Saturday, April 13-Sunday, April 14
Families love the Queens County Farm Museum, a real, historic working farm with crops in the fields and all sorts of animals that kids can feed. While the agricultural spot hosts plenty of great events throughout the year, the two-weekend-long Children's Carnival is definitely a favorite. It's a huge, old-time affair with an authentic midway, complete with kiddie rides, games, and family entertainment.
PAW Patrol Live!: Race to the Rescue — Midtown West
Saturday, April 13-Sunday, April 14
Catch the puppy heroes live on stage at Madison Square Garden in this music-filled production. It's the day of the Great Adventure Bay Race, but when Mayor Goodway goes missing, Ryder and his canine pals team up to find him and stop his nemesis, Foggy Bottom's Mayor Humdinger, from cheating his way to a win. We enjoyed this touring production when we saw it a few years back.
RELATED: 50 Things to Do on a NYC Spring Staycation with Kids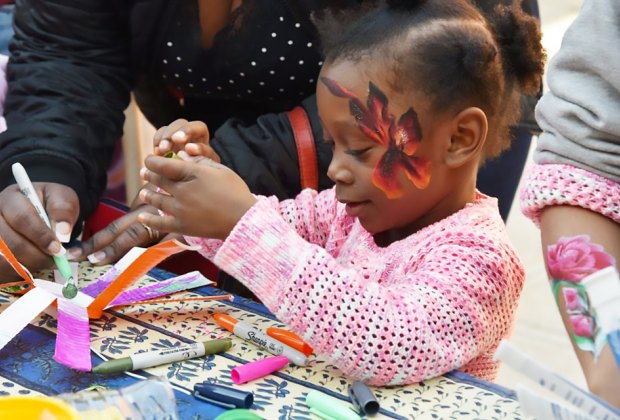 Learn ways to help the environment at the Earth Day Celebration in Brooklyn. Photo courtesy of the event
Earth Day Celebrations — Citywide
Saturday, April 13, and Saturday, April 20-Tuesday, April 23
New York City kids can observe Earth Day with two weekends' worth of activities designed to promote environmental awareness and highlight ways of creating a more sustainable planet. On Saturday, April 13, the American Museum of Natural History hosts EarthFest, a full day of parties, performances, and workshops—including concerts by Patti Smith and Michael Stipe. The following weekend, see the Parade for the Planet with giant butterfly puppets at the New York Botanical Garden, celebrate nature with hands-on activities for kids at Brooklyn Bridge Park, or build sustainable structures at the Skyscraper Museum. The celebrations carry into the week with Earth Day performances and workshops on Monday at the Queens County Farm Museum and the Museum of the City of New York, and in Union Square on Tuesday.
Find more Earth Day celebrations by searching for the holiday in our Event Calendar.
Dinosaur Safari — Bronx Park, the Bronx
Opens Friday, April 19 for an extended run
Between the new T. rex exhibit at the American Museum of Natural History, the dinosaur in Central Park, and the return of the popular Dinosaur Safari at the Bronx Zoo, prehistoric predators are taking over New York City. In an immersive ride through a two-acre woods, 40 life-sized animatronic dinosaurs wait around every turn. The "safari" ends with kid-friendly activities like digging for fossils.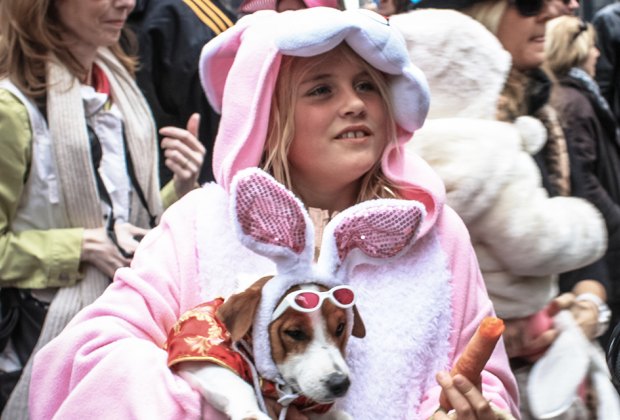 Celebrate Easter at the Easter Parade and Easter Bonnet Festival in Manhattan. Photo by Gille E via Flickr
Easter Parade and Easter Bonnet Festival — Midtown East
Sunday, April 21
This is one of our favorite celebrations of the year. Fifth Avenue between 49th and 57th streets closes to traffic and opens to revelers in beautiful bonnets, snappy hats, and jaw-dropping headdresses. Show off your craziest hat or just come and take photos. Check out last year's video of some of the most creative hats and revelers. Truly a must-do event, which is why we list it on our top 100 things to do with your kids in NYC. FREE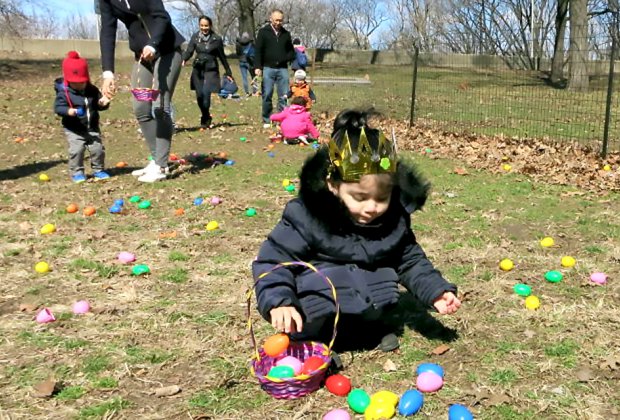 Join the fun at this year's Easter egg hunts, including this Brooklyn one hosted by Town Square. Photo courtesy the organizers
Easter Egg Hunts — Citywide
Various dates toward the end of the month
Hunting for Easter eggs is a beloved family event. Whether you want to search for plastic candy-stuffed eggs or the real hard-boiled kind, there are dozens of places to usher in the season with a sweet hunt. Check our NYC Easter Egg Hunt roundup for one in your neighborhood (FYI: We continue to update this post as more egg hunts are confirmed). Some of our favorites include the Manhattan Fire Museum's egg hunt, the Barnyard Egg Hunt on the grounds of the bucolic Queens County Farm Museum, and the Bartow-Pell Mansion egg hunt in pretty Pelham Bay.
RELATED: Best Spring Events for NYC Toddlers and Preschoolers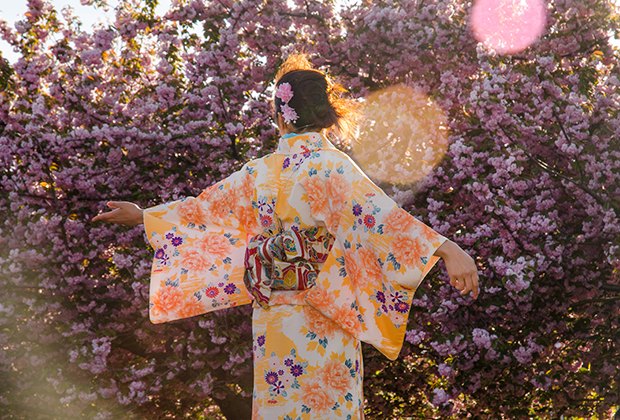 Celebrate the Cherry Blossom Festival at the Brooklyn Botanic Gardens. Photo courtesy of BBG
Sakura Matsuri: Cherry Blossom Festival — Prospect Heights, Brooklyn
Saturday, April 27-Sunday, April 28
Celebrate spring and Japanese culture at the Brooklyn Botanic Garden's popular annual fest, which is set in and around its beautiful blooming Cherry Esplanade. The lineup includes Taiko drumming performances, Samurai swords, flower arranging workshops, martial art displays, Japanese pop and jazz bands, tea ceremonies, and cooking demos. Kid-specific activities include a tea ceremony, manga drawing, origami, crafts, magic, and drumming workshops. Plus, revelers come dressed in their best anime-inspired outfits, and there's even a cosplay fashion show. Although the fest usually doesn't sell out, lines often snake around the block so arrive early. FREE for children younger than 12.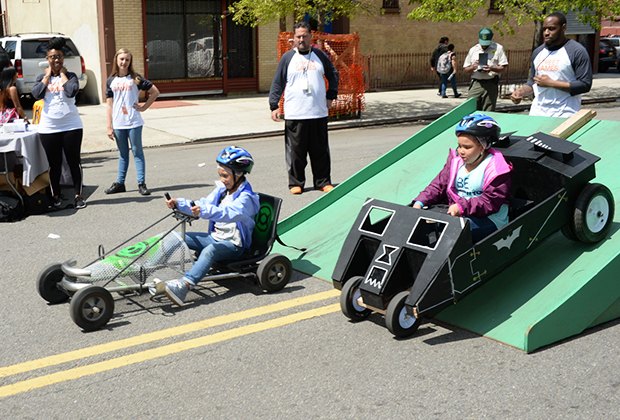 It's old-school derby racing and more at the Street Games in Thomas Jefferson Park. Photo by Malcolm Pinckne for NYC Parks
Street Games — East Harlem
Saturday, April 27
Time to get old-school. This annual fest in Thomas Jefferson Park is dedicated to the kinds of analog amusements we grew up with. Leave your iPads and iPhones at home and encourage the kids to try out classics such as pogo sticks, hula hoops, yo-yos, hippity hops, stickball, hopscotch, handball, skully, and Double Dutch. Also enjoy performances by hip-hop dancers, a yo-yo master and, as in years past, the Dance Theater of Harlem. FREE
St. George Day — Staten Island
Sunday, April 28
Celebrate Earth Day and the arts on Staten Island at this annual fest, which takes place near the ferry terminal. There's a ton of fun on tap, including local artists selling their wares and leading workshops, live music and dance performances, storytelling, and poetry. There's also an Earth Day Zone full of eco info, an entire area dedicated to kids with arts and crafts, and a fanciful puppet show that recounts the St. George dragon-slaying legend with a less gruesome ending. The highlight is the 35-foot puppet dragon parade with fairies and more. FREE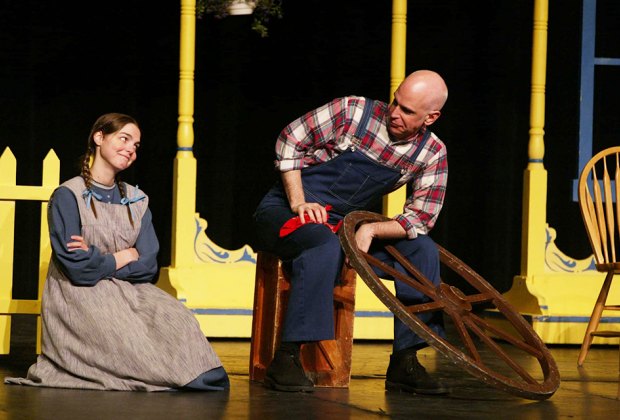 Follow Anne on her unlikely journey to find the family she's always wanted. Photo courtesy of the theater
Anne of Green Gables — Corona, Queens
Sunday, April 28
Lucy Maud Montgomery's iconic children's novel comes to life at the Queens Theatre. This hour-long musical centers on an 11-year-old orphan who's sent to live with a pair of siblings in need of a boy to work on their farm at the turn of the 20th century. At first they don't know what to do with the feisty Anne, but you can be sure that, by the end, they fall for this imaginative child, as will all the tweens in the audience.
Honorable Mentions
NYC always has so many amazing things going on, it's difficult to choose. Here are more cool events worth considering for your April calendar.
See the new musical puppet piece The Three Dolls, presented by LaMaMa Kids, weekends through Sunday, April 7.
Brooklyn Bridge Park's outdoor covered roller rink at Pier 2 opens for the season on Saturday, April 6.
Learn the real deal about eels (which swim in abundance around NYC every spring) at Wave Hill's Hudson River Eel Weekend, Saturday, April 6-Sunday April 7.
Cheer on the adorable players marching in the Opening Day Little League Parade in Prospect Park on Saturday, April 13. FREE
Soak up Scottish culture during the annual Tartan Day Parade, featuring thousands of bagpipers marching up Sixth Avenue on Saturday, April 6. FREE
Don't miss Free Cone Day at Ben & Jerry's on Tuesday, April 9! FREE
Beautiful Fort Tryon Park is the setting for the Annual Shearing of the Heather Celebration on Saturday, April 13, complete with bagpipers leading a community parade, which kids are invited to join.
Start your engines and head on over to the Javits Center for the popular New York International Auto Show from Friday, April 19 through Sunday, April 28.
Staying in town for Spring Break? Many of our favorite NYC institutions have planned a jam-packed week of drop-in activities and programming for kids during the school break, including the The DiMenna Children's History Museum at the New-York Historical Society, the Audubon Center at Prospect Park, and the New York Transit Museum, to name just a few.
Give it up for NYC's amazing trees at the Queens Botanical Garden's annual Arbor Festival on Sunday, April 28.