13 Family-Friendly Restaurants in Coney Island and Brighton Beach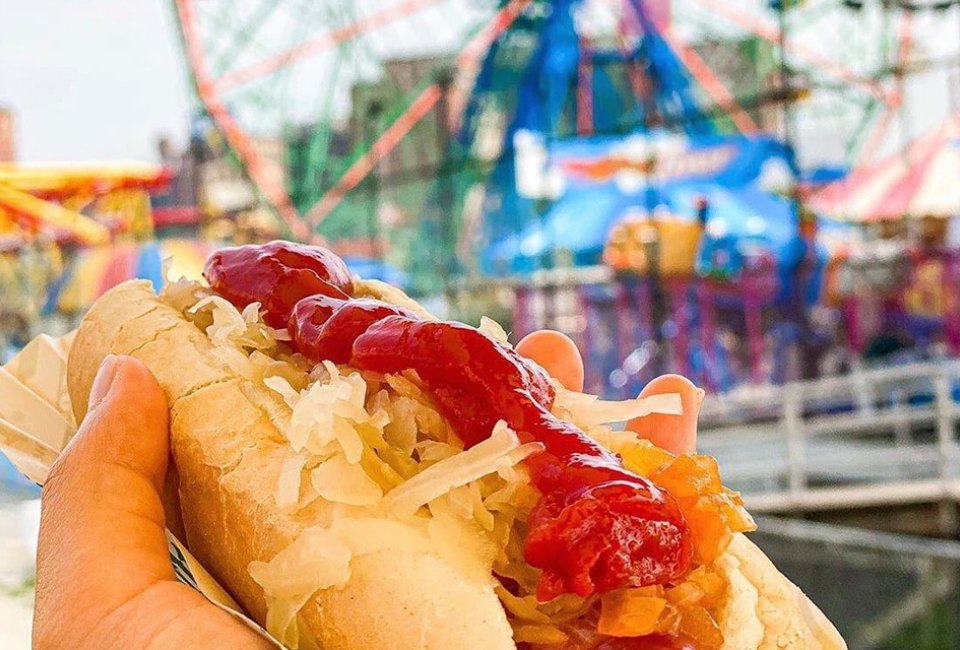 6/20/22
- By
Alina Adams
Coney Island is a prime summer day trip destination, but if you linger too long, you're going to need a list of family-friendly Coney Island restaurants to refuel at. Whether you're exploring Coney Island or Brighton Beach with kids for their subway-accessible beaches, amusement park rides, a visit to the New York Aquarium, or just to enjoy the ocean breeze, you'll likely need to stop to eat at some point. That's where these family-friendly restaurants in Coney Island and Brighton Beach come in handy.
You're sure to find plenty of casual family-friendly restaurants serving kid-pleasers such as pizza, hot dogs, burgers, and shakes along the Coney Island boardwalk. Thanks to its large Russian population, Brighton Beach restaurants are family-friendly, too, but in a different way. There are many upscale spots where kids can try new-to-them foods; or, if they're picky, fried potatoes and bread. Read on for our top picks for family-friendly restaurants in these neighboring waterfront communities, and find more great NYC eats in our Family-Friendly Restaurant Guide.
Subscribe to our newsletters to get stories like this delivered directly to your inbox.
Coney Island Restaurants for Families
1524 Neptune Avenue near West 16th Street
The coal-fired brick-oven pizza at this Coney Island institution is legendary. But there are a few things you should know before hitting this famous spot, which dates from 1924. It's only open Thursdays through Sundays; from 12-8pm. Pizza is served by the pie, not the slice, and it's cash-only. In addition, the bathrooms are small, and you might have to wait for a table, especially if you want one outside. It's all part of an authentic NYC pizza experience.
1213 Boardwalk West near West 12th Street
Ruby's may have been voted the 13th sexiest beach bar in the world by the Travel Channel, but that doesn't mean it's not family-friendly. Opened in 1934 as the Hebrew National Deli and Bar, this spot serves lots of kid favorites, including hamburgers, hot dogs, corn dogs, chicken tenders, waffle fries, onion rings, cotton candy, and slushies. Some parents appreciate that it serves alcohol. Plus, Ruby's is the last neighborhood spot left where you can walk under a stretch of the original Coney Island boardwalk. Fried foods, secret passageways, and sand to play in? No wonder kids love it here.
RELATED: NYC Summer Fun Guide: Festivals, Beaches, Theater, and More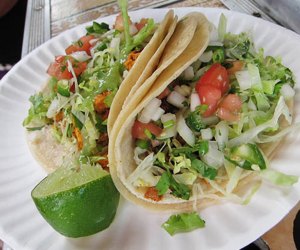 Enjoy tacos and more in the shadow of the Wonder Wheel at Plaza Mexico Doña Zita.
Bowery Street and Henderson Walk
If a day on the beach and the Thunderbolt roller coaster aren't hot enough for you, consider spicing it up with a meal from what some consider the hottest Mexican eatery in Brooklyn. Standing in the shadow of Deno's Wonder Wheel, Plaza Mexico Doña Zita sells spicy tacos, tortas, cemitas, picadita, and much-needed watermelon juice to wash it all down. It may be just a stand in a hard-to-find alley, but folks come from all over the city and beyond for a bite.
1310 Surf Avenue, between Schweikert's Walk and Stillwell Avenue
You can't talk about Coney Island restaurants without name-checking Nathan's. This is where Nathan Handwerker opened his very first hot dog stand back in 1916. Although outposts now span from Brazil to the United Arab Emirates, this is the original. Hot dog options include the basic beef dog, corn dogs, hot dog nuggets, and pretzel dogs. There are also burgers, cheesesteaks, and chicken, but why settle for anything less than the specialty of the house? For a truly iconic NYC experience, visit on the Fourth of July to cheer on competitors in the annual Nathan's Famous Hot Dog Eating Contest.
1229 Boardwalk West near Henderson Walk
Opened by the family that has owned the iconic Prospect Heights Tom's since 1936, this location is relatively new but serves the same classic burgers, fries, and retro drinks, including shakes, egg creams, and cherry lime rickeys. It's super-casual and fast, and right on the boardwalk so you can feel the ocean breeze coming. The line moves quickly.
RELATED: NYC Day Trip Guide for Families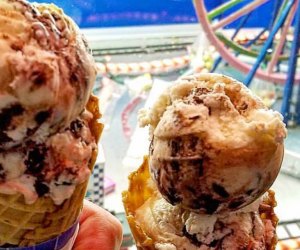 Satisfy your sweet tooth at Williams Candy Shop.
1318 Surf Avenue near West 15th Street
Another oldie-but-goodie among Coney Island restaurants, this spot dates back to the 1930s. This cozy sweet shop specializes in homemade candy apples and marshmallows covered in chocolate, coconut, caramel, chopped nuts—you name it. You'll also find cotton candy, popcorn, ice cream, and, of course, jars of candy. They're behind the counter so you can't serve yourself, which is probably a blessing. Don't miss the awesome window display, which features a miniature Wonder Wheel and other famous Coney Island sights.
Family-Friendly Brighton Beach Restaurants
3178 Coney Island Avenue, between Brighton Beach and Ocean View Avenues
Don't let the name confuse you, this Brighton Beach restaurant is Russian through and through. And since it's smaller than many of its local counterparts, it's less overwhelming for first-time visitors. The menu includes staples such as beef Stroganoff and Russian twists on comfort foods such as filet mignon done up as a Napoleon interspersed with breaded layers. When we celebrated my father's 70th birthday here, kids who didn't care for the herring and caviar appetizers got plates of macaroni and cheese. It wasn't on the menu, but the chef whipped some up.
3152 Brighton 6th Street at the Boardwalk
If you're ready for the big-time Russian restaurant scene, Tatiana is the place to be. Come in via the main entrance off the boardwalk or the back way, where an artificial turf alley lined with photos of celebrities including Montel Williams, Jackie Mason, and New York Senator Chuck Schumer leads you into a gilt-and-mirror-decorated establishment that looks like a mashup of St. Petersburg's Winter Palace and Caesars Palace in Vegas. The prix fixe banquet menu consists of three courses that include 20+ dishes. Want proof kids are welcome? Children 7 and younger eat for half-price.
3152 Brighton 6th Street at the Boardwalk
The food here comes from the Tatiana Restaurant next door, but the vibe is completely different at the "grill." Seating is outside, right on the boardwalk, with amazing ocean views. If the kids finish eating before you do, they can play in the sand only a few feet from the tables. Because it is geared toward tourists, the waitstaff at this Russian-specialty Brighton Beach restaurant speaks excellent English while still being able to explain some of the more obscure menu items. There's also a banquet option that's half price for children younger than 8 and a separate a la carte children's menu.
615 Brighton Beach Avenue, between Brighton 6th and Brighton 7th Streets
This Brighton Beach restaurant's name means frying pan in Russian, so most things are fried. Items not fried will likely be smoked and smothered in sour cream. Options include the traditional salad Olivier, hot or cold borscht (beet soup), chicken cutlet, calf's liver, duck breast, and eight different types of vodkas (for the adults, of course). The lunch special is reasonably priced, and the music and atmosphere is quieter and less intense than at nearby Russian restaurants.
RELATED: 20 Must-Visit Cafes, Sweet Shops, and Iconic Family-Friendly Restaurants in NYC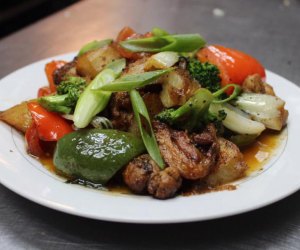 The fresh food at Kashkar Cafe makes a healthy end to a day at Coney Island.
1141 Brighton Beach Avenue
Kashkar Cafe is one of the few Uyghur restaurants in NYC and has an extensive menu with hot appetizers, kebabs, seafood dishes, soups, and salads. Focus is on high-quality, fresh ingredients, and its prices are very reasonable.
265 Neptune Avenue
This cafe and bakery serves authentic Georgian baked goods like khachapuri, a cheese-filled, egg-topped bread, that comes in many varieties. It's similar to a pizza in appearance, but without the sauce or other ingredients. In other words, it's the part your child is most likely to eat. The runny egg on top is optional. Bread here is baked in a toné—a traditional clay oven. People also rave about the khinkali, oversized dumplings filled with meats and herbs. A Georgian soup called kharcho with beef, rice, and walnuts is also a favorite among diners.
1007 Brighton Beach Avenue
For authentic Russian takeaway, head over to this supermarket to stock up on delicious prepared foods. There's delicious Russian and Middle Eastern bread and pastries including blintzes, varieties of caviar, pickles, meats, and salads. It's a feast for the senses walking through the aisles and taking it all in. Shop until you've got everything for an amazing picnic to spread on the beach.
Originally published in 2014. Unless noted, photos courtesy of the restaurants