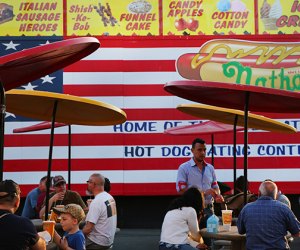 Restaurants at Coney Island & Brighton Beach for Families
If you're day tripping to Coney Island or Brighton Beach with the kids for the subway-accessible beach, amusement park rides, aquarium, or just to enjoy the ocean breeze, you'll likely need to stop to eat at some point. You're sure to find more traditional family restaurants, serving up kid-pleasers such as pizza, hot dogs, burgers, and shakes in a casual atmosphere along the Coney boardwalk, and because Brighton has a large Russian population, restaurants there will be family-friendly, too, but in a different way. There are many upscale spots where kids contact exotic foods, adult conversation and, alas, cigarette smoke. I realize this may be a deal breaker for some, but you'll still see plenty of children in these restaurants, even at midnight, chowing down on delicacies such as cow's tongue, pickled cabbage, or, if they're picky, fried potatoes and bread.
And in recent years, chains such as Checkers, Johnny Rockets, Wendy's, Popeyes Chicken, and Applebee's have moved into the area. There's even a Wahlburgers, but since this one has cool, outdoor roof seating, we'll give it a pass. As a longtime local, I'm rounding up some of the best eats for families in the area, whether you're looking for an immersive Russian cultural experience or just want a quick meal that doesn't have a logo on it.
Find more great NYC eats in our Family-Friendly Restaurant Guide.
Totonno's
1524 Neptune Avenue, near West 16th Street
The coal-fired brick-oven pizza at this Coney Island institution is legendary. But there are a few things you should know before hitting this famous spot, which dates from 1924. It's only open Thursdays through Sundays; and even on those days it stays open only until the day's dough runs out. Pizza is served by the pie, not the slice, and it's cash only. In addition, the bathrooms are small, and you might have to wait for a table, especially if you want one outside. It's all part of an authentic NYC pizza experience.

Ruby's Bar & Grill
1213 Boardwalk West, near West 12th Street
Ruby's may have been voted the 13th sexiest beach bar in the world by the Travel Channel, but that doesn't mean it's not family-friendly. Opened in 1934 as the Hebrew National Deli and Bar, this spot serves lots of kid favorites, including hamburgers, hot dogs, corn dogs, chicken tenders, waffle fries, onion rings, cotton candy, and slushies. Some parents will appreciate that it serves alcohol. Plus, Ruby's is the last neighborhood spot left where you can walk under a stretch of the original Coney Island boardwalk. Fried foods, secret passageways ,and dirt to play in? No wonder my kids love it here.
RELATED: NYC Summer Fun Guide: Festivals, Beaches, Theater and More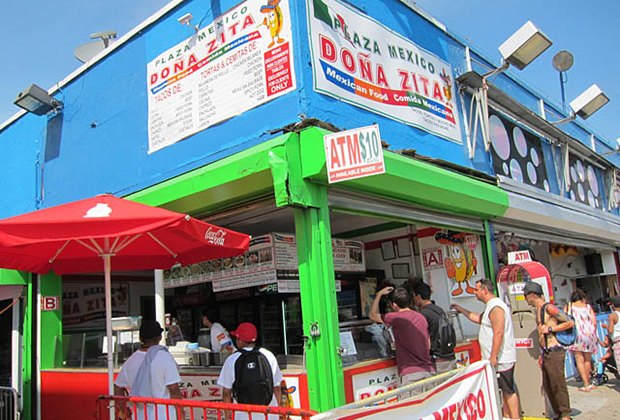 Enjoy tacos and more in the shadow of the Wonder Wheel at Plaza Mexico Dona Zita. Photo by Jason Lam via Flickr.

Plaza Mexico Doña Zita
Bowery Street and Henderson Walk
If a day on the beach and the Thunderbolt roller coaster aren't hot enough for you, consider spicing it up with a meal from what some consider the hottest Mexican eatery in Brooklyn. Standing in the shadow of Deno's Wonder Wheel, Plaza Mexico sells super-spicy tacos, tortas, cemitas, picadita and much-needed watermelon juice to wash it all down. It may be just a stand in a hard-to-find alley, but folks come from all over the city and beyond for a bite.

Nathan's Famous
1310 Surf Avenue, between Schweikerts Walk and Stillwell Avenue
You can't talk about eating with kids in Coney without name-checking Nathan's. This is where Nathan Handwerker opened his very first hot dog stand back in 1916. Although outposts now span from Kuwait City to Moscow, this is the original. Hot dog options include the basic beef dog, corn dogs, hot dog nuggets, and pretzel dogs. There are also burgers, cheesesteaks and chicken, but why settle for anything less than the specialty of the house? For a truly iconic NYC experience, visit on the Fourth of July to cheer on competitors in the annual Nathan's Famous Hot Dog Eating Contest.
Magic Gyro
2943 Stillwell Avenue
The mom-and-pop halal spot came back this spring after being nearly wrecked by superstorm Sandy in 2012. The old Magic Gyro was a store that served gourmet foods and had a kitchen in the corner. This time around, Magic Gyro is a full-out Mediterranean grill, serving kebabs, salads and, my kids' favorite: hummus. If your child has similar tastes, rest assured, you'll find something here.
Tom's Coney Island
1229 Boardwalk West, near Henderson Walk
Opened by the family that has owned the iconic Prospect Heights Tom's from 1936, this location is relatively new but serves the same classic burgers, fries and retro drinks, including shakes, egg creams and cherry lime rickeys. It's super-casual and fast, and right on the boardwalk so you can feel the ocean breeze coming in. The line moves quickly.
RELATED: NYC Day Trip Guide for Families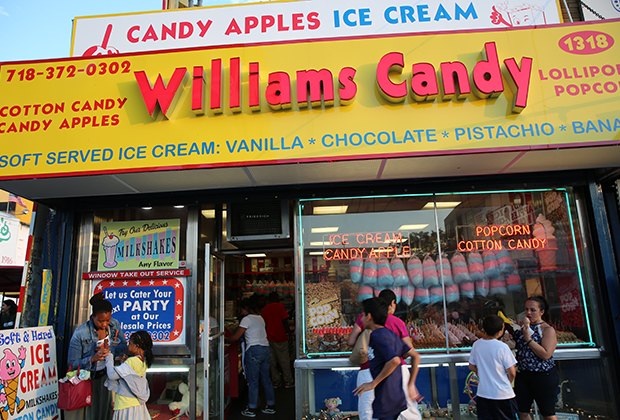 Satisfy your sweet tooth at Williams Candy Shoppe. Photo by Shira Kronzon.
Williams Candy Shoppe
1318 Surf Avenue, near West 15th Street
Another oldie but goodie dating back to the 1930s, this cozy sweet shop specializes in homemade candy apples and marshmallows covered in chocolate, coconut, caramel, chopped nuts, you name it. You'll also find cotton candy, popcorn, ice cream and, of course, jars of candy. They're behind the counter so you can't serve yourself, which is probably a blessing. Don't miss the awesome window display, which features a miniature Wonder Wheel and other famous Coney sights.

Cafe Paris
3178 Coney Island Avenue, between Brighton Beach and Ocean View Avenues
Don't let the name confuse you, this restaurant is Russian through and through. And since it's smaller than many of its Brighton Beach counterparts, it's less overwhelming for first-time visitors. The menu includes staples such as beef Stroganoff and Russian twists on comfort foods such as filet mignon done up as a Napoleon interspersed with breaded layers. When we celebrated my father's 70th birthday here kids who didn't care for the herring and caviar appetizers got plates of macaroni and cheese. It wasn't on the menu, but the chef whipped some up.

Tatiana Restaurant and Night Club
3152 Brighton 6th Street at the Boardwalk
If you're ready for the big-time Russian restaurant scene, Tatiana is the place to be. Come in via the main entrance off the boardwalk or the back way, where an artificial turf alley lined with photos of celebrities including Montel Williams, Jackie Mason and New York Sen. Chuck Schumer leads you into a gilt-and-mirror-decorated establishment that looks like a mashup of St. Petersburg's Winter Palace and Caesars Palace in Vegas. Friday and Saturday nights feature live music, a floor show, and prix fixe banquet menus, where three courses can include up to 25 different dishes. Want proof that kids are welcome? Children ages 3- 8 eat at half price.

Tatiana Grill
3152 Brighton 6th Street at the Boardwalk
Food comes from the Tatiana Restaurant next door, but the vibe is completely different at the "grill." Seating is outside, right on the boardwalk, with amazing ocean views. If the kids finish eating before you do, they can play in the sand only a few feet from the tables. Because it is geared toward tourists, the waitstaff at this Russian-specialty spot speak excellent English while still being able to explain some of the more obscure menu items. There's also a banquet option that's half price for children younger than 8 and free for those younger than 5.

Skovorodka
615 Brighton Beach Avenue, between Brighton 6th and Brighton 7th Streets
This restaurant's name means frying pan in Russian so most things are fried. Items not fried will likely be smoked and smothered in sour cream. Options include the traditional salad Olivier, hot or cold borscht (beet soup), chicken cutlet, calf's liver, duck breast, and eight different types of vodkas (for the adults, of course). The lunch special is reasonably priced and the music and atmosphere are quieter and less intense than at nearby Russian restaurants.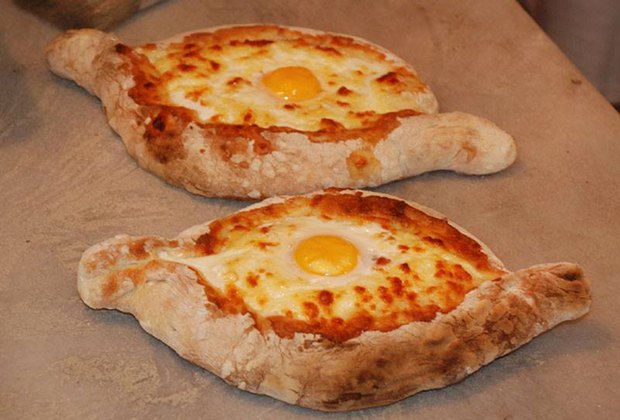 The signature dish, khachapuri, from the restaurant of the same name. Photo courtesy of the restaurant.
Khachapuri Bakery and Gourmet Kitchen
3089 Brighton 6th Street
Move a little south of Russia to expand your family's palate with the tastes of the former Soviet republic of Georgia. Khachapuri is a cheese-stuffed bread similar to a pizza in appearance, but without the sauce or other ingredients. In other words, it's the part that your child is most likely to eat. Though simple, you can easily make a whole meal out of khachapuri; a runny egg on top is optional. Located only a block from the Brighton Beach boardwalk, this spot makes a great quick breakfast stop or someplace for lunch takeout.

Pak Nashemen
3149 Coney Island Avenue, near Brighton 10th Street
Though often overshadowed by its Russian population, Brighton Beach's Pakistani community is slowly expanding and making its mark. This modest place has a rep for authenticity, freshness, great vegetarian options, good service, and reasonable prices. The store is wheelchair accessible, which means you can also bring your stroller in. Unfortunately, there are no bathrooms.
Casa Malinche
3078 Coney Island Avenue
Finally, while Mexican food might not be the first thing you think of when visiting Brighton Beach, if you can't stomach more meat in aspic jelly, or even fish eggs, this recent addition to the neighborhood is the spot you're looking for. The menu includes everything from omelettes to soups, skirt steak, rice and beans, grilled chicken, seafood, burritos, enchiladas, tacos, chimichangas, fajitas, and multiple vegetarian options. There's even a children's menu–a rarity for Brighton Beach–with quesadillas, chicken fingers, burgers, and even that macaroni and cheese my daughter once looked for.
Read all of our posts about exploring Coney Island and Brighton Beach with kids.
Top image: Nathan's is often the first stop in Coney Island. Enjoy dogs and more at this now iconic chain's first shop. Photo by Shira Kronzon.
This article first published in 2014 but has since been updated.