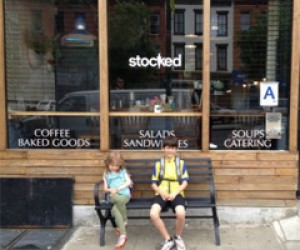 Old-School Diners, Ice Cream, Brick Oven Pizza: 10 Family-Friendly Prospect Heights Restaurants
I have loved witnessing the evolution of dining options in Prospect Heights, Brooklyn over the past few years. While new restaurants are nice because that means the neighborhood is growing, it's equally wonderful to watch old-school eateries that have served the community for decades continue to thrive. There are a handful of fancy places, but most restaurants here welcome families—some even have children's menus and play areas.
Whether you want to indulge in a chocolate egg cream at one of Brooklyn's oldest diners or enjoy some of the best brick oven pizza around, the food in Prospect Heights is sure to please parents and kids alike.
Chuko Ramen
552 Vanderbilt Avenue between Dean and Bergen Streets
Ramen is a staple in our household, and Chuko offers delicious bowls of it for our vegetarian family (although there are meat dishes, too). This neighborhood favorite puts modern twists on traditional Japanese ramen. Diners can choose from a variety of broths, including an unusual kimchi option. Kid-pleasers like the steamed buns and chicken wings are also on the menu. An early dinner is the best option for families as Chuko's fresh noodles are in high demand and the wait can be long. Note: Dine-in and cash only.
Cataldo's Restaurant
554 Vanderbilt Avenue between Dean and Bergen Streets
The first time our family visited Cataldo's and saw the brick oven, we excitedly said to the host: "You do brick oven pizza!" To which he replied, "Yes. And food." He was right. Cataldo's is home-style Italian fare at its best. Whichever dish you choose, you can't go wrong, plus the portions are generous and the prices are reasonable. When our family walks into this bustling scene, we always feel right at home.
Zaytoons
594 Vanderbilt Avenue between Bergen Street and St. Marks Avenue
Zaytoons is a family-run establishment serving yummy Middle Eastern food. The labneh, a yogurt spread served with mint and olive oil, is homemade and a perfect companion to the generous helpings of pita bread. Pita also serves as the crust for the pitzas, which are a kid-staple. If anyone in your family is not crazy about shawarma, a Middle Eastern dish of seasoned meat or chicken served on pita, Zaytoons does a respectable burger and fries. Brunch is offered on the weekend and is our favorite time to visit.
Amorina Cucina Rustica
624 Vanderbilt Avenue between Park and Prospect Places
In my family, Amorina is synonymous with comfort food, and we all have our go-to dishes. I am obsessed with the endive, goat cheese and beet salad. My husband's favorite is the cavatelli with broccoli rabe. And our children love Amorina's because the kid's menu offers pizzas for one—no sharing! Amorina has been serving thin-crust artisanal pizza and pastas to Prospect Heights locals and visitors since 2005, and we look forward to many more years of family dining at this delicious eatery.
Joyce Bakeshop
646 Vanderbilt Avenue between Park and Prospect Places
This is where Prospect Heights neighbors hang out and it's no wonder. The cafe serves locally-roasted coffee alongside delectable sweet and savory treats. The menu changes daily, but if you see a spinach and tomato tart, be sure to grab it. Staple items include croissants, homemade granola and sandwiches. You'll want to get there early as the baked delights go quickly. Joyce Bakeshop also has highchairs and a shelf filled with children's books, so you can enjoy a snack and storytime with your kids.
Gen
659 Washington Avenue between St. Marks Avenue and Bergen Street
The cornerstone of excellent sushi is fresh fish, and that is precisely what you will find at Gen. This Japanese restaurant offers standard nigiri sushi and maki, as well as unique house specialties like chopped yellowtail, avocado and mango rolls. The pumpkin tempura and udon noodles are also delicious and a favorite with my little ones. Gen is small and beloved, so go for an early dinner or expect to wait. Note: Gen is closed between lunch and dinner.
Ample Hill Creamery
623 Vanderbilt Avenue between St. Marks Avenue and Bergen Street
Any meal in Prospect Heights should be followed by a visit to Ample Hills. Holy smokes the ice cream is phenomenal and this is coming from a self-proclaimed ice cream snob. I was skeptical to even sample the raved-about Salted Crack Carmel, because a chocolate fanatic never strays. Then I did. Once, upon receiving our scoops, my 5-year-old promptly dropped hers and the super-friendly staff swooped in with a replacement before the tears came. This mom-and-pop shop also has a huge bicycle in the window and a play area in the back, so feel free to stay and enjoy your ice cream at your leisure. Check out our full review.
Stocked
635 Vanderbilt Avenue between St. Marks Avenue and Prospect Place
The owners of Stocked are on a mission to make life easier for families by serving healthy, delicious food. I can attest that they have succeeded. Don't get me started on the perfection that is the egg sandwich. The sandwiches are filled with the freshest ingredients and imaginatively put together, think house-made roast turkey, with bacon aioli and tomato jam on a grilled baguette. There is a play kitchen in the back with toys and books for kids. The idea is that the whole family enjoys a lovely meal and has a nice experience. Not surprisingly, the children's menu is terrific with options of grilled cheese, PB&J, and turkey and cheddar.
Tom's Restaurant
782 Washington Avenue at Sterling Place
This American diner has been family owned and operated since 1936, and is a Prospect Heights landmark. The decor is as colorful now as it was then. As the old saying goes, you go to Tom's for the experience first, the food second. My family, though, loves the food as much as the people watching. The pumpkin-walnut pancakes are a favorite and always quickly devoured by both kids. You also can't go wrong with the milk shakes, egg creams, omelets, burgers and famous cherry lime rickey. Note that the lines here are unavoidable.
Cheryl's Global Soul
236 Underhill Avenue between Lincoln Place and Eastern Parkway
Chef Cheryl has studied cuisines from around the world, and that knowledge is reflected in her inventive yet familiar menu. For instance, the BLT sandwich is made with maple-cured bacon, the half-chicken is roasted in tamarind and the salmon is sake-glazed. We know and love these recipes, but Cheryl's global interpretations keeps things interesting.
Read all of our posts about exploring Prospect Heights with kids.