Best Old-Fashioned Soda Fountains in NYC from Brooklyn Farmacy to Lexington Candy Shop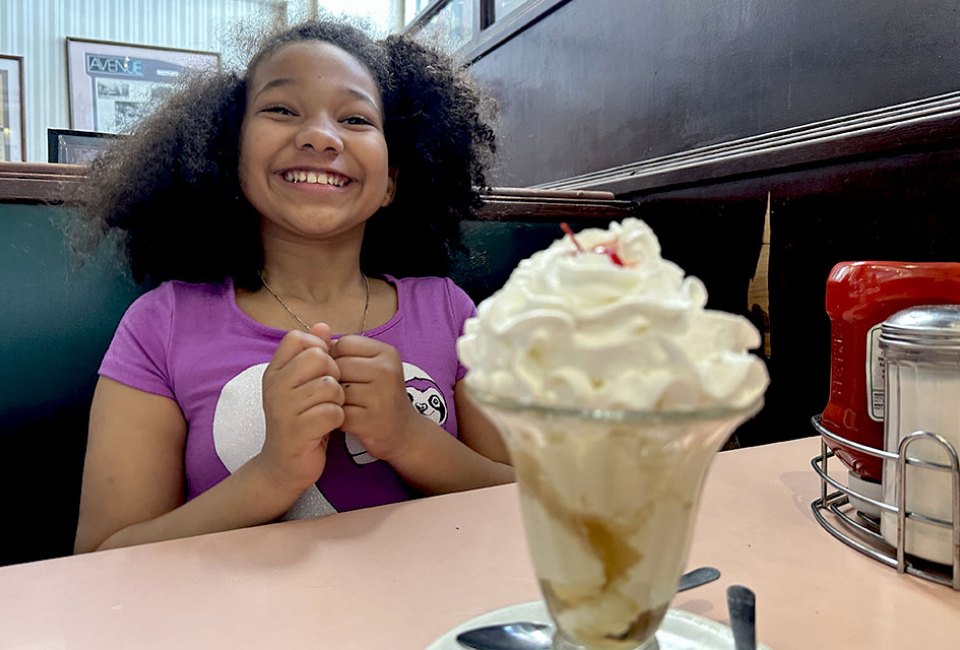 5/22/23
- By
Anna Fader
Families who pine for old neighborhood joints take note: NYC is still home to a collection of old-fashioned soda fountains, where hopping on a barstool is akin to climbing aboard a time travel machine. These classic New York City soda fountains serve up plenty of fun alongside soda fountain treats like towering ice cream sundaes, creamy milkshakes and malts, and even a classic egg cream.
The next time you want to give your kids a sweet treat with a side of nostalgia, consider visiting one of these soda fountains in NYC, which range from Carroll Gardens' Brooklyn Farmacy and Soda Fountain to the Lexington Candy Shop on the Upper East Side. No matter where you are from Brooklyn to Queens, Manhattan to Brooklyn, and even on Staten Island, we've found a soda fountain in NYC near you.
Find more kid-friendly eats and treats in our NYC Restaurant Guide for Families.
Subscribe to our newsletters to get stories like this delivered directly to your inbox.
Best Old-Fashioned Soda Fountains in NYC
The Lexington Avenue Candy Shop is a neighborhood institution serving great old-fashioned ice cream concoctions. A full diner menu is served by friendly waitstaff in a setting that hasn't been updated in decades. Watch the cooks work at the long counter lined with red barstools, and definitely save room for dessert. Egg creams, malts, root beer floats, and sundaes topped with a generous whirl of whipped cream await.
Jahn's – Jackson Heights, Queens
This is last remaining restaurant of a once-famous local chain. The food is regular diner fare, but if you go to eat, leave plenty of room for hand-packed ice cream desserts, including "The Kitchen Sink," which is a family-sized sundae that feeds your entire crew. At its height, Jahn's owned 30 ice cream parlors in the NYC metro area, but this site is the last sweet shop standing.
RELATED: 10 Top Spots for Outrageous Ice Cream Sundae Treats

Enjoy a sundae dripping with hot fudge at the old-school Eddie's Sweet Shop.
Located on a sleepy strip of Metropolitan Avenue in Forest Hills, Queens, Eddie's Sweet Shop seems to be frozen in time. The restaurant is completely authentic, from the original bar stools to glassware, wallpaper, and even an old cash register. The food is authentic from the homemade whipped cream and ice cream toppings to the ice cream itself, which makes the extra thick milkshakes creamier, and the ice cream sundaes extra soft. The malts are made with real malt powder, and drinks and desserts are served in fancy glassware set in stainless steel rests. It will be hard to pull kids away without a selection of candy from the counter on your way out the door.
Tom's Restaurant is a bit of an exception in the group. While it still has that old New York charm and serves the traditional soda fountain drinks, it has morphed significantly to accommodate its neighborhood and serves a more upscale clientele. Tom's menu features organic and more trendy items along with its egg creams and famous cherry-lime rickeys. You can also expect to find a line if you show up for weekend brunch, but waiting in line is half the fun as staff brings out little treats for people to munch as they wait. Be forewarned, this spot is cash-only!
RELATED: Best Breakfast in NYC: Top Family-Friendly Restaurants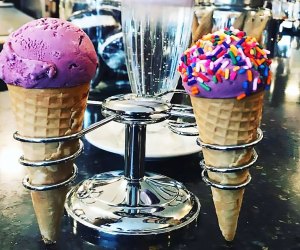 Enjoy a scoop of your favorite flavor in a cone at Brooklyn Farmacy and Soda Fountain.
While the Brooklyn Farmacy and Soda Fountain isn't as old as some of the spots on our list, it is housed in an authentic 1920s apothecary, which gives it a cool, retro look beyond its years. It's well-known for its egg creams, made with Fox's Ubet Chocolate Syrup, though its sweets menu is wide-ranging and includes shakes, sodas, sundaes, and an impressive collection of hot cocoa. Parents are easily pleased with its wine, beer, and coffee selections, too.
Reasonable prices keep visitors flocking to this Village spot that serves an unpretentious selection of breakfast staples under an old-school facade bedecked with classic Coke-a-Cola signs. And, if an ice cream soda is what you're after, you can get it in several flavors. Floats, shakes, malts, and classic sundaes are also offered. Come prepared: It's cash-only here.
RELATED: The 18 Most Insane, Must-Try NYC Desserts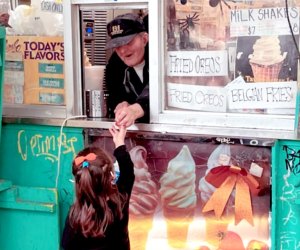 Ray's Candy Store is open 24/7, so you can get a sweets fix day or night.
Part candy shop, part bodega, part supplier of fried carnival treats, this spot is all character, and the biggest character is the namesake owner who works the overnight shift and hasn't taken a day off in decades. This 24-hour sweets emporium sells far more than its namesake confections, including egg creams, lime rickeys, a selection of slushies, and more.
Community is at the heart of this old-school shop, which serves as a pharmacy, scoop shop, and community hub. The business even sponsors a team on the Little League fields a few blocks away. Owner Manny Ramirez doles out prescriptions alongside sweets, and his patrons were swift to come to his rescue in 2012 when a fire burned the original location. Through community donations and support, Dichter reopened just weeks later and has continued to serve this enclave ever since.
RELATED: Best Fun Restaurants for Kids' Birthdays in NYC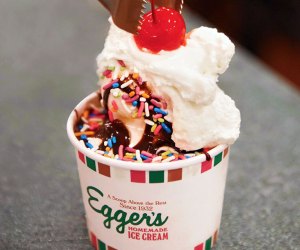 Egger's Homemade Ice Cream is a Staten Island institution.
Egger's Ice Cream Parlor has been a Staten Island institution for 91 years, and while it's got a trio of locations now, its Forest Avenue spot is a classic old-school soda fountain, scooping classic frozen treats in the same spot since 1964. Classic ice cream flavors, made on-site—and new vegan and dairy-free treats—are served in sweet silver dishes. Milkshakes, malts, and egg creams are also available, and sweet ice cream cakes can help you celebrate your next milestone.
Originally published in 2009.
Unless noted, photos courtesy of the shops
Click Here to Sign Up!
i