Old New York Soda Fountain Restaurants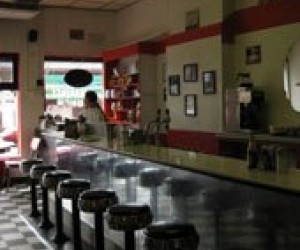 New York has changed a lot in our lifetimes. When I was a kid we really didn't have that many chains stores and restaurants in Manhattan. I used to see ads for Red Lobster and Beefsteak Charlie's on TV and pine for the suburbs. Now, of course, I know better and pine for the old neighborhood places. Most of them are long gone, but there are a few places left that have miraculously survived.
You can take your kids to any one of these old-fashioned soda fountains and it's like stepping into a time travel machine. Each of these kid-friendly restaurants is a great place to stop by for ice cream drinks and desserts and is a window into a long-gone NYC. Experience old New York at an old-fashioned soda fountain. Isn't history yummy?
Note about hours:
We opted not to include hours in the post because places tend to change their hours, but a general note is that many of these places only serve breakfast and lunch or close early and some are closed on Sundays. I guess they keep old fashioned hours as well as everything else. So please call ahead and check if they are open before venturing out.
Manhattan Soda Fountains
Lexington Candy Shop – Upper East Side
1226 Lexington Avenue at 83rd Street
212-288-0057
The Lexington Avenue Candy Shop is a neighborhood institution serving great old-fashioned ice cream concoctions and mediocre food. It's a good thing they make their ice cream drinks the old-fashioned way because they haven't updated their kitchen in decades (I'm guessing they don't want to have to update it to current code). This means that their French fries are baked, not fried, and rather bland and mushy. But forget about the food, you came for the egg creams, malteds and root beer floats, and you and your kids will be more than happy on that score. Note: Though it says no bathroom if you've got a kid, they usually take pity on you and let you use the staff one.

Queens Soda Fountains
Eddie's Sweet Shop – Forest Hills
105-29 Metropolitan Avenue between 72nd Avenue and 72nd Road
718-520-8514
Located on a sleepy strip of Metropolitan Avenue in Forest Hills, Queens, Eddie's Sweet Shop seems to have been frozen in time. The restaurant is completely authentic, from the original bar stools to glassware, to wallpaper and even an old cash register and yet is still clean and well organized. And the food is authentic to from the home made whipped cream and ice cream toppings to the ice cream itself, which makes the extra thick milkshakes even creamier, and the ice cream sundaes extra soft. The malteds are made with real malt too and drinks and desserts are served in fancy glassware set in stainless steel rests. Your kids will also love the candy bar where they can pick out lemon heads and gum balls. The only thing Eddie's was missing was some jukebox music, but even without it, you can't help but feel a little bit like whistling the theme to The Andy Griffith Show.Cash only!

Jahn's – Jackson Heights
81-04 37th Avenue
718-651-0700
This is last remaining restaurant of a once famous local chain. The food is regular diner fare, but if you go to eat, leave plenty of room for hand-packed ice cream desserts like "the Kitchen Sink" which is an ice cream creation with 22 flavors and serves the whole basketball team.

Brooklyn Soda Fountains
Mike's Hinsch's – Bay Ridge
8518 Fifth Avenue
718-748-3412
When we originally wrote this post, Hinsch's was the real deal. However, it almost closed twice in recent years until new owners saved it from the chopping block. Current owner Mike Moudatsos (who added his moniker to the name) got a lot of flack for taking down Hinsch's iconic neon sign in summer 2013 and there's no question it was an aesthetic loss. He overhauled the diner menu, too, and added modern touches like WiFi. But he didn't change the yummy ice cream and egg creams that the place has long been famous for, so it still counts.

Tom's Restaurant – Prospect Heights
782 Washington Avenue at Sterling Place
718-636-9738
Tom's Restaurant is a bit of an exception in the group. While it still has that old New York charm and serves the traditional soda fountain drinks, it has morphed significantly to accommodate its neighborhood and the more upscale clientele. Tom's menu features organic and more trendy items along with their egg creams and cherry-lime rickeys. You can also expect to find a line if you show up for weekend brunch, but waiting on line is half the fun as they bring out little treats for people to munch as they wait. Cash only!
Staten Island Soda Fountains
Bay Street Luncheonette & Soda Fountain – Staten Island
Unfortunately this restaurant closed in June 2014
This 70-year-old Island gem has been serving knockout egg creams and fountain sodas to many generations of patrons. Recently under new management by the delightful Castorina family, this is a true mom-and-pop shop intended for kids, families and old timers—not hipsters. There's the classic black, white and red-checkered design with '50s tunes crankin' and the likes of Elvis, Marilyn Monroe and Betty Boop on the walls. Feast on a delicious chocolate malted or their popular egg creams. There's all sorts of fountain sodas—cherry-lime rickey, chocolate soda, lemon fizz, root beer—milk shakes, floats and all the ice cream parlor standard fare, but there's also a serious breakfast and lunch menu complete with banana chocolate chip pancakes and meatball parmigiana heroes. Classically delicious and fairly priced, the food and close proximity to the ferry alone (never mind the fab egg creams) make a visit to Bay St. Luncheonette & Soda Fountain a great way to spend the afternoon.
Tip: Most of these places do birthday parties and make for a fun and easy party for kids. Find more NYC birthday party ideas in our Party Guide.
Do you have a favorite "Old New York Place?" Share it in the comments.
—Thanks to Charlotte, Shea, Bess, Ed and their kid entourages who selflessly trekked out to all these places to sample their wares and report back.