Best Ice Cream Parlors in NYC: 10 Top Spots for Outrageous Ice Cream Sundae Treats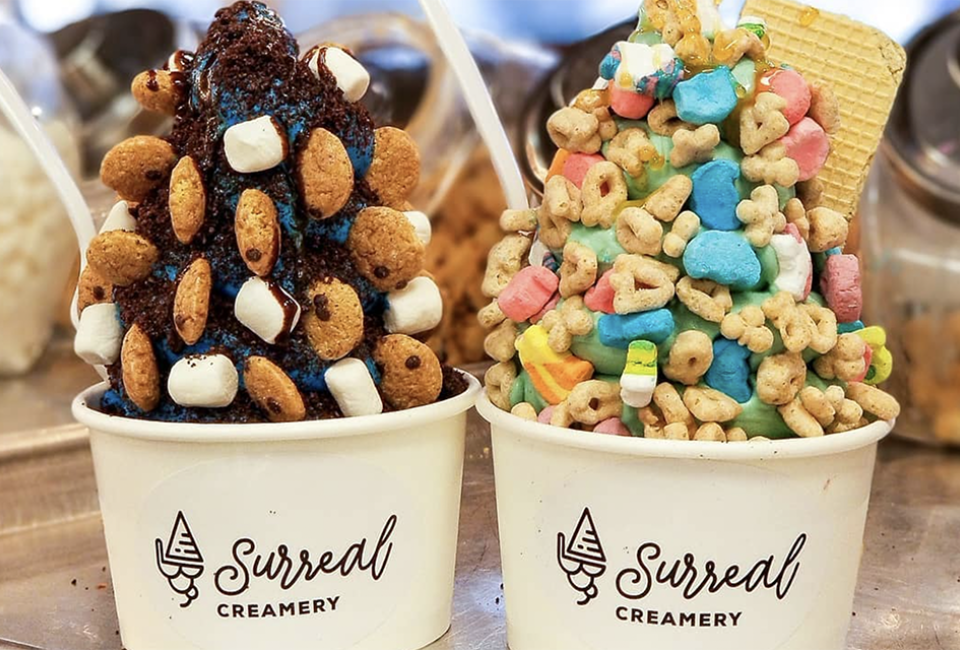 8/9/22
- By
Dawn Miller
There's nothing sweeter on a hot summer day than an ice cream sundae and we've rounded up the best ice cream parlors in NYC to get an over-the-top ice cream sundae. We owe a debt to whoever invented the delicious combo of ice cream, syrup, and toppings—this yummy treat is a delight.
The delectable ice cream sundaes below go far beyond your typical scoop with hot fudge, whipped cream, and a cherry on top to include special touches like unlimited toppings, candy coatings, and sundaes fit to feed your entire family. If you're looking for more sweet shops to grab a scoop, bookmark our list of 14 great ice cream parlors in NYC, and find more showstopping desserts for all seasons and occasions on this list of the most insane desserts in NYC.
Subscribe to our newsletters to get stories like this delivered directly to your inbox.



Thai rolled ice cream is the specialty at Minus Celsius, and you can have yours with unlimited toppings.
For a different twist on the sundae, Minus Celsius' amazing concoctions start with rolled ice cream. Once you decide on the flavor of rolled ice cream, pick a sauce. Then, add the unlimited toppings. If you're not feeling creative, choose from a selection of sundaes like Crazy Cookie, Caramel Crunch, and more. Single and double scoop cones are available, plus egg waffles filled with scooped or rolled ice cream. Minus Celsius also sells smoothies, bubble teas, and iced teas.
Whipped Urban Dessert Lab stays true to its name, whipping up an innovative oat milk ice cream sundae catering to those with dairy allergies. Its ice cream base is dairy-, egg-, nut-, soy-, and gluten-free. Top your sweet treat with a natural sauce (also dairy-, egg-, and gluten-free), then coat it in crumbled toppings, which include pretzels, sprinkles, chocolate cookies, and more. If you're not in the mood to create your own frozen treat, Whipped Urban Dessert Lab has a selection of hand-crafted fusions.
RELATED: End of Summer Bucket List: 40 Things To Do in NYC Before School Starts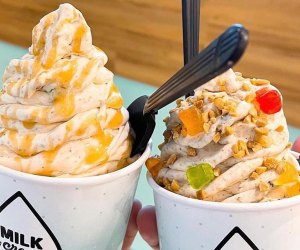 Milk & Cream Cereal Bar has two ice cream parlors in NYC serving up an irresistible combination of ice cream and sugary cereal toppings.
What is not to love about the mash-up of cereal and ice cream? Not much, and that's why cereal bars have long been a hit on college campuses. If your undergrad days are long past, consider hitting up Milk and Cream Cereal Bar's flagship store on Mott Street, its Astoria location, or the outpost across the river in Jersey City. The specialty at these ice cream parlors in NYC is, of course, intertwining ice cream with favorite cereals like Apple Jacks, Cinnamon Toast Crunch, Lucky Charms, and more. Create a sundae featuring a combination of ice cream, cereal, and a drizzle of sauce. If you don't want to make your own concoction, there are special signature combos to choose from. Milk and Cream Cereal Bar's menu also offers cones, milkshakes, cereal bowls, and take-home pints. Custom ice cream cakes are available to order for special occasions.
No sundae tour of the five boroughs would be complete without stopping by Eddie's Sweet Shop on Metropolitan Avenue in Queens. Eddie's Sweet Shop is the oldest pick among these ice cream parlors in NYC. Walking inside is like taking a step back in time to those original drugstore soda shops where sundaes were born. Eddie's opened its doors in 1925. The New York Times has dubbed the iconic ice cream shop as "a place where time stood still." Eddie's offers classic flavors, syrups, and toppings that made sundaes a thing, plus old-school ice cream sodas.
RELATED: 20 Must-Visit Cafes, Sweet Shops, and Iconic Family-Friendly Restaurants in NYC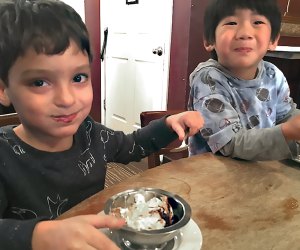 The Brooklyn Farmacy & Soda Fountain has been serving up sundaes—and smiles—for more than a decade. Photo by Sara Marentette
This nostalgic ice cream parlor in NYC started serving sundaes and more in the spring of 2010, but the history of its building dates back much longer. Before the Brooklyn Farmacy & Soda Fountain, its building housed a neighborhood pharmacy dating to the 1920s. Closed for decades and in need of more than a little TLC, the corner shop's transformation was documented by the Discovery Channel's short-lived reality show Construction Transformation. Today, the Brooklyn Farmacy & Soda Fountain takes ice cream lovers back to those days when kids could get a coveted sundae and ice cream soda at the drugstore. Brooklyn Farmacy & Soda Factory offers indoor and outdoor seating. The menu offers specialty sundaes like the More Is S'more, with red velvet cake, chocolate, vanilla, and coffee ice cream, hot fudge, toasted mallows, and graham cracker crumbs. If that's too rich, consider an Anyday Sundae and create your own sweet treat. Brooklyn Farmacy also scoops cups, ice cream floats, milkshakes, specialty shakes, baked goods, and more. You can opt for delivery, but the online menu is different from the in-store one, and of course, you miss out on that wonderful ambiance.
John Jahn opened his first ice cream parlor in the Bronx in 1897. The restaurant quickly became known for its Kitchen Sink Sundae—a family-sized dessert that includes plenty of scoops and crowd-pleasing toppings. At its height, Jahn's operated 30 ice cream parlors near NYC. Today, only one remains on 37th Avenue in Jackson Heights. It's survived in large part thanks to its diner-inspired menu, though the famous Kitchen Sink Sundae is still on the menu and serves eight, so bring the whole family and an appetite.
RELATED: Beat the Heat in NYC: Heat Wave Indoor Activities and Outdoor Cool Fun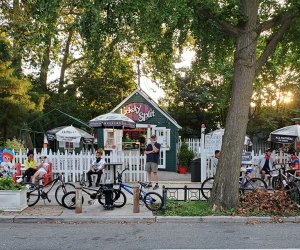 Lickety Split Ice Cream serves classic flavors in a unique, landmarked City Island location.
Enjoy a bit of nostalgia while sharing a new experience with your kids at Lickety Split Ice Cream on City Island Avenue. The cute ice cream stand packs a savory punch with 20 flavors of ice cream alongside soft serve. Lickety Split serves classics like sundaes, milkshakes, cups, and cones along with frozen yogurt, gelato, and egg creams. The walk-up stand does offer a small outdoor seating area next to Hawkins Park. Lickety Split is open seasonally. While you're there, check out all the other family-friendly things to do on City Island.
8. Surreal Creamery – Midtown and Greenwich Village
For a different ice cream sundae experience, head to one of the two Surreal Creamery ice cream parlors in NYC. Surreal Creamery is known for its signature Mason jar sundaes and "floteas." Have your camera ready to take a photo before digging into your Mason jar sundae. It's an ice cream creation to behold. Don't worry if you can't finish. The Mason jar is yours to keep and you can get a lid to cover the leftovers on the walk or subway ride home. Choose from Mason jar specials like Know Your Roots (taro ice cream, Cinnamon Toast Crunch, chocolate syrup, cinnamon graham crackers) and Chocolate Blackout (chocolate ice cream, chocolate crunch, chocolate syrup, Cocoa Puffs, Oreos), or create your own by choosing an ice cream flavor and up to four toppings. Surreal Creamery also has locations in Pennsylvania, Delaware, and New Jersey. Traditional cups, cones, and milkshakes are also on the menu.
RELATED: NYC's Best Gluten-Free Bakeries for Kids: Sweet Spots Allergen-Free Treats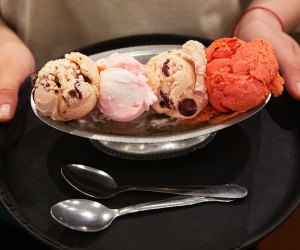 Go for four scoops at Egger's Ice Cream Parlor.
Eggers and ice cream are synonymous on Staten Island. Richie Egger opened the ice cream parlor in 1932. Since then, Egger's Ice Cream Parlor has been dishing traditional sundaes and fountain drinks New Yorkers have come to love using its delicious homemade ice cream recipe. In 2014, Egger's began to expand, opening another ice cream parlor in Historic Richmond Town and the Urby apartment complex in Stapleton. Egger's offers an array of options including vegan and sugar-free flavors. Sundae lovers have a lot to choose from, too. There's a classic sundae in a single or double scoop along with a brownie sundae, a Belgian waffle sundae, a banana royal, and more. Egger's also offers cones and ice cream sandwiches, while specialty cakes can be made-to-order. All three tasty Staten Island locations offer local delivery.
This mom-and-pop shop offers a freezer case full of inventive, rotating seasonal flavors. And, though its flavors change, one menu staple we're crazy for is its brownie sundae. You get a choice of two flavors and its generous scoops are layered between brownie bites and coated with your choice of homemade caramel or hot fudge sauce. A swirl of fresh whipped cream adds a final, tasty touch. We suggest getting this over-the-top treat to share.
Unless noted, photos courtesy of the shops/parlors