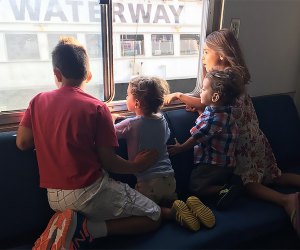 End of Summer Checklist: 40 Things to Do in NYC Before School Starts
With August upon us and the start of a new school year looming, my kids and I are in a panic about all the things we haven't yet crossed off our NYC summer bucket list.
Sure, we've had a lot of fun tooling around the city, enjoying our local swimming pool, reigniting a love for some favorite playgrounds, chilling out with some ice-cold treats, and soaking up all the FREE entertainment. There are plenty of great activities we haven't gotten to, though.
So as a reminder to us, and to you, we've crafted this list of 40 things to do before summer ends. Some are summer-only events happening all month; others are one-time-only affairs, so read on and get ready to dive in before the summer sun sets!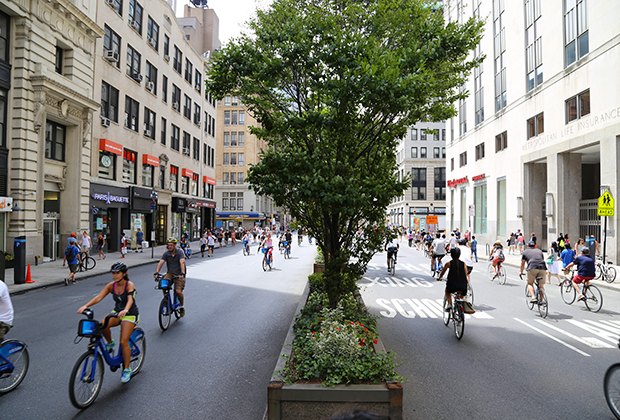 Don't miss Summer Streets for a day of car-free fun. Photo courtesy of NYC DOT.
1. Cycle through car-free streets, fly along the zip line, or catch more family entertainment at the annual Summer Streets on Saturdays, August 3, 10, and 17. FREE
2. Sneak in one last trip to a city beach for some seaside fun. FREE
3. Escape the city's heat and humidity with a weekend camping trip. Some of our favorite family-friendly sites are even accessible via the MTA. Prefer a one-day getaway? Check out one of these 31 summer day trips.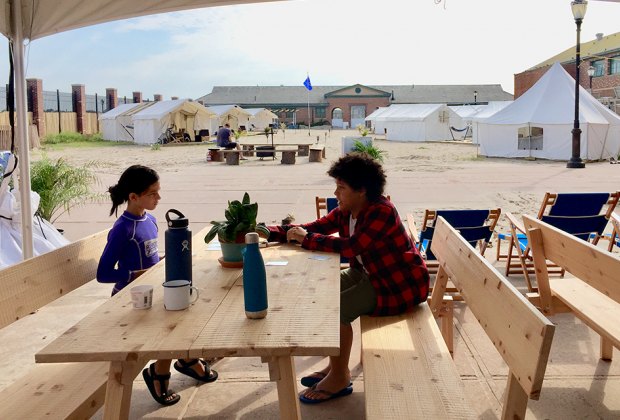 Take a glamping vacation at Jacob Riis Beach. Photo by Wade Mayer
4. Or stay local and try out glamping at Camp Rockaway or on Governors Island.
5. Enjoy an over-the-top-ice-cream-treat at one of these cool spots or pick up a chilly scoop at our favorite ice cream shops.
6. Visit the kid-pleasing splash pad at Jones Beach or enjoy one of these other LIRR-friendly day trip stops.
7. Take a trip back in time with a visit to the New York Renaissance Faire in Tuxedo Park. The Faire runs weekends Saturday, August 17 to Sunday, October 6.
8. Row your way through one of the city's waterways in a kayak, canoe, or rowboat.
9. For a more relaxing ride, let someone else command the vessel and hop on a ferry to a kid-friendly shore.
RELATED: 100 Free Things to Do in NYC with Kids This Summer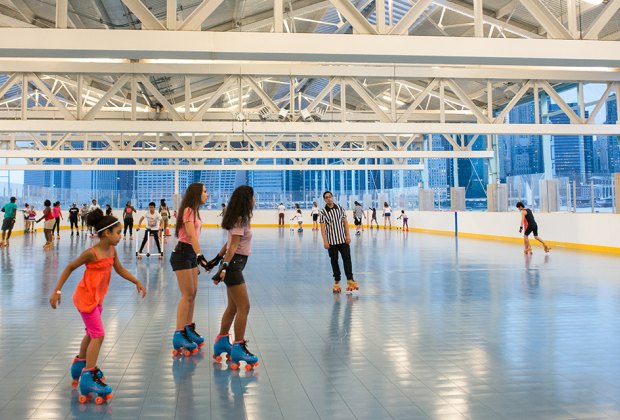 Take a spin around the roller rink at Pier 3 in Brooklyn Bridge Park. Photo by Julienne Schaer
10. Glide across (or stumble, we won't tell) a nearby roller rink.
11. Catch an alfresco flick in a NYC park. FREE
12. Enjoy some prehistoric fun with the amazing T. rex exhibit at AMNH.
13. Try for a hole-in-one at the seasonal mini golf course on Governors Island, or another of NYC's outdoor putt-putt spots.
14. Groove to an outdoor kiddie concert. The Hudson RiverKids summer series keeps rocking until the end of the month, plus there's Summer in the Square, Music in the Grove, and accordions in Bryant Park!
15. Sign up for FREE kids bowling at Astoria Bowl, Jib Lanes, and Shell Lanes while it lasts!
16. Catch one of the ultra-cool, kid-friendly theater performances playing before their final curtain calls.
17. Peep some fireworks. Coney Island hosts a sparkler show every Friday night. FREE
RELATED: The Best Things to Do with NYC Kids This August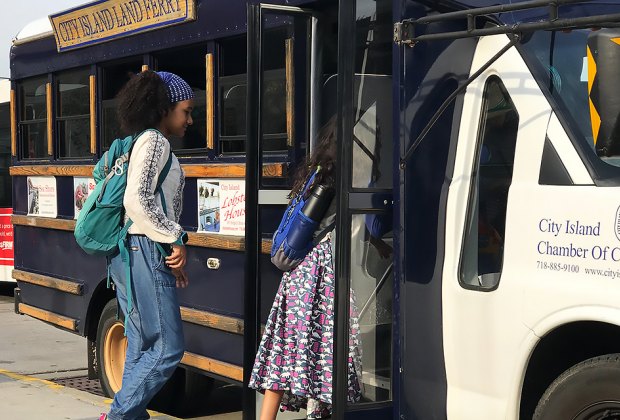 City Island Land Ferry. Photo by Suzanne Cort
18. Snag a ride on the City Island Land Ferry for an evening of fun on the Bronx isle. It runs the first Friday evening of the month, but a public bus will take you from the Pelham Bay Park subway stop to the island anytime. FREE
19. While away the day splashing in one of our favorite play fountains before the sprinklers are turned off for the year. FREE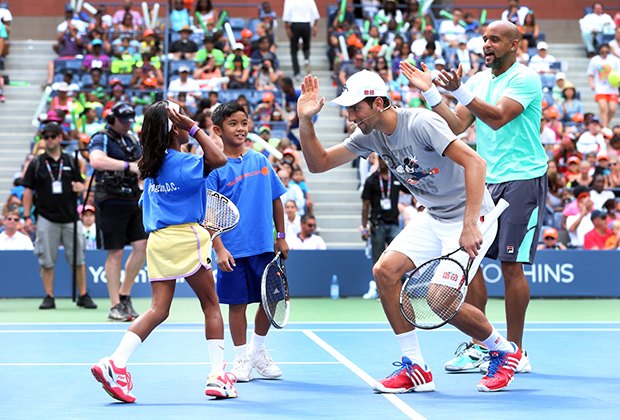 Novak Djokovic gives high fives at 2015's Arthur Ashe Kids' Day. Photo by Ned Dishman for the USTA.
20. Get in the swing of the U.S. Open with a visit to Arthur Ashe Kids' Day on Saturday, August 24. FREE
21. Visit Lady Liberty and the brand new museum dedicated to her history.
22. Visit a destination playground, or if you're feeling ambitious, hit a bunch in one day in Central Park, Prospect Park, or Brooklyn Bridge Park.
23. Stroll among the the blooms and butterflies at one of the city's botanic gardens. The NYBG offers FREE grounds admission to NYC residents on Wednesdays and Saturdays before 10, including admission to the action-packed Everett Children's Adventure Garden. You can also visit the BBG gratis on Friday mornings, while the Queens Botanical Garden is FREE on Wednesdays from 3-6pm and Sundays from 9am-11am.
24. Sticking around town for Labor Day weekend? Hop on the Staten Island Ferry and enjoy the sea spray en route to the Richmond County Fair. Want to venture out on another day? Hop off the ferry to explore the surrounding cultural institutions.
25. Hop aboard the Metro-North to explore one of these seven kid-friendly stops.
26. Get up close to deep sea creatures at the Ocean Wonders: Sharks! exhibit at the New York Aquarium on Coney Island.
27. Craving industrial AC? Check out one of our favorite children's museums. Bonus: With an NYPL card, you can even net FREE admission to some of them plus a long list of other NYC cultural institutions.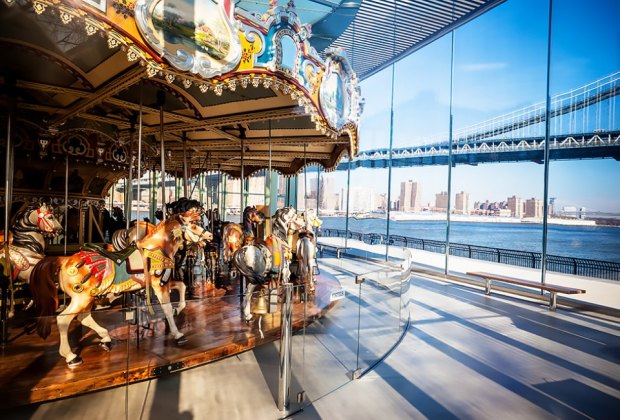 Admire the view from Jane's Carousel. Photo by Justin Kiner via Flickr
28. Plan a day trip to Brooklyn Bridge Park. Beyond its fab playgrounds and spectacular carousel, make sure to explore the Pier 3 attractions.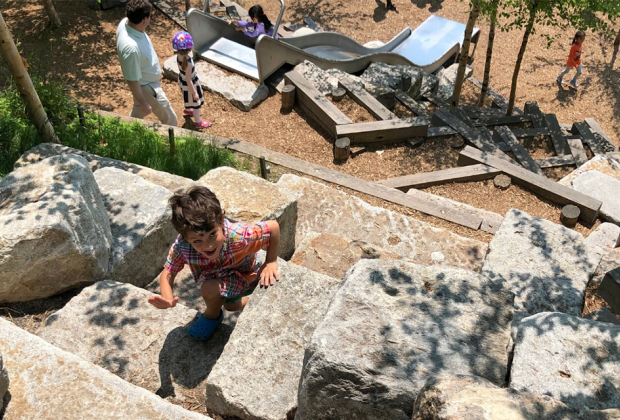 Conquer The Hills on Governors Island. Photo by Matt Nighswander
29. Channel your inner kid with a ride down the city's longest slide at The Hills on Governors Island, or check out the zip line and more at Adventures at Governors Island. There's also a weekends-only adventure playground to explore. FREE
30. Pick the final peaches at area farms, or the early apples that arrive for the picking in the metro area pre-Labor Day.
31. Plan an outdoor art-hopping adventure and check out some cool public art.
32. Take the night off and treat yourself to dinner with a view or an alfresco meal at one of these kid-friendly restaurants with patios and backyards.
33. Or pack a blanket and spend an evening picnicking at one of these entertaining spots.
34. Go for a wild ride at one of these public-transit friendly amusement parks.

Stroll through Central Park and explore the newly-renovated Belvedere Castle. Photo by Janet Bloom
35. Explore the newly-renovated Belvedere Castle and surrounding ecosystem with a family-friendly Discovery Walk. FREE
36. Splurge on a day pass at one of these rooftop pools.
37. Explore the city on two wheels with a family-friendly bike ride.
38. Sneak in a little history by visiting Green-Wood Cemetery on Sunday, August 25 for the commemoration of the Battle of Brooklyn. The festivities are FREE, but the organizers ask that you pre-register.
39. Head to Governors Island over Labor Day weekend for the always entertaining NYC Unicycle Festival. FREE
40. Enjoy some face time with NYC's wildest residents at one of our favorite zoos and aquariums.
This post is updated annually.