Riverside Park's Best Playgrounds Ranked for Kids and Families to Enjoy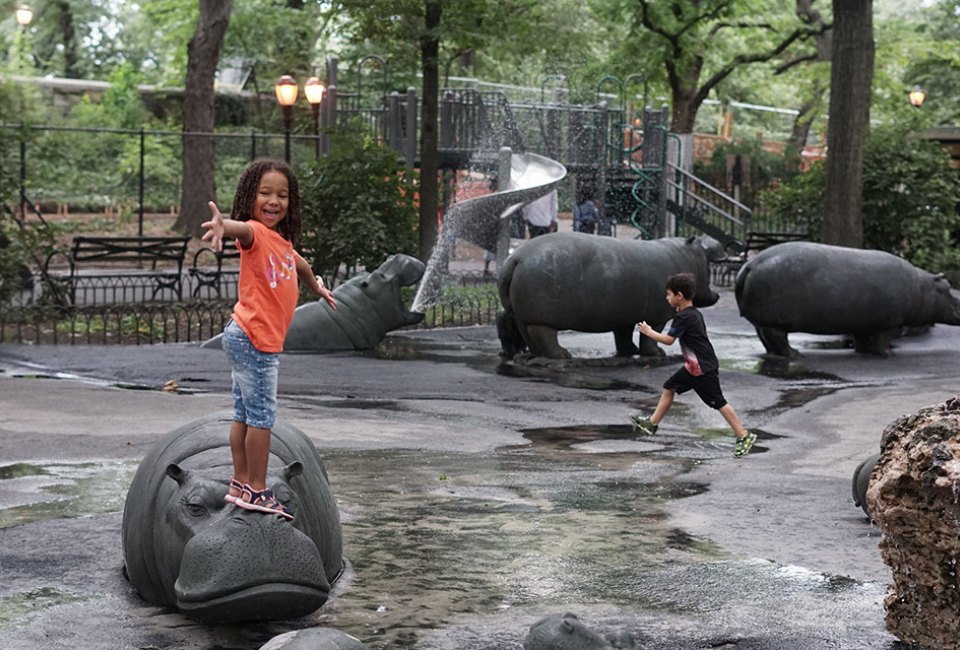 6/14/21
- By
Vanessa Leigh
Riverside Park is our family's backyard and home to some of the best playgrounds in the city, but what's the best of the best in this four-mile stretch of nature that spans Manhattan's west side from 72nd Street to 158th Street? We set out to find out, and our parent-tested results are here. We've ranked the playgrounds of Riverside Park based on their amenities, accessibility, and how much family-friendly fun they inspire.
Once you've had your share of romping in Riverside, be sure to check out our rankings of the best playgrounds in Central Park, Prospect Park, and Brooklyn Bridge Park, too.
91st Street and Riverside Drive
Hands down, Hippo Playground is our favorite playground in Riverside Park for many reasons. The spacious location allows for so much creative, free play. There are large sandboxes, many play structures for all ages, and of course—the Hippo family sculpture. The playground design is a large oval, so each play area feels like it's spread out from the next. The on-site restrooms allow easy access and the adjacent Park House is a great spot to host a birthday party. An involved group of volunteers provides fun, FREE programming making this playground a community hub.
In the summer, the hippos spout with a cooling mist, which is another reason we love coming here. The shade of the trees and the lush green landscape gives a feeling of being at a national park—something we often long for in the big city.
In short, Hippo Playground has everything you need, and the hippopotamuses can't wait for you to visit.
RELATED: Destination Playground: Chelsea Waterside Park in New York City

All aboard for a fun outing at Little Engine Playground in Riverside Park South.
67th Street and Riverside Boulevard
Here, you get two for the price of one! (Well, OK, they're all FREE!) These two playgrounds are situated right next to one another and are our runner-up picks for the best play spaces along the Hudson River. With the opening of Riverside Park South's Phase 5, these playgrounds are terrific additions for a wide range of ages. If you have children in different age groups, be sure to visit.
The Little Engine Playground is geared more toward young children, toddlers, and babies. There are two baby swings and colorful train structures that give the space its name. Children can cool down in the corner sprinkler area on hot weather days. Picnic tables are available inside the play area, so you don't have to leave during snack time.
Next to the Little Engine Playground, you'll find Big River Playground. It's definitely built for older children and includes many structures for climbing. There is plenty of space to run in this playground. Its open play area invites visitors to stay and play. Families can enjoy benches around the inside perimeter, and there are picnic tables available like at the Little Engine Playground. Restroom access for these two playgrounds is down the ramp next to the Pier i Cafe.
RELATED: 13 Brain-Boosting NYC Playgrounds That Build Physical and Mental Skills

Elephant sprinklers and fun climbing structures await at Neufeld Playground.
76th Street and Riverside Drive
Located a bit south of our friends, the hippos, find Elephant Playground. This space also boasts many fun play areas for children. In the summer, the elephants provide a cooling spray kids love to run through and play in. Like Hippo Playground, Neufeld Playground also has a large sandbox area, swings, and two play structures for climbing and sliding. The restrooms are clean and located within the playground. We love this park for its accessibility and location. It feels like a smaller version of the Hippo Playground.
RELATED: Destination Playground: Harlem's Riverbank State Park

T. rex and Triceratops lend their likeness to Dinosaur Playground.
97th Street and Riverside Drive
We can't let the hippos and elephants have all the fun without paying respect to our extinct friends—the dinosaurs. This playground is one of the most accessible playgrounds in Riverside Park. The ramps provide access for wheelchairs, and the play structures are well-spaced. Two sandboxes sandwich the T. rex and Triceratops sculptures. This adds a natural, sandy texture to the ground. An enclosed sprinkler area is available to wash the sand off and cool down on those sweltering NYC summer afternoons.
Below 125th Street at Riverside Drive
This hilltop playground is a beautiful play space located just a short walk from Grant's Tomb. This playground is a true NYC gem that offers views of the George Washington Bridge and tons of green park space. There is a boat-shaped sandbox for kids to enjoy, swings, and play structures. This playground showcases dolphin sculptures that provide a fun sprinkler experience in the summer. Restrooms are located within the playground.
RELATED: Things to Do in Fort Tryon Park & Fort Washington Park with Kids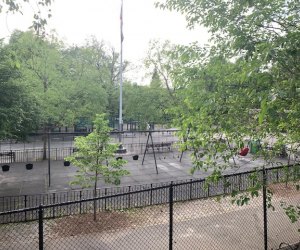 Sometimes, all kids need is a sprawling swing set like this one at River Run Playground.
82nd Street and Riverside Drive
This Riverside Park playground has a little bit of everything. This is a great stop to add to your list of NYC fun summer plans. This play space provides families with swings, a spouting fountain sprinkler, and jungle gyms. The playground is nestled in the trees and flowers of Riverside Park. If you're strolling down from Hippo Playground, this can be a great next stop for playtime. There are bathrooms conveniently located as you come in the gate.
Between 148th and 149th Streets along the Hudson River
The Ten Mile River Playground offers the best Hudson River views. Whether you reach this playground by foot from the highway overpass or by the bike path that hugs the river, your kids can explore the blue and red-colored playground equipment that includes a curling slide and plenty of swings. The playground is next to basketball courts, and restrooms are located on the premises. Pack a picnic and enjoy the stunning views when visiting the Ten Mile River Playground.
Along the Hudson River at 75th Street
The Classic Playground has so much to offer in a nearly-hidden part of the park. It's located right along the Hudson River, so the river breeze keeps playtime cool. The enveloping sycamore trees and the amphitheater-feel of the architecture are some of the aspects that stand out. While the amenities are not as up-to-date as other play areas, the slides and see-saws really do feel like a "classic" playground. The restrooms are located right across from the playground on the river walk. Adults enjoy this space as much—if not more than—the kids.
RELATED: Destination Playground: Central Park's Heckscher Playground

Riverbank Playground gives uptown kids a fun place to play.
142nd Street and Riverside Drive
Riverbank Playground is a fun play space for multiple age groups. There's one large play structure and a swing set to enjoy. Restrooms are located in the center of this playground, and on the other side of the building is a small sandbox for younger children. The sprinkler fountain is located in the shady corner of the play space, making it easy to cool off in the heat. Sandwiched between the parkway and Riverside Drive, this playground is most easily accessed by foot.
The following three playgrounds offer unique play experiences in a smaller setting. These spaces do not offer comfort stations or restrooms for immediate access; thus, we've listed them later on in our rankings.
RELATED: Waterline Square Park Is a Hidden Gem on the West Side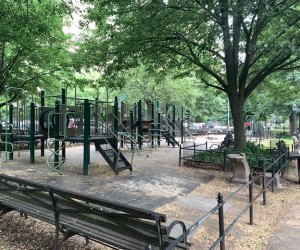 Little ones delight in the fun at the Riverside Park Tot Lots.
116th Street and Riverside Drive
Our favorite of the Tot Lot playgrounds is the location at 116th. There are play structures with tons of steps, ladders, and climbing options. There's also a sandbox here that is quite popular for playtime. The layout of this playground makes it feel quite spacious. Kids can roam from one end to the other with many options for stimulation and creative play.
110th Street and Riverside Drive
This easily accessible playground is another installation of the "tot lots." It provides fun play spaces for younger children. With a swing set and a few slides, this is a great addition to Riverside Park. Because there are a few Tot Lots within about 10 blocks of one another, it's really easy to pop around for a change of scenery or if one playground is too crowded.
RELATED: The 25 Best Spraygrounds and Sprinklers For NYC Kids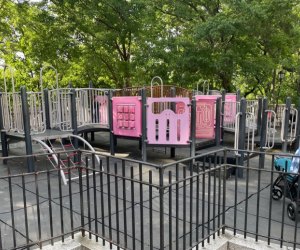 Palisades Playground packs a lot of fun into a small space.
148th Street and Riverside Drive
This colorful playground is a perfect stop right off of 148th Street. Geared toward younger children and toddlers, Palisades Playground is the smallest of the playgrounds in the park, offering various climbing structures for kids to enjoy and strengthen their physical and cognitive skills. If you're looking for Hudson River access, take a quick left turn behind this playground to follow the long set of stairs down to the river path.
We hope you enjoy these playgrounds as much as we have. Each one has a unique space and lots to offer NYC families. Whether you visit the hippos, dinosaurs, dolphins, or elephants, you're sure to find great play spaces and adventures at Riverside Park's many playgrounds.
For more of our favorite playgrounds in NYC parks, be sure to visit our Parks and Playgrounds Guide.
All photos by the author except when noted