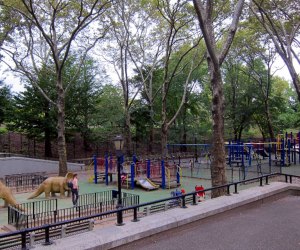 Best NYC Playgrounds for Children with Special Needs
There's certainly no shortage of wonderful playgrounds and parks in New York City. But when you add a child with special needs into the mix, the selection of truly great playgrounds suddenly seems much smaller. As a mom of of a special needs child, I've explored quite a few of the city's playgrounds in search of the ones with the best play-for-all features and equipment.
Happily, many NYC playgrounds meet or exceed the Americans with Disabilities Act standards, and there are literally hundreds of special needs-friendly playgrounds throughout NYC. Some also include accessible JennSwings, those big plastic swings that offer full-body positioning support for kids up to 125 pounds. But the adaptive swing doesn't always appeal to my son, so there need to be other attractions for a playground to be cool in his book.
I'm spotlighting 17 playgrounds that I feel truly are the best. Not only are they accessible (half the battle), they're fun for all ages, with and without special needs. Grab some sunblock, towels, sand toys, and running shoes and get exploring: Your kids will thank you for it!
The Parks Department's website has a list of Accessible Playground Definitions, so when you search through its comprehensive list of playgrounds, you can easily identify which ones will be best suited for your children. For example, playgrounds classified as Level 1, or "Playgrounds for All Children," are designed to provide recreation for children of all ages and abilities, with ramped play equipment, ground-level play features, and wheelchair-accessible tables and drinking fountains. Levels 2, 3, and 4 provide different types of accessible equipment. The playgrounds below meet the requirements of varying accessibility levels.
Accessible Playgrounds in Manhattan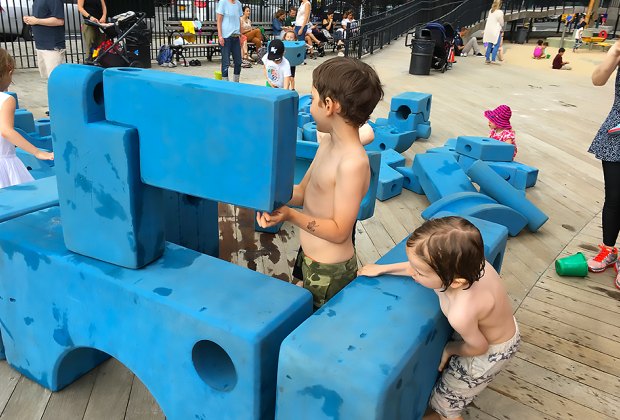 Imagination Playground was designed to be accessible, immersive, and interactive. Photo by the author
Imagination Playground – South Street Seaport
Located in the heart of the South Street Seaport, Imagination Playground, designed by famed architect David Rockwell, is an immersive and interactive space that allows kids of all ages to create their own play space with big blue foam blocks and sand. The possibilities are endless here. A giant slide accessed by a large ramp, climbing structures, and a beautifully designed water play area are just some of the major perks. Umbrellas help keep parents and caregivers cool while kids are able to flex their imaginative muscles. Bonus: Bathroom on site!
Pearl Street Playground – Financial District
This playground is perfect for toddlers. Pearl Street Playground may not have many bells and whistles, but what is does have is a clean water play area, a small sandbox, toddler swings, and two climbing structures, one great for toddlers and those just learning to walk and explore, and a higher one perfect for preschoolers. There are two house structures, steering wheels, and a nautical rope (which is great for swinging and balancing). It is fully accessible for wheelchairs as well, and just steps from the South Street Seaport.
RELATED: Summer Camps Near NYC for Special Needs Kids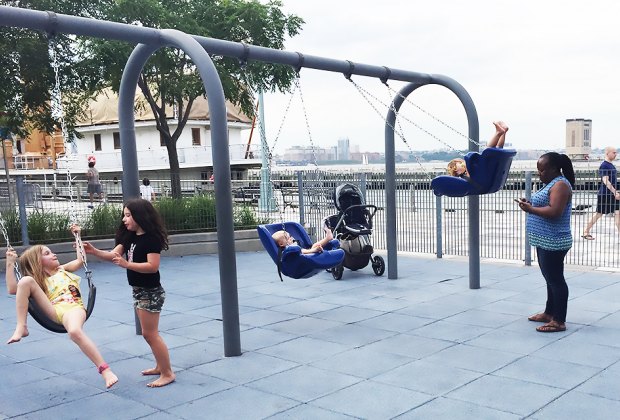 JennSwings are accessible fun for all at Pier 25 Playground. Photo by the author
Pier 25 Playground – Tribeca
A summer day in the city is well spent at this amazing play area in Tribeca. It has ground level activities, and a very low and vast sand area which is easily accessible. The sprinkler area is also quite large and very accessible for those of all needs. Kids with great climbing abilities will love the rock wall and the space agey climbing structures.
RELATED: Music, Swimming, Sports, and Dance Programs for Special Needs Kids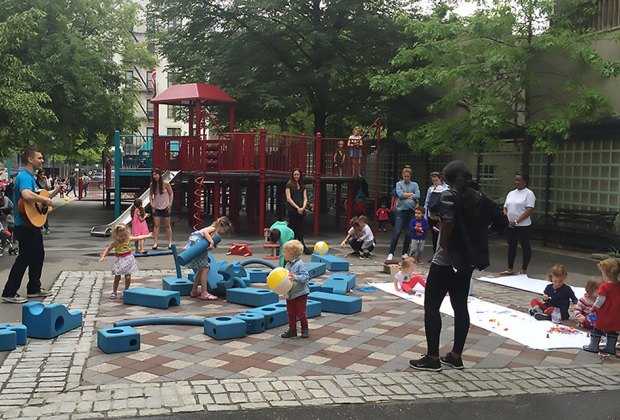 Vesuvio Playground has a large open space for kids to do whatever they want! Photo courtesy of NYC Parks and Recreation
Vesuvio Playground – Soho
This sweet little playground is an oasis in bustling Soho. It's perfect for the toddler set with equipment geared toward littles, including an elevated fort maze and fun structures to engage with. A not-so-high slide is great for those just getting into the sliding thing. There are swings, a nicely sized sandbox, and in the summer sprinklers. It has ramped climbing structures making it easy for those on crutches or in need of assistance in climbing. (Bonus: a restroom on site!)
Bleecker Playground – West Village
Civic leaders and neighbors came together to create this first-of-its-kind, family-friendly, inclusive play area. We love this sweet playground and have returned many times through the years for its ground level play features and sandy play surface. My son especially loves the circular slide and red climbing structure.
Union Square Playground – Union Square
Fun for kids of all sizes, this cool playground has universally accessible swings, complete with an adaptive swing. The sleek looking climbing apparatuses are a big draw for climbers of every age: Look for the large hemispherical dome used for climbing, spiral climbers, and soft, checkerboard rubber flooring.
Police Officer Moira Ann Smith Playground – Madison Square
My family loves coming to this park. The playground has a ton of activities throughout the year, so be sure to check out the calendar of events to catch a summer concert. This playground is accessible to visitors of all abilities and is especially wheelchair friendly. My son loves the climbing structures as they are high, but not in a scary way, which boosts his confidence. There are great smaller slides for toddlers, and the ground is super soft, making those just learning how to walk feel comfortable. After playing, take in one of the great public art installations within the park or grab a milkshake from Shake Shack nearby.
Catbird Playground – Upper East Side
We love heading uptown to visit friends, where this playground in Carl Schurz Park is always a great option. The equipment here offers something for everyone, including challenging monkey bars, and a slide made of rolling steel bars that is fun for all. There is even a shady sandbox to entice kids of all ages. Bonus: Bathrooms on site!
Dinosaur Playground – Upper West Side
This wheelchair-accessible playground in Riverside Park has lots of cool attractions: an extra-large enclosed sprinkler area, bathrooms on site, and plenty of climbing structures for toddlers and big kids alike. Hint: If you sit by the sandboxes, you can see all the way from the sprinklers on one end to the monkey bars on the other.
Matthew P. Sapolin Playground – Upper West Side
Formerly known as Playground 70, this 100% accessible playground is a favorite. It includes a children's garden with accessible bridges, musical instruments built into the play space, and even adjustable basketball backstops for players in wheelchairs. Truly a winner!
Tarr Family Playground – Upper West Side
Even without bathrooms nearby (a critical feature for potty-training toddlers and pregnant moms!), this is still a fun playground in Central Park. Half of the area is covered in soft sand, making it ideal for play and adventuring. It features a mist and sprinkler area, tunnels, ladders, and rock-climbing structures leading to the slides. The climbing areas are tall, but easy for both big and little kids to navigate.
Accessible Playgrounds in Queens and Brooklyn

Playground for All Children has a wheelchair-accessible layout. Photo by Daniel Avila for NYC Parks and Recreation
Playground for All Children – Corona
Headed to the Queens Zoo? Add this great playground in Flushing Meadows Corona Park to your trip. A Boundless Playground, it has everything from playhouses to slides to sprinklers. With its spacious, wheelchair-accessible layout, brightly colored equipment and ample shade, it's worth checking out when you're in the area.
Beach 30th Street Playground – Rockaway Beach
Haven't been to the Rockaways yet? This accessible playground is all the excuse you need to plan a trip. Just steps from the ocean, the playground's equipment has a cute nautical theme which a climbable ship and lots of water play. It has universally accessible swings as well as an adaptive swing. It is ideal for climbers as it has ropes that are pretty low to the ground making it accessible for all. The water play is truly the draw here as there is a cool sprinkler circular structure that makes it easy for everyone to enjoy.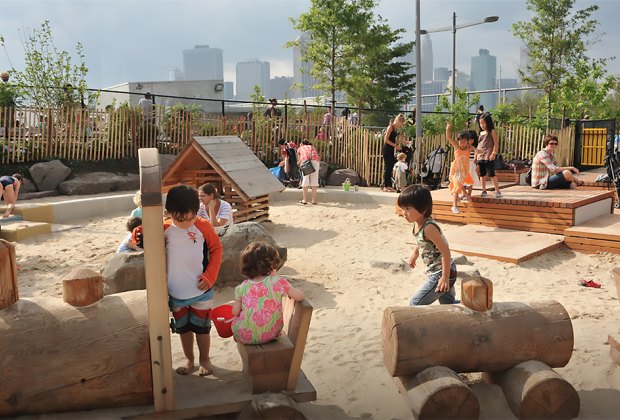 Sandbox Village at Pier 6 has easy entry and plenty of space for families and caregivers to park strollers and other gear. Photo by Julienne Schaer
Sandbox Village at Pier 6 – Dumbo
Arguably the city's largest sandbox, this fun play area in Brooklyn Bridge Park is easily navigable given its lower play structures. My son loves the wooden train, which is low to the ground, and wooden house structures. There is even a small water play area which instantly makes you feel like you could be at the beach. The other play areas in this park easily complement this sandy haven.
Owl's Head Park Playground – Bay Ridge
This one is worth a trip to Bay Ridge. There is a miniature fireman's pole, which makes kids fearless! Shady seating areas and bathrooms nearby make this especially convenient, and the ample grass surrounding the playground allows for another family favorite: picnicking. This is definitely a great place for a summer weekend!
Accessible Playgrounds in Staten Island and the Bronx
Pelham Bay Park – Bronx
Pelham Bay Park (which is, believe it or not, more than three times the size of Manhattan's Central Park) not only offers golf courses, hiking trails, and beautiful views along the Long Island Sound, but it is one of the seven Playgrounds for All Children in the city. This park features colorful play equipment and handrails that can be reached by children who are on crutches or in wheelchairs. There are tons of textured pavements, and Braille signs, plus there are accessible swings! The park has a new comfort station too, making this an ideal spot for the whole family to spend a day.
Bloomingdale Park Playground – Staten Island
As a family we love setting out to explore other boroughs, which is why we love this wonderful park in Staten Island. There are tons of neat features for kids of all ages and abilities, but the most unique attraction is the Sway Fun, a wheelchair accessible glider. Those are hard to find!
Read about other awesome NYC play spots in our Parks & Playgrounds Guide.
A version of this story was first published in 2012; it has since been updated.