Destination Playground: New Union Square Playground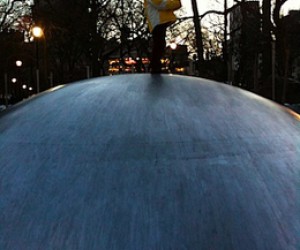 When I was a little kid we lived near what we called Abingdon Square Park and is now called Bleeker Park, the playground on 7th Avenue in the West Village. It was a great park and the main feature was a giant concrete boat that we would climb on, tunnel under, jump over and in general inspired many imaginative games. The concrete boat is long gone now and I can only imagine that some kid smashing their face into it one too many times hastened its end.
Now most NYC playgrounds look pretty much the same: generic climbing equipment, slides, sometimes swings or a water feature, but a new playground in Union Square definitely breaks the mold for NYC playgrounds.
The first thing you will notice about the New Union Square playground is just that it is really cool looking. Colorful checkered mats contrast with sleek aluminum play equipment in shapes and configurations that look like they're from a design catalog, not a NYC playground.
But after you get over just how cool everything looks, the next thing you will think will probably be, "how are you supposed to use this stuff?" And that's what's so different about this new playground. First, it challenges you to use your imagination as to how the equipment can be played with and to figure it out. Secondly, in the end there is no answer, forcing you to deal with the grey area that there isn't always a right way to do something.
Some of the mysteries of the Union Square Playground include the giant dome. What is it? What do you do with it? How do you get up it?
Two green and blue Seuss-like horns stick up from the ground near the entrance and you guess that if you whisper into one someone can hear you from the other, but it doesn't work. There's another solution. What is it?
There are three spinning rides in the park. One you dangle from, one you lie on and the third you climb into. These rides challenge you physically as it is actually difficult to hang on to them and they spin quite fast. Mystery: how long will it be before someone gets hurt and parents cry for their removal.
The Union Square Playground also has a large tot lot with more traditional climbing equipment, a sandbox and a water feature.
The Union Square Playground is an exciting new addition for NYC kids, worth checking out next time you are in the area, or even making a special trip to play there. Parents who think kids need a little more chance for open-ended play will love this playground. Other parents may worry over the possibilities for injury. What do you think?