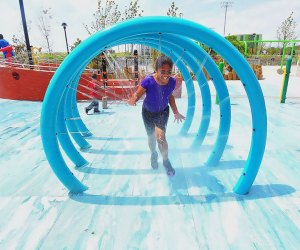 11 Queens Water Playgrounds and Sprinkler Parks
Let's face it, sometimes you just don't want to live by the schedule of open swim hours at your local NYC pool. Sometimes you just want to tire your kids out so they sleep until 6 (or even 7) in the morning. And sometimes you just want to relax outdoors with iced coffee and a book, but your children aren't as into that idea as you are. This is why water playgrounds were invented...we're pretty sure, anyway.
While we already have profiled some of the top water playgrounds in other parts of the city as well as some of the top fountains for splashing, we can't forget our Queens families. So in the interest of parenting solidarity we've put together a list of eleven spraygrounds and water playgrounds in Queens. They're all FREE, and as an added bonus most usually have an ice cream truck in the area—for the children, of course, totally for the children.
Check out our NYC Beaches, Pools, and Water Parks Guide for more summer splashing, or our Summer Fun Guide for more seasonal activities for the kids.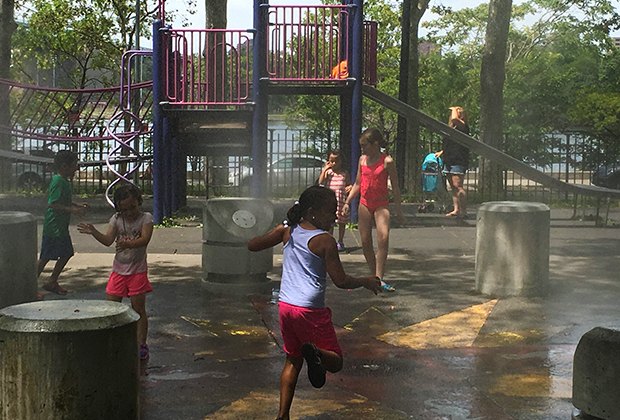 The mellow water jets at Charybdis Playground are a favorite of Astoria kids.
Charybdis Playground — Astoria
Shore Boulevard between Ditmars Boulevard and Astoria Park South
This playground offers a circle of low-volume spray jets, so more timid kids can edge cautiously into the water—while daring kids can get drenched immediately. There's also a play structure, marine animal sculptures for kids to climb, and swings. Parents can enjoy spectacular views of the East River and two bridges. If you're feeling ambitious, go next door to the public pool, the city's largest, which includes a much larger water mist play area. Of course, you must have a swimsuit and go through the pool entry process, which, while free, can take time. This playground is currently slated for renovations, but as of July 2019 is still open for splashing!
Astoria Heights Playground — Astoria
After being closed for renovations for over a year, Astoria Heights Playground reopened to rave reviews from the community in May 2018. One of the best additions to the large and modern play area is the splash pad. The circular area has wavy spray arms and in-ground sprayers, which both spout gently, making it perfect for kids of all ages to run around in. Best of all, there are benches around the edges for (dry) adult supervision. While the park itself is well shaded, the spray area is not, so pack your sunscreen. Do like the locals do and grab a few cookies for the kids and iced coffee for you from nearby Italian bakery, Gian Piero, on your way over.
RELATED: Best Playgrounds in Queens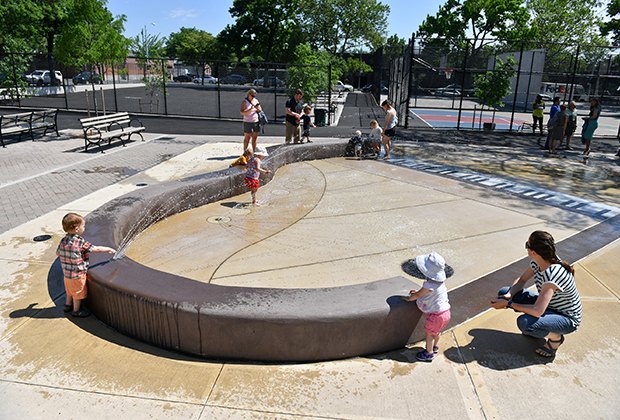 Sprinklers in the shape of a piano were added to the Paul Raimonda playground in 2016. Photo courtesy of NYC Parks
Paul Raimonda Playground — Astoria
20th Avenue between 47th and 48th Streets
A $2 million renovation of Astoria's Paul Raimonda playground, unveiled in June 2016, added a set of sprinklers in the shape of a baby grand piano in homage to the neighborhood's historic Steinway & Sons factory just blocks away. The renovation also included new playground equipment, a fitness section for adults, and new plantings—and it marks the first substantial remodel to the playground since 1995, according to the NYC Parks Department.
Andrews Grove Park — Long Island City
One thing I'm always looking for on hot summer afternoons is a well-shaded play area, and Andrew's Grove Park offers that in spades. This large playground with two sets of equipment for both older and younger kids has a simple splash area in the middle that is a perfect place for kids of all ages to cool off. And with benches along the perimeter, it's a great place for shade-seeking parents like me to stay out of the sun. Andrew's Grove is located between popular brunch spot Casa Enrique and unique play space Mini Land, making it a perfect pit stop on a great LIC day.
Gantry Plaza State Park Playground — Long Island City
4-09 47th Road, off the LIC waterfront
This playground offers stunning skyline views of Manhattan, along with a sunken area with mist showers and water jets. The playground is usually busy but not excessively crowded. The water area, however, can get pretty hectic on hot days. While I see mostly younger kids here, the playground has enough to keep bigger kids entertained, including spinning chairs, a jungle gym with monkey bars, and a spider web climbing structure. There's not a lot of shade, so be sure to apply the sunscreen. If by some chance your child tires of the sprinklers, you can wander down the boardwalk to the adjoining (and equally amazing) Hunter's Point South Park, with another playground, a dog run, a play field, seasonal hammocks and a sandy "beach." There's also a coffee shop and a well-maintained public bathroom, which is something I never truly valued until I became a parent.
RELATED: Swim Lesson Options for Kids and Babies in Queens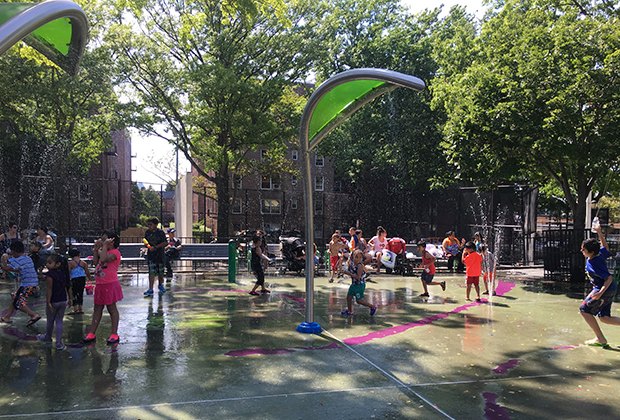 The water section at Travers Park in Jackson Heights features whimsical "leafy" water sprays.
Travers Park — Jackson Heights
34th Avenue between 77th and 78th Streets
This recently-renovated water play area, located in the "big kids" playground, has "leafy" spray showers and water jets and attracts kids of all ages. This is the only official playground in Jackson Heights (other than school playgrounds), so it's often crowded, but there is a separate gated section for toddlers. Both the big and little kid playgrounds offer cushioned ground surfaces, play structures, and swings, and there are also handball courts and basketball nets. On Sundays, there's also a green market until 4pm.
Lou Lodati Playground — Sunnyside
Skillman Avenue between 41st and 43rd Streets
The spacious sprinkler area at this Sunnyside playground has about four jets to keep kids cool and busy. Children seem to switch between the water feature and the play area itself, which features climbing structures and swings. There's often someone scooting or biking through the mist to defeat the heat. Parents can sit and relax on benches lining the fences, and bigger kids can enjoy the ball courts. There's also a dog run, and on Saturdays the Sunnyside Greemarket fills the sidewalk.
Playground for All Children — Flushing Meadows Corona Park
Corona Avenue at 111th Street
As the name implies, this spacious playground accommodates children with or without disabilities, and there's fun to be had for all ages. A manmade river flows to a contained sprinkler area, and if that's not enough there's also a kid-size village with a school and fire station, wheelchair-accessible jungle gyms, and basketball courts. Topping it off, it's right next to the Queens Zoo so you can make a day of it. In fact, the whole park has plenty to explore.
(As a note, while the fountains at the famous Unisphere at Flushing Meadows are spectacularly beautiful and families often play there, splashing in the water is not officially allowed. However, there are plans for a brand new water playground between the Unisphere and the Fountain of the Planets, scheduled to open in 2020.)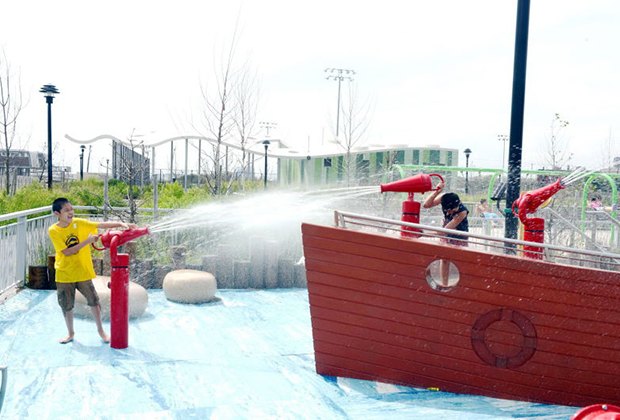 If the kids tire of the beach hit up the splash park at the Beach 30th Street Playground along the Rockaway boardwalk. Photo courtesy of NYC Parks.
Beach 30th Street Playground — Far Rockaway
30th Street and the Rockaway boardwalk
For some reason, kids don't seem to appreciate the joy of doing nothing but relaxing at the beach. This playground in Rockaway Park is the ideal solution. It's right off the boardwalk, and kids can choose from a variety of water play features, including a "car wash" of sprinklers (circular pipes spraying downward and inward), spray showers of varying heights and—my child's dream come true—built-in water guns on and around a boat-shaped play structure. This playground is so popular it was included in our recent round-up of the best water playgrounds and sprinklers for kids in NYC.
Bay Terrace Playground — Bayside
23rd Avenue between 212th Street and Bell Boulevard
This playground, next to P.S. 169 (Bay Terrace School), has one spray shower on a blacktop surface, so kids can run, scooter, or bike through the spray. It also has a porpoise sculpture for kids to climb and a padded-surface play area with swings, including an accessible swing, two climbing structures, and game tables. Older kids can get active with two handball courts and one basketball court.
Alley Pond Park Playgrounds — Oakland Gardens
67th Avenue between 230 and 233 Streets
Alley Park, the second-largest park in Queens, is well-known for its Environmental Center, Sports Center, and Adventure Course with zip line, but it also offers simpler fun, like two playgrounds with sprinklers. The Wildflower Meadow Playground and the more prosaically named Horatio Playground both offer traditional summer fun for kids who want to cool off.
Photos by the author unless otherwise noted
A version of this article was first published in August 2016; it has been updated for 2019. Katie Nave Freeman contributed additional reporting.