Destination Playground: Gantry Plaza State Park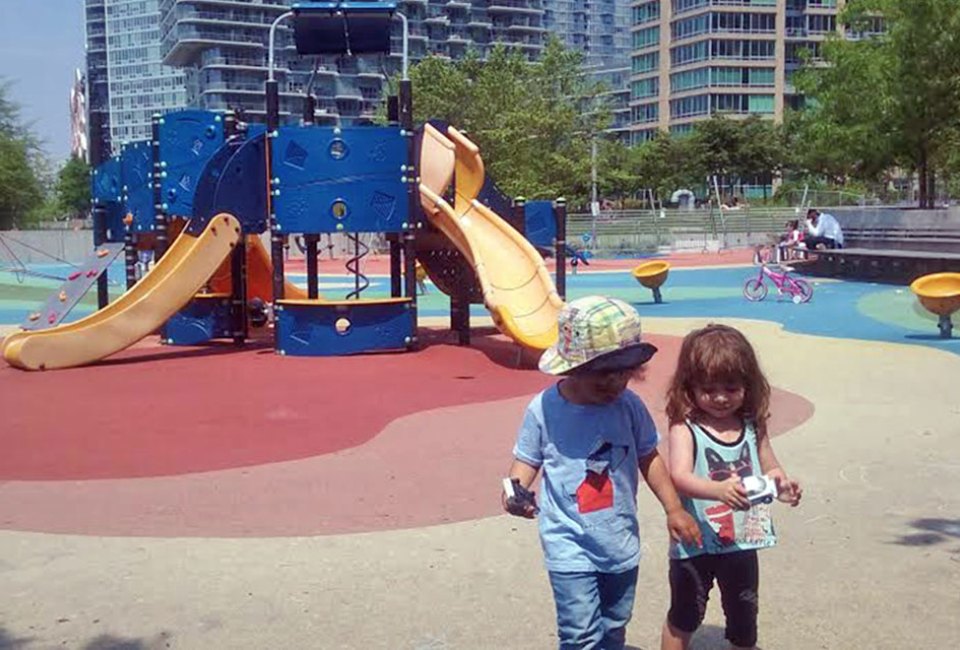 3/16/11
- By
Kathleen Tipton
[UPDATED: September 3, 2012]

Located in the Hunters Point section of Long Island City, Queens, this former industrial-hub-turned-picturesque-retreat along the East River is a stunning destination. Gantry Plaza State Park was named for the apparatus used to load and unload ship cargo back in the 1920s. The spot's history is immediately apparent: Two giant gantries remain as the plaza's focal point, and the back of them serve as the frames for the pair of famous red neon Long Island signs. (Queens' other iconic sign, Pepsi Cola, is located next to the park.)

While parents will certainly appreciate the sleek design and tranquil vibe, kids will love all the places to play, and there are a lot of them. Read on for the scoop on Queens' waterfront oasis.
The old and the new have been combined skillfully by architect Thomas Balsley, who won several awards for his work on Gantry, and you can totally see why. Circular, wooden walkways are juxtaposed with metal ones. It's thrilling for kids to walk over these as they glimpse the water below. Willow trees and tall grass add an element of nature to the otherwise man-made surroundings.

The gorgeous playground, which opened in spring 2010, looks like something you'd see at MoMA: Bold primary colors and futuristic shapes give it a whimsical and adventurous atmosphere. Happily it's also safe; the bright flooring is extremely shock-absorbent. My daughter loves the giant spiderweb-like structure and even her dad climbs in there with her sometimes. There's also a quaint ship-like structure, which is great for imaginary pirate play, and a small seasonal food concession right outside the playground that sells snacks and coffee. A fabulous water play area debuted in summer 2012 with several state-of-the-art sprinklers and amazing views of Manhattan.
There are two grassy fields for picnicking, Frisbee playing and frolicking. It's also a great place for photo ops, since Manhattan's majestic midtown skyline is clearly visible in the background. There are lots of quiet spots, too. You constantly encounter little curves and nooks with chairs and benches in case you need some downtime. Being by any large body of water is calming (yes, even the East River).
Gantry Park encompasses 12 acres and has four distinctive piers that offer amazing views. Kids will be able to easily spot the Empire State, the Chrysler Building and maybe a few folks fishing. Warning: The wood used to make the decks and chairs is really splintery, so keep your shoes on .
Parking in the area is a challenge so taking the subway (7 to Vernon Boulevard-Jackson Avenue) is best. There are two eating options nearby: Riverview Restaurant & Lounge (probably a bit pricey for most families) and a deluxe supermarket, featuring a gourmet salad bar and brick-oven pizza
Places featured in this article:

Sign up for our free
newsletters.
Mommy Poppins is a family activity website that helps people find things to do with kids.
©
2023
MommyPoppins. All Rights Reserved.
mp-prod4-v4.32.99
We use cookies and other data collection technologies to provide the best experience for our customers.
Learn More