Sunnyside Gardens Park & Other Places to Play in Sunnyside & Woodside Queens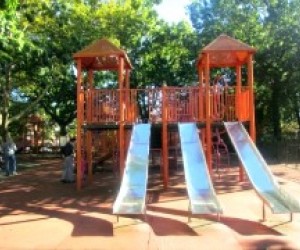 While we may not have fancy waterside parks like neighboring Long Island City, there are still some great places to play in Sunnyside and Woodside, both outdoors and in. In addition to playgrounds like Lou Lodati Playground and Windmuller Park, which frequently features live entertainment at its band shell, there's the lovely members-only Sunnyside Gardens Park that locals can join and visitors can explore during a handful of annual public festivals.

We have a handful of drop-in places to play indoors, too, including two local libraries with regular storytimes, a pair of awesome playgroups and, if you're really in a bind, a Chuck E Cheese's. (You may hate it but kids love it!) We continue our month-long focus on Sunnyside and Woodside with a curated roundup of our favorite romping spots in the area.
Outdoor Play
Sunnyside Gardens Park
Barnett Avenue between 48th and 50th Streets
New York City is home to only two private parks: Manhattan's Gramercy Park and Queens' Sunnyside Garden Park. Locals can become members by paying an annual fee and completing required volunteer time. My family and I are members and it's totally worth it (though there is a wait list to join these days)! However, if you don't live in the designated zone, there are still ways you can explore the 3½-acre green space. Sunnyside Gardens Park hosts a handful of popular annual events that are open to the public like Oktoberfest and the Memorial Day Fair. During your visit, check out the sand play area with play structures and communal toys, a recently renovated big kids play area called the lowers (designed by the same folks who did Long Island City's Gantry Plaza State Park), the picnic area under the trees and, in summer, a small wading pool and old-school sprinklers.

Lou Lodati Playground
Skillman Avenue between 41st and 43rd Streets
Formerly known as Torsney Playground, this spot was renamed for a late local resident affectionately known as the "Mayor of Sunnyside." The playground is enclosed, and the layout is rectangular and long so it's easy to keep track of kids. There are climbing structures with ramps and slides, a sprinkler area, a swing section with toddler and big kid swings, and a year-round bathroom. The adjacent dog run and ball court were recently renovated. On Saturdays from June to December, the seasonal Sunnyside Farmers Market is right outside. The Queens County Market pops up there from time to time, too.

Windmuller Park
39th Road to 39th Drive between 52nd to 54th Streets
At just over three acres, Woodside's biggest park features a band shell, which hosts lots of concerts during the summer; a running track; fitness equipment; basketball and handball courts; a recently renovated ADA-accessible comfort station; an outdoor pool in the summer and the Lawrence Virgilio Playground. There are swings, climbing equipment with ramps and slides, and a sprinkler. In 2011, the park added a 1-acre plaza featuring a staircase and step ramp, benches and lots of trees, shrubs and plants. It's a great park to explore since there are so many different components. Plus it's connected to the adjacent Doughboy Plaza.

Doughboy Plaza
Woodside Avenue between 52nd Street and 39th Road
Though this green space is smaller and has fewer amenities than its neighbor, it's a nice place to stop and relax. There's a plaza surrounded by benches under trees, and open space for kids to roam. The central grassy oval is great for lounging and picnicking and there's also a small dog run.

Nathan Weidenbaum Park
Laurel Hill Boulevard between 63rd and 64th Streets
Also known as Little Bush Park, this green space is located on the other side of the Brooklyn-Queens Expressway from the larger Big Bush Park. But I happen to think this tinier park is the better of the two. The name Bush came from an old street that used to run between the two green spaces. The playground is shaded by many trees and looks like a small village. It has basketball courts and two play areas with ramps and slides, plus five camel sprinklers and donkey pop-ups to pose with.

Hart Playground
Broadway and 37th Avenue between 65th and 69th Streets
Also near the BQE, this playground is enclosed and spacious with two separate play areas for different ages. You'll also find swings, a basketball court, a bathroom, plus animal statues to sit on and hopscotch painted on the ground. Upside: lots of trees and benches. Downside: the noise from the BQE, which is probably why it's usually less crowded than other playgrounds in the neighborhood. Take caution when crossing the street with kids here!
Drop-in Indoor Play
Chuck E. Cheese's
34-19 48th Street near Northern Boulevard
We are not recommending you make Chuck E. Cheese's a regular destination but sometimes a parent's gotta do what a parent's gotta do. It's one of the few indoor drop-in places to play in the neighborhood. Minimize your pain by going in the morning or on a weekday when it's less crowded. Like all CEC outposts, there's a play area and a slew of games that spew out tickets for kids to spend on plastic knickknacks to commemorate your time there.

AMF 34th Avenue Lanes
69-10 34th Avenue between 69th and 70th Streets
Enjoy 35 lanes of bowling, plus pool tables and sports video games. This place is super kid-friendly during daytime hours, and welcomes families and school field trips. You can even request bumpers for the little ones to avoid gutter balls.

St. Teresa's Playgroup
Run by a local Woodside mom during the school year, this preschooler playgroup is located in the church's huge basement, which has plenty of space for kids to roam. Register for the school year and then drop in on Mondays and Thursdays from 10am to noon for a small fee (it's pay as you go). A snack is provided around 11am like cereal, fruit and juice. There are tables with some coloring books and plenty of toys. At the end of each session, there is a brief story, singing time and a little yoga. For info, contact Thalia at atthaliasaenz@gmail.com.

Sunnyside Reformed Church Playgroup
Locals call it Irene's Playgroup after the woman who's been running it for more than 20-plus years. Irene knows every child's name and there is a maximum of 20 families per session, which makes it an intimate experience. Kids enjoy free play, art and crafts, and sing-alongs while parents socialize over coffee. The playgroup meets every Monday, Tuesday, Thursday and Friday morning and is pay by semester.

Sunnyside Library
43-06 Greenpoint Avenue between 43rd and Locust Streets
There are drop-in storytimes for babies, toddlers and preschoolers, plus a variety of education programs like Nature Kids. In nice weather, you can hit the Lance Corporal Thomas P. Noonan Jr. Playground across the street. But since it's completely open and often crowded, you won't want to camp there for the day. If it's chilly or rainy, grab a bite to eat next door at family-friendly I Love Paraguay, one of our top 10 family-friendly restaurants in Queens.

Woodside Library
54-22 Skillman Avenue between 54th and 55th Streets
More storytime fun for babies, toddlers and preschoolers plus a variety of other educational programs. This Queens Library branch is just a few blocks away from the aforementioned Windmuller Park and Doughboy Plaza, or hit family-friendly La Flor for a yummy Mexican meal.