Favorite Family Restaurants in Queens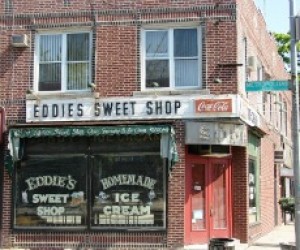 As a proud Queens native, I'm always looking for new ways to encourage others (including my own family) to explore my home borough. And since it's famous for being culturally diverse, a do-it-yourself food tour is a great way to get a taste of all the different neighborhoods.

Queens boasts some of the best kid-friendly restaurants in New York City—and I'm not just saying that because I was raised here. You can introduce your children to a wide variety of authentic cuisine at reasonable prices, and the portions are so big you always end up with leftovers to take home. Plus there are off-the-beaten path gems that have incredible kid appeal, like coffee house Waltz-Astoria and its family concerts and old New York soda fountains Eddie's Sweet Shop and Jahn's.

I thought about all of the places I've eaten in Queens over the years and came up with my personal list of the top ten restaurants, bakeries and ice cream parlors that are all worth schlepping the kids to, even if you live in another borough. See if your favorites made the cut and feel free to share your additions in the comments as I know there are many, many more.
I Love Paraguay – Sunnyside
43-16 Greenpoint Avenue between 43rd and 44th Streets
Enjoy fabulous Paraguayan eats at this homey bakery. There's a huge selection of meat, cheese and veggie-filled empanadas—baked, fried and even yucca dough—perfect for little hands, as well as soups, burgers and fries for less adventurous eaters. My kids and I have had many a lunch date here, all successful. The place is owned and run by a family that's super kid-friendly and warm. According to my almost three-year-old daughter, a visit is not complete without a slice of the Paraguayan-style tres leches cake topped with dulce de leche (caramel).

Suki Thai Shabu – Woodside
60-15 Woodside Avenue between Roosevelt Avenue and 61st Street
This small hip restaurant has built-in cookers at the tables so diners can prepare their own soup. Choose the build-your-own soup option and select one of three broths, meat or fish, and veggies. Kids dig picking the ingredients and doing the cooking, just like a grown-up. There's also a sauce bar so you can add all kinds of exotic flavors. Not into soup? No problem: There's also a standard Thai menu of rice and noodle dishes, plus a wide selection of bubble teas.

Krystal's Cafe & Pastry Shop – Woodside
69-02 Roosevelt Avenue at 69th Street
Sample delicious traditional Filipino dishes at this bakery/restaurant. Pancit (rice noodles with veggies and choice of meat) and chicken adobo served with rice are my family's go-to choices. The adobo dishes tend to be on the salty side so ask for lots of water. Since the second floor dining area is spacious and offers karaoke for all ages, it's a great place for groups or special celebrations. The crowd is always friendly and cheers others on. People sing in groups, alone and in different languages, too. There is no cover charge for karaoke so just head upstairs, get a table and order yummy appetizers like lupiangs (spring rolls). Dessert recommendation: halo halo, a shaved ice drink with pieces of lychee, red bean and jelly.

Jackson Diner – Jackson Heights
37-47 74th Street between 37th Avenue and 37th Road
One of the best known Indian restaurants in all of NYC, this place has a great brunch buffet that allows kids to try lots of different dishes. My kids love the masala dosa stand, where they can watch their dosas being made. Once finished, you dip these crepe-like snacks in a variety of flavorful sauces. The mango lassi (a sweet yogurt drink) is also popular with little ones.

Waltz-Astoria – Astoria
23-14 Ditmars Boulevard between 23rd and 24th Streets
Catch live entertainment and enjoy a light meal at this coffee house/concert venue. Waltz-Astoria serves up snacks, lunch (including PB&J sandwiches), baked treats (Oreo cookie mousse cake!), specialty coffee and teas, and even grown-up beverages like sangria. But the main attraction is the lineup of musical performances, including Monday and Thursday morning sing-alongs called Little Waltzers for $8 bucks per family, which includes a snack. There are also family concerts featuring local kiddie bands like the Deedle Deedle Dees and Max's Family Band on select weekends. At night the acts are usually aimed at adults so check the calendar before you go and stick to daytime hours.

Eddie's Sweet Shop – Forest Hills
105-29 Metropolitan Avenue at 72nd Road
We previously highlighted this old-fashioned ice cream parlor in our roundup of old New York soda fountains. It's an incredible place that really makes you feel like you've stepped back in time. There is an old-school ice box behind the counter and the ice cream bar still has its original early 20th century marble. Kids love to twist on the swivel stools at the counter but its the sweets they crave. The sundaes, shakes and malteds are all amazing, and the ice cream and whipped cream are homemade, no joke.

Jahn's – Jackson Heights
81-04 37th Avenue between 81st and 82nd Streets
Another pick from our soda fountains posts, this is the last Jahn's still standing out of the 25 or so that once existed. My grandparents took me to this spot when I was growing up and I cherish those memories to this day. While the old-fashioned restaurant offers the usual not worth traveling for diner fare, pancakes, burgers, etc., dessert is the reason to visit. Jahn's still serves the original New York egg cream that I loved growing up, plus milk shakes, malteds and floats. And it's famous for its sundae selection, including hot fruit sundaes, tummy ticklers and a fabulous banana split.

Malu – Long Island City
Sadly Malu closed its doors in February 2014.
We're big fans of this mom-and-pop dessert shop, and not just because the owners named an ice cream flavor after Mommy Poppins. Its tantalizing selection of homemade gourmet flavors includes lemon ricotta, cheesecake and lavender mascapone. You can taste three for $1, and the fee is waived if you ultimately buy a cup or cone. In addition, there are cookies and all kinds of chocolate treats, including sweet and salty concoctions like chocolate drenched corn flakes, Fritos, Rice Krispies, plus fruit. If you have tots, visit during Thursday storytime at 4:30pm. One of the owners, a mom herself, reads three books while kids indulge in sweets.

Bohemian Hall & Beer Garden – Astoria
29-19 24th Avenue between 29th and 31st Streets
Although a lot of brand-new beer gardens have opened in NYC over the past decade, this one has been standing since 1910. Don't let the word beer deter you; even though its well known for its selection of brews, it's more of a restaurant than a bar, with a great Czech menu with staples like pierogies and potato pancakes, plus a lovely backyard with tall trees. During the day it's super kid-friendly, and it hosts fun annual Easter and Christmas events for families. I took my daughter to the Easter fest once and it was a blast. She didn't even bother with the egg hunt, she spent all of her time decorating eggs, dancing to live music and playing with balloons. There are family events all year round so check the calendar. Minors are welcome until 9pm.

Cupcakes in Heels – Bayside
34-19 Bell Boulevard between 33rd and 34th Roads
This is no ordinary bakery. Every cupcake in this tiny boutique is named after a famous designer or stylish celebrity, and the decor looks like it was imported straight from Paris. The "Fashion Runway Menu" includes designer cupcakes, French macarons, sugar cookies and various gourmet confections. There are two new seasonal cupcakes every month with unusual flavors like mango, sweet potato or pistachio. And there are always great promotions (this month if you buy five cupcakes you get one free) and a loyalty program so be sure to ask. Note: I'm not kidding when I say the place is teeny. You're going to want to get your sweets to go since there are only two seats inside and one bench outside.

Many of these places will happily host birthday parties so inquire within!

Read all of our posts about family-friendly dining in NYC.