Playing in Jackson Heights: Playgrounds and Indoor Play Spots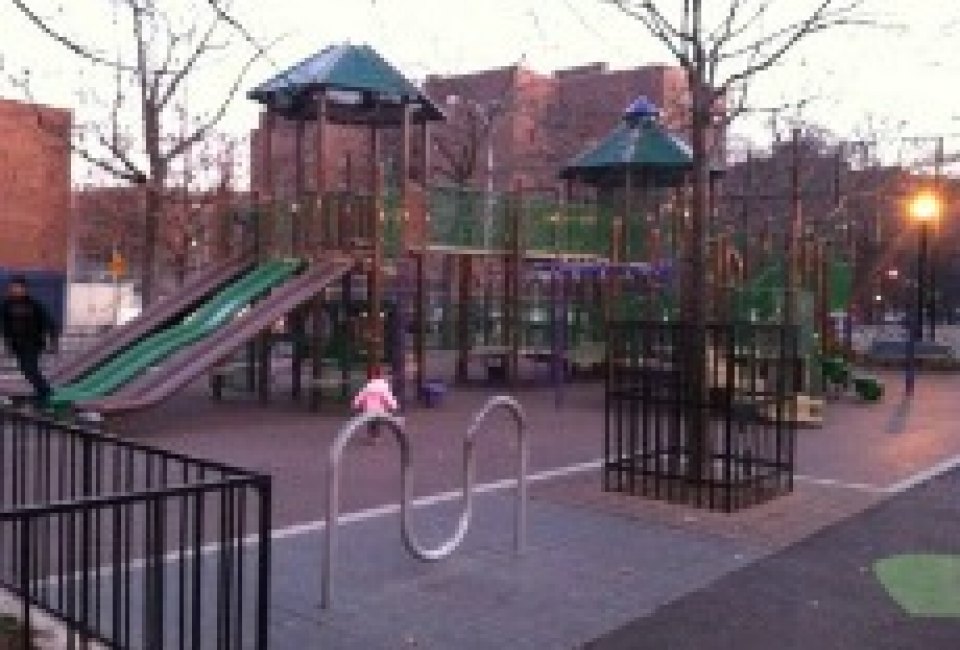 2/12/12
- By
Kay
As we told you last week, Jackson Heights is our neighborhood of the month. For our first post about this diverse area, a local mom and blogger took you on a photo walking tour of her home. Now we're sharing our favorite places to romp in the nabe. From state-of-the-art playgrounds to athletic programs, fun family stores to the local library, here are 19 places to play in Jackson Heights.
Parks and Playgrounds
Travers Park
34th Avenue between 77th and 78th Streets
The neighborhood's workhorse play spot, Travers was renovated in 2010 and features oversize green leaf-and-vine sprinklers for summer cool downs. A separate baby area houses slides and swings, while a jungle gym beckons to school-age kids. There are also basketball courts, game tables and picnic areas. During July and August, 78th Street is closed to traffic and turned into a Playstreet. Travers also hosts free programming like concerts, shows and other family events on Sunday evenings during the summer, and is home to the Jackson Heights Greenmarket year-round.

Learning Park
81-10 35th Avenue near 82nd Street
Local learning spot 82nd Street Academics opens its playground to the public on Saturdays from 10am to 5pm April through November. The colorful climbing structure is decorated with whimsical flowery shapes. A $1 donation is suggested.

Playground at P.S. 69
77-02 37th Avenue between 77th and 78th Streets
The neighborhood's newest play spot just opened in December 2011. Designed by the school's students, the playground is part of PlaNYC's Schoolyards to Playgrounds program, which aims to open places to play in underserved areas. The park is open to the public after school until dusk and all day on weekends. I.S. 145 at 33-34 80th Street is planning to open a similar public playground in summer 2012.

Bulova Park
25th Avenue between 76th and 77th Streets
Also known as Moser Park, this spot's worth a shout-out due to its wheelchair-accessible baseball field. Other amenities include basketball, bocce and handball courts, and a playground.

Junction Playground
34th Avenue between 96th Street and Junction Boulevard
This play spot has two cute climbing structures: one shaped like an engine and the other decorated with cutouts of farm animals.

Fisher Pool
32nd Avenue between 99th and 100th Streets
This is where residents come to swim during the summer. There are two outdoor pools: a wading pool for young children and an intermediate pool, which is well used by local school-age kids. The Parks Department offers free swimming lessons at this site during the summer.

There are many other standard playgrounds in Jackson Heights, including Gorman Playground, Northern Playground, Playground Ninety, Hart Playground, St. Michael's Playground, Tot Lot Park and Frank D. O'Connor Playground. The jacksonheightslife.com community site has a comprehensive list, which the editors try to keep up to date.

Jackson Heights is also home to many pre-war co-ops with gardens behind their stately facades. Of course you'll need to befriend someone in the building in order to access these private oases.

Indoor Play
As of now, Jackson Heights doesn't have any kiddie gym chains (we smell a franchise opportunity). So indoor drop-in play options are extremely limited.

Jackson Heights Public Library
35-51 81st Street between 35th and 37th Avenues
Although this branch of the Queens Public Library doesn't have a children's center, it has regular programming for kids and teens, including weekly storytimes.
Two stores on 37th Avenue have kids' sections where families can linger for a few minutes of free play. Gift shop InnerPeace NYC sells inexpensive toys and accessories. A block away, JustOTC features a plethora of toys crammed from floor to ceiling by brands like Educo, Melissa & Doug, Fisher-Price and B. toys.

To keep their kids active in the winter, many Jackson Heights families enroll their kids in local sports classes. Super Soccer Stars and Super Kickers both offer two locations where kids can hone their skills. Unfortunately, neither program offers drop-in classes. M'kekado School of Karate Kickboxing & Self-Defense offers free trial classes for children, and also runs sessions for kids with autism.


Read all of our posts about Jackson Heights, Queens.