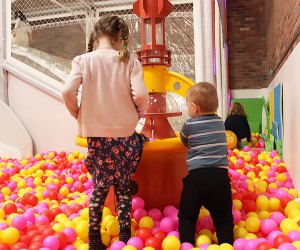 Mini Land Play Gives Long Island City Tots a New Indoor Hot Spot
Like most New York City parents, I'm always on the lookout for new indoor play spaces to occupy my active kid when the weather isn't great. So when I find a unique play area in a cool neighborhood that doesn't eat up my entire entertainment budget for the month, I feel like an explorer who's made a groundbreaking discovery. Mini Land Play in Long Island City, Queens is exactly this kind of rare find: a crazy-fun indoor playground with toddler-friendly rides that is only $12 for unlimited play during the week.
Read on to find out how you can discover this new neighborhood gem for yourself.
As a mom of a 2-year-old who can barely find the time to get my hair cut, the most impressive thing about this new kiddie gym might not have anything to do with the physical space itself. Instead, it's that the owner, Shu Yeh, opened Mini Land Play in March while juggling a full-time job, a 3-year-old, and, wait for it, a brand-new baby! She told me she'd been working hard to open Mini Land for over a year (she even visited the manufacturer in Japan while 8 months pregnant), and her passion for this project and the neighborhood are obvious in every facet of the space.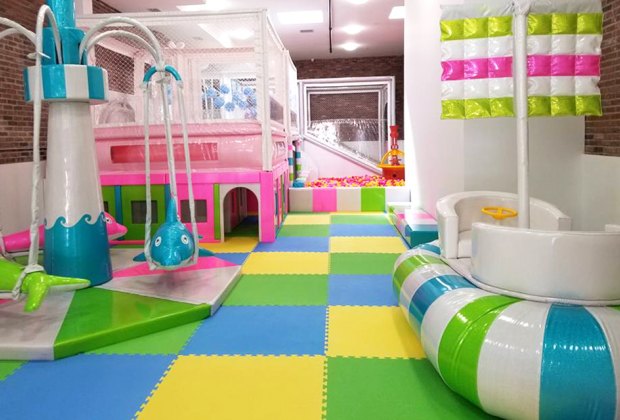 This colorful and affordable play space is sure to delight caregivers and children. Photo courtesy of Mini Land
I visited Mini Land on a weekday afternoon with my son, and I think I was as excited as he was by what we saw when we walked in. Light-filled, with brick walls and high-ceilings, the front half of the space holds four big moving structures, while the back half houses an indoor climbing playground and ball pit. We checked in at the front desk, stowed shoes and bags in cubbies at the front, and set off to explore. I knew we had a hit on our hands because my little guy kept exclaiming in awe, "Ooooh, Mommy! What's dat?"
RELATED: LIC Welcomes Playday, an Art Center for Kid Creators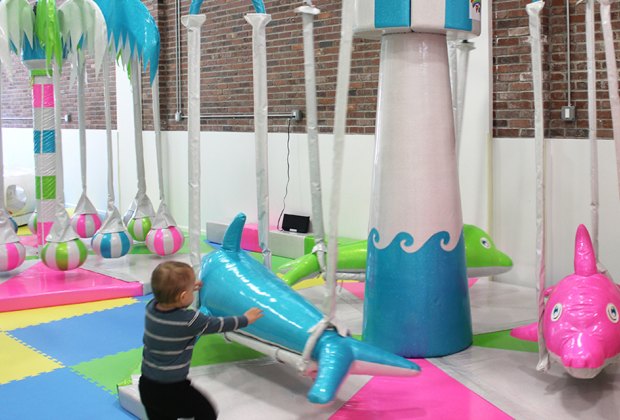 Dreams of riding a dolphin will come true at Mini Land Play.
The first three attractions are best described as carousel-like. The first is a spinning disk with a mini-climbing tower in the center, the next has swaying gum-drop swings, and the third is a neon dolphin merry-go-round. Rounding out the front half of the space is a giant, soft pirate ship that gently rocks up and down. All four are heavily padded and move slowly. My 2-year-old needed a little assistance, but kids just a little older were safely jumping on and off of each structure and having a blast.
RELATED: Okabaloo Opens in Queens with Toddler and Preschooler Indoor Fun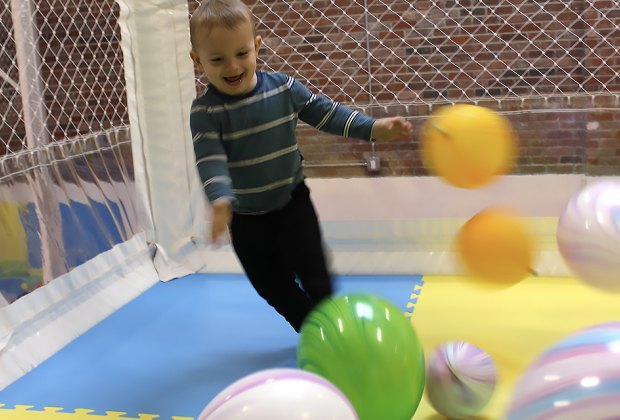 Squeals of delight are a guarantee in the balloon room.
The back half of the space is a big, two-story, climbing playground that my son was able to navigate completely on his own. The bottom level includes a hidden maze, swing, and a giant ball pit. My son was especially enthralled by the machine in the ball pit that he could feed balls into and watch them levitate up above.
From the ball pit, tots can reach the second level via padded stairs or a bouncy ramp that looks like a huge clear pool raft. At the top of the stairs, to the left, is a pink-hued bouncy room, and to the right is my favorite feature of the entire space: the balloon room. The room is full of heavy-duty balloons that are blown around by fans. I've never heard more giggles than when a new child would enter and get swept into a cyclone.
While my son only noticed the fun places to run and jump and play, I appreciated the finer details; namely, how meticulously clean the space was. There are also two changing tables set away from the play area but separate from the restroom.
Mini Land's unique 3,000-square-foot play area might also appeal to those looking for a unique children's party or event in Queens. For now, parties include use of the full play area, but starting in July, partygoers will also have a separate party room at their disposal. Email info@minilandplay for more information and party package details.
Things to Know Before You Go
Socks are required.
Public transportation: the Vernon Blvd-Jackson Ave 7 train stop is less than a block away.
There is two-hour metered street parking available, but parking in the area can be hard to come by.
The recommended age is under 5, but older siblings up to 9 years old are allowed.
There is no food or drink available for sale.
Mini Land is open daily from 9am–8pm, although weekend open play hours vary depending on private event bookings. The entrance fee is $12 for unlimited play on weekdays, and $15 for two hours of play on weekends. The fee includes one adult and one child. Each additional child is $5, additional adults are $2, and there is a maximum of three children per adult. Babies under 6 months old are free. Weekly passes are $70, and monthly passes are available for $230.
Photos by the author unless otherwise noted.